Take your deviled eggs to elegant new places with this recipe for easy fancy deviled eggs! Perfect for Easter or any time you get a deviled egg longing.
We are hippity-hopping towards Easter, and one of my very favorite parts of Easter are the deviled eggs. I've made them with bacon (natch), I've made them with tarragon and shallots, and of course I have made them the regular old-fashioned way. But last year we had fancy deviled eggs – little deviled egg bites with all kinds of scrumptious garnishes on them, and that is because of my sister. Because my sister has a knack for taking the things you love, like deviled eggs, and turning them upside down and inside out and making them a whole new and completely delightful thing…even the humble deviled egg. Let's make them!But first, my sister. Here we are with our faces smooshed so close together that we are getting hair in each other's eyes, but WE DON'T CARE.
Among the many things my little sis can do that I wish I could do: take perfect selfies.
Wear hats with all kinds of panache. Literally, any hat she puts on her head looks good.
She can also sing, and I mean SING. I can warble out a little karaoke (but only if she and/or my brother are singing with me). She can bring down the house with her glorious, fearless voice.
We do share a life-long love of cooking that we both got from our mama…
…and one of the things she teaches me with her cooking is to be adventurous. To take chances. To try ingredients and methods and dishes that we probably wouldn't try without her pushing our culinary envelope. And as a result I've tasted and cooked things that I have come to just plain love. And among many of those things are these adorable little deviled egg bites.
One thing about deviled eggs is that they are a mouthful, and this fun recipe takes a dozen eggs and instead of turning them into 24 regular deviled eggs, you get more like 40 to 48 little deviled egg bites. You start by baking the egg whites in the oven so that you have a thin block of cooked egg white. The yolks get scrambled and then pureed with mustard and mayo and a few other things.
And now here comes the fun part…you cut the cooked whites into little squares, or if you want to be EXTRA fancy, into little circles that you can nestle into pre-baked pastry shells (you can find these in the freezer section with the dessert stuff). My sis cut them out with a metal tea ball – the top of a spice jar would work well too. Put the yolk mixture into a pastry bag – or if you don't have a pastry bag, put the mixture into a zippered plastic bag, snip off one of the corners, and that will work just as well.
Squeeze a little yolk mixture onto each of the whites, and then go crazy with the garnish. It can be as simple as a dusting of paprika, or you can match what my sis did by topping some with bacon, some with blue cheese, and some (ooh-la-la!) with a little salmon roe. Put them on a pretty platter, and feel very fancy – as well as deliriously happy that you can have at least four of them.
Yay for little sisters!
Print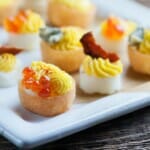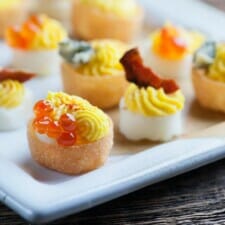 Easy Fancy Deviled Eggs
---
Author:

Prep Time:

20 minutes

Cook Time:

23 minutes

Total Time:

43 minutes

Yield:

40

-

48

servings

1

x
Category:

Appetizers

Method:

Stovetop and Oven

Cuisine:

American
Ingredients
12

large eggs

1 tablespoon

butter

1/3 cup

mayonnaise

1 tablespoon

white vinegar

2 teaspoons

Dijon mustard
Sea salt and freshly ground black pepper
Premade mini pastry cups (optional)
Paprika, crumbled blue cheese, cooked crumbled bacon and/or salmon roe for garnish
---
Instructions
Preheat the oven to 350 degrees F. Coat an 8-inch square baking dish with cooking spray.
Separate the egg whites and yolks into bowls. Whisk the whites until just foamy, pour them into the baking dish, cover the dish with foil and bake until the whites have fully set, about 20 minutes. Let cool completely in the baking dish.
While the whites are baking, beat the yolks until smooth. Melt butter in a medium skillet over medium low heat. Add the yolks, and scramble until fully cooked, about 2-3 minutes.
Put the cooked yolks, mayonnaise, vinegar, mustard, a pinch of salt and a few grinds of pepper in a food processor, and process until smooth. Put the yolk mixture to a pastry bag fitted with a small round tip (you can also use a ziplok bag and just snip off one of the corner edges.
Loosen the egg whites gently with a thin spatula, place a cutting board over the baking dish and turn it over. Cut the whites into even 1-inch squares, or if you want to put them into the pastry cups, use the round top of a spice jar or something similar to cut them into circles. If you are using the pastry cup, place each egg white circle into the cup.
Squeeze a dollops of the egg yolk mixture onto each square or circle. Garnish with toppings as desired – you can also just give them a sprinkle of paprika. Place on a pretty plate and serve!