Mix together your favorite Italian pastry with some vanilla ice cream in this incredibly easy recipe for shortcut cannoli ice cream. No ice cream maker needed, by the way!
This recipe for shortcut cannoli ice cream almost doesn't deserve to be called a recipe, since it calls for two ingredients and 5 minutes of preparation time. What it DOES deserve is for you to make a big batch of it, since we are smack in the middle of ice cream eating season.
Seriously. Those back to school ads are starting to come at us fast and furious, and so ice cream of all kinds Must Be Eaten before we are surrounded by recipes for pumpkin everything.
Not that I don't love pumpkin everything, but ice cream is ice cream. Especially when it involves creamy crunchy cannoli. Let's make it!
This all started because of three beloved establishments near my little town. The first is this one.
Yep, we have what I bet is one of just a handful of original, retro Dairy Queens in the country. It opened in 1951, and I don't think it's changed much since then.
I hope it never does, because I can tell you that pulling up to this DQ and seeing people sitting on their car hoods slurping up soft-serve while listening to the 50's music they have playing on the loudspeaker is always one of the great joys of my summer. Never change, Montvale New Jersey Dairy Queen!
It also invariably makes me want ice cream whenever we drive by, and one of the times we always drive by it is when we are on our way to our local Irish pub.
Yes, this Irish girl loves going down to the pub on a Friday evening, and recently when we were there amidst the Guinness and the game of darts, they inexplicably had cannoli ice cream on the specials menu. This is not something you usually see on an Irish eats menu, so we ordered it.
Or actually the Southern husband ordered it. And out it came – a double scoop of creamy vanilla ice cream laced with chunks of chopped up cannoli.
If you have never had a cannoli, it's an Italian pastry that is a crunchy sugary shell in the shape of a tube filled with a sweet creamy filling made of mascarpone cheese, or ricotta. It's heaven, and I am helpless in the face of a good cannoli, anywhere and anytime.
So let's just say that the Southern husband did not get to enjoy the entire portion of his dessert. Ha.
So to make it up to him, I decided to make him another batch of cannoli ice cream later that weekend, which brings me to the third place near our little town, our lovely Italian market. (I know, you want to move here, right? Come on over!)
Here's How You Make Shortcut Cannoli Ice Cream!
We stopped by the Italian Riviera where they filled up three mini-cannoli before my very eyes. I could have used one big one, but I was going for the most possible cannoli shell crunch in my ice cream.
If you don't have a lovely Italian market where you live, you can look in your local bakery, and some supermarkets even sell them in the dessert section of the frozen food.
And then I picked up a pint of this, and let it soften into soupiness in my fridge.
Premium ice cream like Haagen-Daz has less air in it and more of the scrumptious ingredients that make ice cream ice cream, so go for the good stuff when you are making this.
Once your ice cream is nice and soupy, pour it into a bowl. Now chop up your cannoli into little pieces and stir it into the melted ice cream.
Pop it back into the freezer until it is good and solid again…you can do this in the bowl, but I like to do this in a resealable container (here's my favorite) so that I can cover it up and put it back into the freezer if there is any left over. Ha again.
I sprinkled mine with a little sweetened cocoa powder, but that is totally optional. And that is that – shortcut cannoli ice cream! Go do your summertime ice cream eating duty.
Print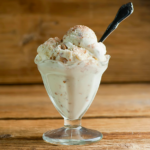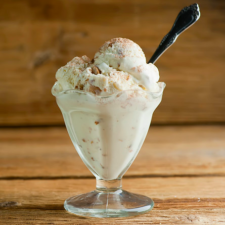 Shortcut Cannoli Ice Cream
---
Author:

Prep Time:

10 minutes

Total Time:

10 minutes

Yield:

4

servings

1

x
Category:

Dessert

Method:

No Cook

Cuisine:

Italian
Description
Mix together your favorite Italian pastry with some vanilla ice cream in this incredibly easy recipe for shortcut cannoli ice cream!
---
Ingredients
One

14 ounce

container vanilla ice cream
One large or three small cannoli pastries
Instant cocoa powder for garnish (optional)
---
Instructions
Put ice cream into the refrigerator until it is very soft. Pour it into a medium sized mixing bowl.
Chop the cannoli into small pieces. Stir the pieces into the ice cream and put into the freezer until firm.
Scoop out into to dishes or cones, sprinkle with cocoa powder if you like and dig in!