Your favorite already cooked chicken nuggets makes this shortcut fried chicken salad recipe both super easy and super delicious!
Things I am not shy about include the following: That I am totally willing to put bacon into pretty much anything, including all forms of dessert.
That I keep a bag of puffed Cheetos in my house at all times in case of, you know, emergency. Puffed, not the crunchy kind, although the Southern husband loves the crunchy kind so we have those too.
That every once in a while, it is okay to serve your family Frito Chili Pie for dinner, so long as you make them something super-healthy both the day before and the day after.
And that there is a time and place for working chicken nuggets into your salad, and that if you do, your fried chicken salad is going to taste all kinds of magnificent.
And on a whole other level of things that I am not shy about, I am not shy about telling the entire world how proud I am of my smart and sassy daughter.
Last weekend she received the Blue Key Award from Clemson University's School of Education. This award goes to one student in the college who has distinguished themselves in terms of academic scholarship and campus leadership. For this year it's my bunny.
I'm not shy about saying I am overwhelmed with admiration and love and I spent most of the ceremony just looking at her and remembering when she was three and would only eat raisins and her favorite book was The Little Red Hen and now she is winning The Blue Key Award and how did things go by so fast?
This interlude has been brought you by the Proud Mama Society.
let's make shortcut fried chicken salad!
Anyway, back to dinnertime. This is my version of the fried chicken salad that the Southern husband always orders whenever he sees it on any menu at any time.
It's basically a combo of lettuce, tomatoes, cucumbers, ranch dressing (you can also use blue cheese) and the star of the show, little pieces of fried chicken, and the reason I have never made it is because the thought of frying chicken for a salad always made me immediately need to take a nap.
And then one day, lightening struck in my head.
There are all kinds of places that RIGHT THIS MINUTE are making some pretty dang good fried chicken, some in the perfect shape for a shortcut fried chicken salad. Sometimes I use the KFC popcorn nuggets for this one, but my current favorite chicken nuggets come from always scrumptious Shake Shack.
Yep, they are better known for their burgers and their shakes (which I also love) but they make a pretty dang good chicken nugget. I get a box per person (which also allows for the pilfering that goes on during the 15 minutes it takes to make this salad.
And the rest is history.
We may be having shortcut fried chicken salad on a weekly basis now that I have finally figured this out.
Want to round out your meal? This recipe pairs well with...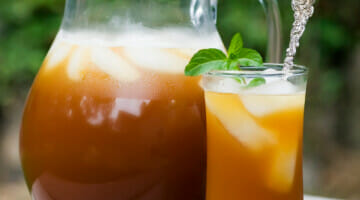 Lemonade Mint Iced Tea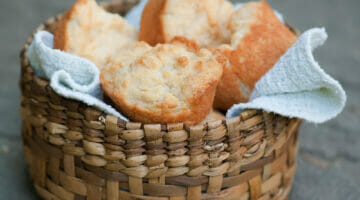 Butter Biscuits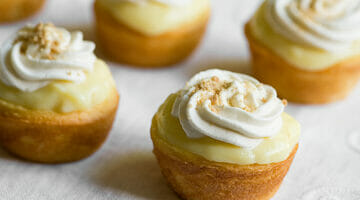 Banana Cream Pie Cupcakes
Print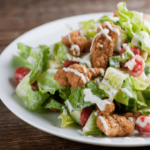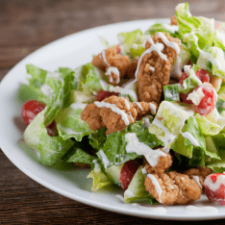 Shortcut Fried Chicken Salad
---
Author:

Prep Time:

15 minutes

Total Time:

15 minutes

Yield:

4

servings

1

x
Category:

Dinner

Method:

No Cook

Cuisine:

American
Description
Your favorite already cooked chicken nuggets makes this shortcut fried chicken salad recipe both super easy and super delicious!
---
Ingredients
18

–

24

of your favorite already cooked chicken nuggets, either warm or a room temperature

1

head romaine lettuce, rinsed and chopped into large pieces

1 pint

cherry tomatoes, halved

1

cucumber, diced

1/4 cup

Ranch or blue cheese dressing
---
Instructions
Put all ingredients into a large bowl. Drizzle about 1/4 cup ranch dressing over the top and toss gently with clean hands (yes hands – they are the best salad tossers you have) until everything has a light coating of dressing.
Place salad on plates, drizzle a little more dressing on top for garnish if you like and serve.
Wasn't that the easiest salad recipe EVER?
Notes
Need to add something to your kitchen equipment to make this recipe? Below are some of the items we used in the Framed Cooks kitchen to help cook this up. These are affiliate links to things we use and love, which helps to pay for all that bacon I keep buying!
Equipment We Used For This Recipe