Don't let fear keep you from making an airy, cheesy, wonderful cheese souffle! This easy recipe for no fear cheese souffle will make you a soufflé expert, so bring on those eggs and cheese!
For the longest time, I was afraid of cheese souffles.  Afraid the way the dog is afraid of thunderstorms, or the way the Southern husband is afraid the Georgia Bulldogs are going to lose to to Alabama.  A deep sense of foreboding and visions of deflated, soupy cheese lurked before me.  And then I tried actually MAKING a few cheese souffles, and you know what?  Easy. Reliable.  Festive.  Delicious.  And no fear!
[clBecause who wants to feel like this every time your significant other says "What about making us a nice cheese souffle?"

Now, I will prepare you for the fact that souffles DO start to un-puff pretty shortly after they leave the oven and all that hot air that is holding them up.  It's just a fact of life, but they WILL come out of the oven looking like this…

…and they will stay that way for the 5 minutes or so that will allow you to display your souffle triumphantness to your lucky diners, and after that you should be digging in to the airy, cheesy deliciousness.  So no worries there.
So how do we make this scrumptiousness?  Start by melting some flour and butter together on the stove, and then whisk whisk whisk in some milk to make a smooth, thick base.  Whisk in some cheese (I used Swiss and Parmesan for my souffle) and some egg yolks.  You're halfway there!
Now whip the leftover egg whites until they form nice solid peaks, and then pour in the cheese mixture.  Mix on low for about 10-20 seconds until everything is combined.  Pour it into a deep round baking dish (and no, you don't need a special souffle dish.  Any deep round casserole dish you have is FINE…no bad cheese souffle karma will come your way, I promise).  Pop it in the oven and watch the magic start.
In about 30 minutes, your cheese and egg mixture will have ascended into a golden, puffy cloud of wonderfulness.  Take it out, make sure anyone who is getting to eat this fabulousness admires the puffiness, and then scoop it out.  It will be airy and cheesy and scrumptious.  Imagine eating a cloud made of cheese.  Yup.  It's a cloud made of eggs and cheese.
Cheese souffle.  NO FEAR.
Print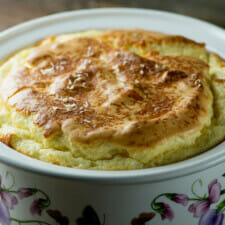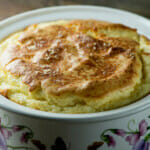 No Fear Cheese Souffle
---
Author:

Prep Time:

15 minutes

Cook Time:

35 minutes

Total Time:

50 minutes

Yield:

4

servings

1

x
Category:

Breakfast

Method:

Stovetop and Oven

Cuisine:

French
Description
Don't let fear keep you from making an airy, cheesy, wonderful cheese souffle! This easy recipe for no fear cheese souffle will make you a souffle expert.
---
Ingredients
1/4 cup

flour

1/2 teaspoon

salt

1/4 teaspoon

pepper

4 tablespoons

butter

1 1/2 cups

milk (whole milk works best)

1 1/2 cups

shredded Swiss cheese

1/3 cup

Parmesan cheese, plus a little extra for sprinkling

6

eggs, separated

1/4 teaspoon

cream of tartar
---
Instructions
Preheat oven to 350. Butter or use cooking spray to grease a deep round 2 quart casserole.
Melt butter in a medium saucepan over medium high heat. Whisk in flour, salt and pepper for about 1 minute until well combined. Pour in milk and whisk until smooth. Simmer for 1 minute.
Take the pan off the heat and stir in both cheeses until they are melted. Cool this mixture while you are whipping the egg whites.
Using a mixer, whip the egg whites with the cream of tartar until they form stiff solid peaks.
Whisk the egg yolks into the cheese mixture and then pour it into the bowl with the egg whites. Mix for another 20 seconds or so on low speed, just until everything is combined.
Pour the souffle mixture into the baking dish, pop it into the oven and bake for 30 minutes until golden and puffy.
Remove from oven, gaze at it admiringly and then serve at once!