This is one of those dishes that looks like you planned and labored over it for hours. Hours, I tell you! Please don't tell anyone that (including making the homemade marinara sauce) it will take you about 30 minutes. Yup, 30 minutes is all that is standing between you and some tender shrimp bathed in marinara sauce and nestled in a warm and wonderful bowl of creamy polenta. (Side note: I have a secret craving to write menu descriptions – can you tell? I would totally order something described as tender shrimp bathed in marinara sauce and nestled in a warm and wonderful bowl of creamy polenta.) But since I don't have a restaurant, the Southern husband is just going to have to fill in as the one who gets to hear my dramatic descriptions. So let's go make it!
You want to start with the polenta, unless you are making the quick cooking kind. Really wonderful polenta takes about 30 minutes to cook to the height of its flavor, and once you have it simmering in the pot it is very low maintenance – just a stir here and there. As always, I recommend the out of this world Anson Mills polenta, which you can order by clicking here. It's the pinnacle of polenta, and life is too short to go without fabulous polenta. (I tell the Southern husband it's grits, and everyone in my house is deliriously happy.) Required disclaimer: the Anson Mills folks don't know me or my blog – this is my unbiased opinion based fully on unrequited love for their polenta.
While your polenta is cooking up, it's time to make the marinara sauce. Marinara sauce is a quick and easy tomato sauce made with very few ingredients – just tomatoes, garlic, olive oil, salt and pepper and a little oregano or basil. No meat, no butter, no onions, and canned tomatoes are actually preferable to the fresh ones for this sauce. Try and get the San Marzano ones if you can – they are tomato perfection in a can.
Last but not least, you'll want to do the shrimp. Get the nice big ones (Costco is my go-to place for great shrimp). You are going to give them a quick saute in some garlic and olive oil, and as soon as they are cooked you are going to pour your lovely marinara sauce over them and stir everything together.
Now! Ladle a nice puddle of polenta into warmed bowls, add three or four shrimp to each bowl, and spoon on a little more marinara sauce. Add some shavings of parmesan cheese and there you go. Tender shrimp bathed in marinara sauce and nestled in a warm and wonderful bowl of creamy polenta, just like I promised.
And easy enough to make on a weeknight. Happiness!
Print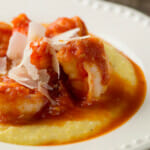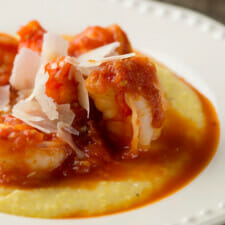 Shrimp Marinara with Polenta
---
Prep Time:

15 minutes

Cook Time:

30 minutes

Total Time:

45 minutes

Yield:

4

servings

1

x
Category:

Dinner

Method:

Stovetop

Cuisine:

Italian
Ingredients
For The Polenta
1 cup

fine cornmeal polenta (I love the Anson Mills variety!)

3 1/2 cups

water

1 teaspoon

salt

2 tablespoons

butter
For The Marinara Sauce
1

28-ounce can whole San Marzano tomatoes

2 cups

water

1/4 cup

olive oil

8

garlic cloves, peeled and chopped

1 teaspoon

coarse salt

1/2 teaspoon

dried basil or oregano
For The Shrimp
1/4 cup

olive oil

5

cloves of garlic, peeled and smashed

16

large shrimp, peeled and deveined
Salt and pepper
Shaved parmesan cheese for garnish
---
Instructions
Make the polenta: Put the polenta, water and salt into a heavy saucepan and bring to a boil. Reduce heat, cover leaving the lid slightly ajar, and simmer for 30 minutes. The polenta may look done after 15 minutes but letting it cook a little longer will give it a better taste. When the polenta is done, stir in butter and add more salt if needed.
While the polenta is cooking, make the sauce. Break up the tomatoes with a spoon or your fingers. Add the water.
Heat the oil over medium high heat and add the garlic. Stir it around for about a minute, and then pour in the tomato mixture, the salt and the oregano. Simmer for 15 minutes.
While the sauce is simmering (I know, we have a lot of things going on, but it's going to be SO worth it!), heat the olive oil over medium high. Add the garlic and stir for about a minutes. Add the shrimp in a single layer, sprinkle them with a little salt and pepper and cook them until they are pink and cooked through, about 2 minutes per side. Scoop out the smashed garlic and throw it out.
Pour the marinara sauce over the cooked shrimp in the skillet and stir until everything is nice and coated.
Ladle some polenta in warmed dishes and place 4 shrimp on top. Spoon on extra sauce, garnish with shaved parmesan and serve at once.