Steak is something that is usually saved for the summer months around our house, when I can sent the Southern husband out to the grill with his pig tail flipper and a couple of steaks and let him have at it.  But currently our grill is residing under the cover of snow and darkness at suppertime, and there are those days every once in a while when you just want some dang steak.  This recipe is for those times, and since it's an inside recipe it's me and not him doing the cooking.  Which means things are going to be a little bit fancier.  Just a little…I can't help it.
By fancier, what I mean is that I am going to cook the steak up with some garlic and some shallots (I do love shallots!), and when it is done I am going to smear it with a little herb butter.  Herb butter is just what it sounds like – regular old butter that has been mashed up with some fresh chopped herbs – but when you spread it on a hot steak and the butter and herbs melt into the little crevices on the top of the steak and mix in with the steak juices….
Where was I again?
Oh yes.  Steak.  This recipe is at its very best when made with little filet tenderloins.  I know they are pricy, but they are absolutely perfect when you make them this way, and you're worth it!!   But first, you want to start off by making the butter so it is all ready when your steak is.  You start with some soft butter, and mash it up with whatever combination of herbs and spices take your fancy.  I like fresh tarragon and minced shallots and a little ground pepper, but fresh rosemary, sage and parsley are also wonderful – so is minced garlic.  Etc, etc.  Herb butter is also great in scrambled eggs by the way.  Just saying.
Now to start the main event!  You begin by sauteing the garlic and shallots in a heavy skillet for about 10 minutes until they are brown and crispy.  Scoop them out, make sure the heat is nice and high, and now it's time for the filets.
Make sure you dry them off thoroughly with a paper towel, sprinkle them with salt and pepper and place them in the pan at least an inch apart from each other.  (Any closer and they will steam rather than sear, and we don't want that!).  If you like them rare to medium rare the way we do, cook them for 4 minutes on each side, and don't move them at all while they are cooking – this is how you get a nice crusty sear.  If your steaks are thicker than 1 1/2 inches, or if you like them a little more well done, increase the cooking time a minute or two on each side.
Now scoop them out, smear them with a little herb butter and let them sit for a few minutes…this will let the juices settle inside the steak rather than running out all over your plate when you cut into them.  It will also give your glorious butter some time to melt all over your steak.
Now serve them up with the crispy garlic and shallots alongside of them, and all of the sudden the fact that your grill is in dry dock until the snow melts won't feel so bad!  Especially if you follow them with baked hot chocolate (click here for that one) for dessert.  We can all eat salad tomorrow…we promise!
Print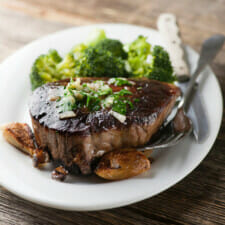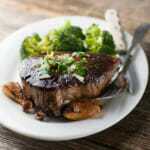 Steak with Herb Butter
---
Prep Time:

10 minutes

Cook Time:

15 minutes

Total Time:

25 minutes

Yield: Serves

2

- can be increased as needed.

1

x
Category:

Dinner

Method:

Stovetop

Cuisine:

American
Ingredients
2

beef tenderloin filet mignon steaks, about 1 1/2 inches thick
Salt and pepper

4 tablespoons

butter

2 tablespoons

olive oil

4

cloves garlic, peeled

1

shallot, chopped

1 tablespoon

fresh chopped herbs (your choice of tarragon, parsley, rosemary, sage, etc)
---
Instructions
Bring steaks to room temperature, dry them with a paper towel and season both sides with salt and pepper.
Make herb butter by mixing two tablespoons of soft butter with 1 tablespoon of your choice of chopped herbs. You can also add fresh ground pepper if you like!
Heat remaining butter with olive oil in a heavy larget skillet over medium high heat. Add garlic cloves and shallots and cook until the garlic is browned, about 5-10 minutes. Remove garlic and shallots and set aside.
Raise heat to high and add the steaks, making sure they are at least once inch apart. Cook them without moving them for 4 minutes. Turn them with tongs and cook another 4 minutes. (This will cook them medium rare – adjust the cooking time if you like them more well done, or if your steaks are thicker than 2 inches).
Remove the steaks, spread them with herb butter and let them sit for 5 minutes. Then serve with the browned garlic and shallots scattered around them.