How do I love thee, oatmeal?  Let me count the ways.  I love you in your classic form with a little brown sugar and milk.  I love you for supper with some cheese mixed in and a poached egg on top.  And lately, I love you toasted in brown butter, cooked slowly until you are soft and perfect, and then topped with apple and maple syrup.
First off, you need steel cut oats for this recipe.  What are steel cut oats, you ask?  They are the inner part of the oat kernel cut into small pieces.  Before you cook them they are hard little nuggets that looks very different from the regular oatmeal we are all used to – those are rolled oats.  Rolled oats are those same oat kernels, but they have been husked and steamed and flattened.  Both steel cut and rolled oats cook up into nice creamy oatmeal, but I like the nutty, more substantial consistency of steel cut oats.  That's your oat information of the day!
So once you have yourself some steel cut oats oats, you're going to toast them up in brown butter.  Brown butter is regular old butter that has been melted over low heat until it foams and turns a light brown color, which gives it a lovely nutty flavor.  (All these things we are learning today!)  Once your rolled oats are toasted in the brown butter, pour in a water and milk mixture and simmer it all up until the oatmeal is nice and soft and creamy and wonderful.
Meantime, grab one or two of these babies – I always have a bowl of them on my counter this time of year.
Cut it into cubes (skin and all please!) and saute them in a little butter for about 5 minutes, just until they are soft and perfect.  And then all that's left is the assembly!
Spoon your toasted brown butter oatmeal into bowls (I like to warm up my oatmeal bowls in the oven ahead of time) and pour on a little warm milk.  Scoop a generous spoonful of apple mixture on top of the oatmeal, and then drizzle some warm maple syrup on top of the whole thing.
Dig in, and realize that oatmeal is one of life's true pleasures.  Yay, oatmeal!
Print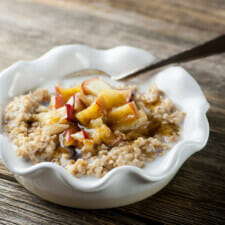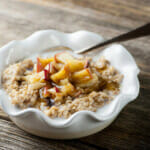 Toasted Brown Butter Oatmeal with Apples
---
Prep Time:

5 minutes

Cook Time:

35 minutes

Total Time:

40 minutes

Yield:

4

servings

1

x
Category:

Breakfast

Method:

Stovetop

Cuisine:

American
Ingredients
4 tablespoons

butter, divided

1 cup

steel cut oats

2 cups

water

2 cups

milk

2

apples, cored and cut into chunks
Warm milk for topping
Warm maple syrup for drizzling
---
Instructions
Melt 2 tablespoons of butter in a medium saucepan over medium-low heat until it foams and turns light brown. Add oats and stir for 5 minutes until lightly toasted.
Add water and milk and stir. Cook over low heat for 30 minutes or until oatmeal is soft, stirring occasionally.
Meantime, saute apples in remaining butter over medium heat until soft, about 5 minutes.
Spoon oatmeal into warmed bowls. Pour a little warm milk over each serving, top with a spoonful of apples, drizzle with warm maple syrup and serve at once.