Imagine an apple pie that comes out perfectly every time with no dripping or breaking, and I will show you a Vermont Apple Slab Pie! You may never go back to a round pie again.

I've tried my hand at quite a few apple pies over the years, and they are tricky little devils.
Sometimes the apple filling comes out soupy. Lots of times the crust will crumble when I'm trying to serve up nice neat wedges.
Then there was the time my friend Lynne and I forgot to peel and core the apples. (We were ten, before you start to wonder why you are reading this food blog.)
Ready to up your apple pie game? Let's make it!
Here's why you will love this recipe!
Well, I'm here to tell you that with the exception of that whole peel and core thing, apple slab pie solves all of those issues!
It cuts into neat little squares – no messy, unreliable wedges.
It is never soupy…it's the perfect amount of tender and solid (solid in all the good ways).
IT HAS A MAPLE SYRUP GLAZE. (I might have to go breathe into a paper bag now.)
Here's how you make this perfect apple pie
You need two pie crusts the way you do for regular apple pie. Go ahead and make your own if you are inspired – personally, I use the premade piecrust dough that you can find in the refrigerated section of your supermarket.
They are perfectly tasty, and if you don't tell I won't tell, and nobody else will be ABLE to tell. Lay them out and cut them into roughly 9×9 inch squares.
Now lay one of the squares into an 8×8 inch square baking pan that you have lined with nonstick foil that extends out over the sides (this will make it SO much easier to take the pie out of the pan, and you will think warm fuzzy thoughts about me).
It will come up a little but around the sides – this is just right.
Now scatter about 1/2 cup of crushed cornflakes (the regular variety or the frosted variety). I bought one of those single serving containers of Frosted Flakes and it was more than enough, and that way I didn't have a large box of Frosted Flakes lingering in my pantry.
The cereal will absorb some of the liquid from the apples so your bottom crust doesn't get all mushy. I've heard of folks making apple slab pie with breadcrumbs instead of cereal, and so if you'd rather go that route I'm sure that would be just fine.
Now layer your apples – peeled and sliced – on top of the cornflakes, and sprinkle some cinnamon sugar on top.
Place the other crust on top and push towards the bottom crust as best you can. Don't worry about sealing them together. Cut a few slashes in the top of the crust and pop it in the oven for about an hour.

Once it comes out and is completely cool, you are going to make a sinfully good sugar glaze out of powdered sugar and Vermont maple syrup.
Drizzle it on – drizzle it ALL on. It's the secret sauce that takes this dessert over the edge into extreme wonderfulness.
Now comes the best part – you can cut this up into whatever size square slabs you want (small and dainty, big and hearty, etc) and serve it up.

No more struggling with the apple pie wedges – especially that stubborn first one.
Inside will be a tender layer of cinnamon-sweet apples, all contained in an obedient, fragrant, maple syrup crust. And with that, I may never go back to regular apple pie ever again.
Other apple recipes that we love!
Vermont Apple Slab Pie Recipe
Print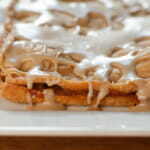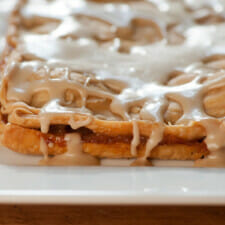 Vermont Apple Slab Pie
---
Prep Time:

25 minutes

Cook Time:

50 minutes

Total Time:

1 hour 15 minutes

Yield: Serves

9

–

16

, depending on how big your slabs are!

1

x
Category:

Dinner

Method:

Oven

Cuisine:

American
Ingredients
2

refrigerated uncooked pie crusts

4 cups

apples, peeled, cored and sliced (about

4

–

5

apples)

1/2 cup

crushed cornflakes (regular or sweetened)

1/3 cup

sugar

1 teaspoon

cinnamon

3/4 cup

confectioner's sugar

1/3 cup

maple syrup
---
Instructions
Preheat oven to 375
Line an 8×8 inch baking dish with nonstick foil, using 2 pieces so you have some overlap hanging over all sides.
Cut the piecrust dough into rough 9×9 inch squares. Place the first square in the baking dish, pressing the edges a little ways up the sides.
Scatter the cereal over the dough, and then put the apples in a layer on top of the dough.
Stir the cinnamon into the sugar and then pour the cinnamon sugar evenly over the apples.
Top with the second crust and press the edges down towards the bottom crust. They don't have to be sealed. Cut a few steam slices in the top crust and bake until golden, 50-60 minutes.
Cool in the pan for about ten minutes and then carefully remove from the pan, using the foil edges as handles. Cool on a rack in the foil until completely cool. The waiting is the hardest part!
When the pie is cool, make the glaze by mixing the maple syrup into the powdered sugar. If it is too thick add a little more syrup.
Carefully transfer the pie from the foil to a serving plate (I use two big spatulas for this) and then drizzle the glaze over the top. Use it all!
Cut into slabs and serve.