Cool down and say cheers with this simple recipe for your very own easy homemade blackberry sangria! A perfect way to use those fresh summer blackberries and to beat the summer heat.
Okay, so 99% of the time I am a red wine girl. As in merlot and pinor noir and malbec, oh my! There's nothing like a lovely red wine on a cold winter's night, and most of the time for me there's nothing like a lovely red wine on a warm summer's night. What can I say…at least I'm consistent! But once a year when we are smack in the middle of big, plump, juicy blackberry season I relent and cook up a batch of blackberry sangria.
And since I am all about the path of least resistance while still keeping things delicious, there is not going to be any fermenting and weeks of waiting here. Nope, we're going to make the shortcut version, and it's going to be ready by the end of the summer day.
Now, I'm using the word sangria very loosely here, because technically sangria is made with red wine and involves various kinds of fruit and soda and other ingredients. My version turns OUT red, but that's because I make a quick and easy simple syrup out of fresh blackberries and a little sugar mixed with chilled white wine and a squeeze of lemon. That sounds close enough to sangria to me, with apologies to any sangria purists out there.
Obviously you need to start with a bunch of these.
I picked these babies right off the blackberry bush at our wonderful Vermont hideaway, but if you don't have a blackberry bush at your disposal, now is the time of year that you can find beautiful blackberries at your local farmer's market (in the Northeast USA, anyway!).
You're going to make a simple syrup out of these which is (as the name promises), really simple! Just put the berries in a small pot with some sugar and a little water and simmer it over medium low heat until everything is all broken down and, yep, syrupy.
Let it cool and then pour the syrup through a fine mesh strainer into a measuring cup, pressing and stirring with a wooden spoon until you have gotten every bit of juicy syrup and only the pulp and seeds are left behind. (And by the way, if you are not a sangria kind of person, this is the best vanilla ice cream topping I know.) Now pop that measuring cup in the fridge and go do something summery and fun for the rest of the day.
Yep, that's me in a bathing suit. If you ever had any doubt that I love you, it should now be totally washed away by the fact that I showed you a picture of me in a bathing suit.
At the end of the day when your syrup is nice and chilled down and you are all ready for a lovely summer cocktail, pour 3 cups of chilled white wine (I like a chardonnay for this) into a large pitcher, and then pour your simple syrup into the pitcher and stir. Admire that summery purple color.
Now squeeze half a lemon into the mixture, and cut a few slices off the other half of the lemon for a little zip and color. Pour it into a couple of wine glasses, garnish with some lemon, and voila! Your own fresh blackberry sangria. I've yet to try this with strawberries or blueberries, but my guess is that it would be just as delectable.
Cheers!
Print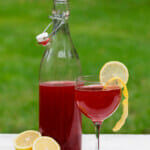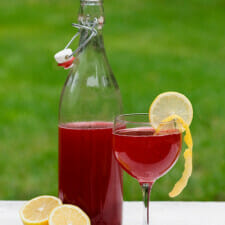 Easy Homemade Blackberry Sangria
---
Prep Time:

15 minutes

Cook Time:

10 minutes

Total Time:

25 minutes

Yield: About

3

-

4

cups of sangria

1

x
Category:

Beverages

Method:

Stovetop

Cuisine:

American
Ingredients
1 pint

fresh blackberries

1/2 cup

sugar

1/8 cup

water

3 cups

chardonnay white wine, chilled

1

lemon
---
Instructions
Make a simple syrup by combining the berries, the sugar and the water in a small pot and heating the mixture to a simmer over medium heat. Simmer, stirring every now and then, until the berries have broken down and the mixture is syrupy.
Cool the syrup and then pour it through a fine mesh strainer into a 2 cup measuring cup, pressing down and stirring the solids with a spoon until you have gotten all the liquid out. Refrigerate for several hours.
Right before you are read to serve, pour the wine into a large pitcher. Pour the simple syrup into the pitcher and stir until the wine and the syrup are well-combined.
Cut the lemon in half and squeeze the juice out of one half and add to the sangria. Cut the other half into slices or strips.
Pour the sangria into wine glasses, garnish with lemon slices and enjoy!
SaveSave
SaveSave