This spreadable beer cheese is a quick and easy combo of cheddar cheese and your favorite beer, and will soon be a regular guest at all your parties!
Oh my goodness, this cheese.  This is a heavenly soft and spreadable concoction of cheddar cheese, beer and a few other goodies that you whiz up in your food processor.
I hear that it got its start in Kentucky, and so there are various versions of this that are called Kentucky Beer Cheese.
Being the good Northerner that I am, I used my very favorite Vermont Cabot Extra Sharp cheddar in this, so I really wanted to call it Vermont Beer Cheese…but I figured that might cause a ruckus with the Southern side of my family.
So I'm simply going with beer cheese, because whatever you call it, it still tastes pretty dang fine.
A quick note about the beer part of this recipe.  I'm sure the Kentucky beer cheese people have very strong feelings about the type and amount of beer you are supposed to use in this recipe, but since I make the Vermont version I tend to play things fast and loose with the beer.
As in, I use whatever happens to be in my fridge at the moment the yearning strikes me to make beer cheese.  At this particular moment, we had a few bottles of this.
Yep, Landshark.  There is this bbq joint that the Southern husband and I go to almost every Friday night, and they have a surfboard hanging on the wall that has the Landshark logo painted on it and a big sharkbite out of the side of it.
The Southern husband COVETS that surfboard (don't ask me, I don't know), and since he hasn't been able yet to track down one of his own, he settles for the beer.
Here's how you make beer cheese!
Anyway, you need to bring a big hunk of your personal favorite cheddar to room temperature and chop it up into chunks.
Drop them into your food processor and let it rip – you want to process it until the cheese is pretty smooth.  Once your cheese is processed, you are going to toss in some garlic, a little Worcestershire sauce and some dry mustard.
Process, process.
Now for the beer.  I must pause and say we have one bottle opener in our house.  It talks when you open a bottle of beer, and it talks LOUDLY.  Here is what happens if you want to listen to what I have to listen to every time I open a bottle of something, and please keep in mind that I am a Mets fan.  Opposites attract!
Anyway, take your open bottle firmly in hand, and slowly pour the beer through your food processor's feeding tube.
Here's where the art of making beer cheese happens, because you want to put in enough beer to make it fluffy and spreadable, but not so much that it is soupy.
This pretty much means that you are going to need to do a decent amount of sampling.  Pour in a little beer, turn off the food processor, taste a little cheese, put the lid back on, pour in a little more beer.  Repeat as needed.
(I know…it's a tough job, but somebody has to do it.)
Now, you pretty much can't get this wrong, because the perfect consistency is however YOU like it best.  If you overshoot the beer and you feel like you've made it too fluffy or thin, just toss in a little more cheese.
But really, if you are responsible about the testing and you add the beer in increments, you will do just fine, and about 5 minutes after you start you will be sitting down with the remaining beer and a cracker that looks like this:
And all will be right with the world, whether you are in Kentucky, Vermont or somewhere in between.  Beer cheese!
Print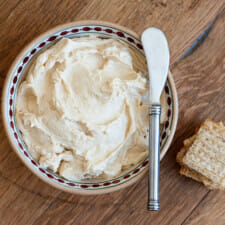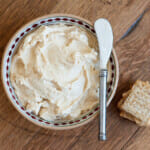 Beer Cheese!
---
Author:

Prep Time:

10 minutes

Total Time:

10 minutes

Yield:

Makes a good 1 1/2 to 2 cups of cheese! This keeps well in the fridge, but let it come to room temperature before serving.

Category:

Appetizer

Method:

No Cook

Cuisine:

American
Description
This spreadable beer cheese is a quick and easy combo of cheddar cheese and your favorite beer, and will soon be a regular guest at all your parties!
---
Ingredients
1

pound sharp cheddar cheese, room temperature and cut into chunks

1

–

2

cloves garlic, peeled

2 tablespoons

Worcestershire sauce

1 teaspoon

dry mustard
About

1/2

bottle of beer
---
Instructions
Put cheese into food processor and process until cheese is chopped finely.
Add garlic, Worcestershire sauce and mustard and process until blended well with the cheese.
With the processor running, pour the beer in small increments into the cheese mixture. Turn off the food processor after each addition to check the consistency – you want the cheese to be soft and spreadable. You should also push the cheese down from the sides with a spatula each time you check it. You will probably not need all the beer, but use as much as it takes to get the cheese the consistency that you like!
Serve the cheese with crackers, cut up celery or anything else you like – and don't let the leftover beer go to waste!
Notes
The garlic flavor is front and center if you use both cloves (which I love!) but if you want it more subtle, stick with one clove.
SaveSave