Yes, everyone's all time favorite fun food is now in pizza form with this quick and fun-filled recipe for macaroni and cheese pizza! Toss that take-out number and suprise your family with this unexpected mash-up of their two favorite suppers in one easy recipe!
I finally did it. I've been thinking about it, dreaming about it, hinting around about it, flirting with it, and now I've finally taken the plunge. Yep, macaroni and cheese cupcakes and macaroni and cheese soup and plain old macaroni and cheese just weren't enough….I had to go and make macaroni and cheese pizza.
Part of this is my way of coping with the fact that my macaroni and cheese partner in crime, aka the teenager, is off cavorting around at college and having a grand old time, leaving me here to make macaroni and cheese without her. Sniffle. I do have to admit that I posted this next picture on her Facebook wall in a shameless attempt to lure her home for a weekend visit with her mama.
There are no lengths to which I will not go to get some quality time with my bunny, who was just in kindergarten five minutes ago…I'm not sure how this college thing snuck up on me so fast. Sniffle, sniffle, sniffle.
Back at the pizza, here's what I did. I found me a nice thin pizza crust in my supermarket. You could, of course, use one of those thicker crusts, but we are going to be ladling a significant amount of macaroni on top of it, so I opted to go thin crust. I wanted just enough crispy crust to be able to securely hold my m&c topping. I used a Mama Mary's crust, which was thin and perfect (and that is my own unbiased opinion – the Mama Mary's folks have never heard of me!)
Next I roasted up a nice handful of cherry tomatoes. I was looking for a little hint of that sweet tomato sauce taste, and regular tomato sauce just didn't seem right for this pizza. But the little cheery cherry tomatoes were perfect.
Now, the key to this pizza is, of course, the mac and cheese. The oven baked kind just won't work…it's too thick and dense. Nope, what you want is the creamy, cheesy stovetop variety that you can ladle on to your pizza crust. Scatter the cherry tomatoes on top, shake on some oregano and then pop it in a hot oven for about ten minutes – just long enough for the macaroni to crisp up just the teeniest bit.
Then all that's left is the eating! As you can imagine, this is One Filling Pizza. After one slice, I pretty much felt like I had the macaroni and cheese version of Thanksgiving dinner. And as it turns out, the teenager came home for the weekend last weekend. Coincidence? Maybe…but maybe not!
Print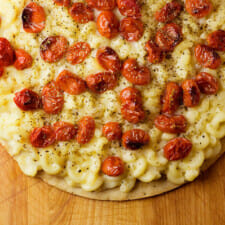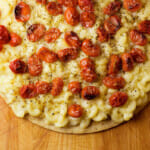 Macaroni and Cheese Pizza
---
Author:

Prep Time:

10 minutes

Cook Time:

30 minutes

Total Time:

40 minutes

Yield:

1

pizza, which will feed anywhere from 4 to 8 people, depending on how hungry they are!

1

x
Category:

Dinner

Method:

Stovetop and Oven

Cuisine:

American
Description
Yes, everyone's all time favorite fun food is now in pizza form with this quick and fun-filled recipe for macaroni and cheese pizza!
---
Ingredients
1 pint

cherry tomatoes

1 tablespoon

olive oil

3 tablespoons

butter

1/3 cup

flour
Salt

4 cups

whole milk

3/4

pound macaroni (elbows, small shells, etc)

4 cups

shredded cheddar

1

pre-made thin pizza crust
Dried oregano for garnish
---
Instructions
Preheat oven to 450 and line a rimmed baking sheet with foil. Toss tomatoes with olive oil and roast for 10 minutes until soft and blistered. Remove from oven and set aside.
Melt butter in medium saucepan over medium heat. Add flour and 1/4 teaspoon salt and cook until flour is slightly brown, about 3-5 minutes
Pour in milk, whisking constantly until mixture is smooth. Stir until boiling and then reduce heat to low. Simmer until mixture thickens a little, about 10 minutes, stirring every few minutes.
Meanwhile, cook pasta until al dente, drain and return to pot. Remove sauce from heat, whisk in cheese and stir until cheese is melted. Add pasta and stir to coat. Cool for about 5 minutes, stirring occasionally.
Ladle a generous amount of mac and cheese over the pizza crust (you won't use all of it, meaning you will have leftover mac and cheese, meaning you will be SO happy later in the week!). Scatter the roasted tomatoes on top, and shake on some oregano.
Bake for 5-10 minutes, remove from oven, cut into wedges with pizza cutter and serve!