The Southern husband, bless his big Southern heart, is not shy about suggesting things for the weekly supper menu. Usually those things contain the words "okra," "grits" or "steak," all of which is fine with me because I love all three of those items. One day I will come up with a Steak with Okra and Grits recipe just for him…one day. So I was taken completely by surprise the other day when he said he was really wishing he had some vichyssoise.
Huh?
Now see, this is one of the things I love about this guy. He keeps me on my toes. Just when I think that after one million years of marriage I can predict pretty much anything that he's going to say, he goes and says the word "vichyssoise." Meaning not only did I have have to make it, but I'm also going to have to spell it various times throughout this post. I tell you – the things we do for love.
So vichyssoise (which by the way I have now spelled incorrectly TWICE and have had to go back and fix) is basically fancy for cold potato soup. And happily, he had the whole vichyssoise craving on a day when I happened to have another soup on the menu for that night. It was a hot clam chowder. It was 90 degrees that day…so why? I have no idea. My mind works in mysterious ways even to me, but I had the potatoes on hand for the clam chowder so it was an easy detour to the much more sensible cold vichyssoise.
And really, it couldn't be easier – you simmer some trimmed leeks with your potatoes in a mixture of water and milk until everything is nice and tender. Cool it off a little and then give it a whirl in your blender until everything is nice and smooth. If you have an immersion blender you can blend it right in the pot – one less thing to wash! Now strain it through a fine mesh strainer into a bowl and pop it in the fridge. If you make it in the morning it will be perfect by suppertime. (If it's a little too thick for your taste once it's chilled, thin it down with a little milk.)
The traditional way to serve this is with some chopped chives, since I can never leave well enough alone, I decided to jazz it up a little by toasting up some garlic bread crumbs until they were nice and crunchy, along with a little chopped pancetta that I also sauteed until it was crispy. I scattered these on top along with the chives and it gave it just the right amount of crunch.
And there you go – cool, smooth and a little bit out of the ordinary. Just like my surprising Southern husband. ♥
Print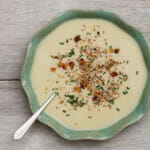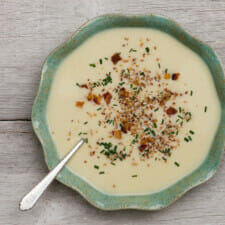 Vichyssoise!
---
Prep Time:

20 minutes

Cook Time:

30 minutes

Total Time:

50 minutes

Yield:

4

-

6

servings

1

x
Category:

Lunch

Method:

Stovetop

Cuisine:

French
Ingredients
4

medium leeks, trimmed, rinsed and sliced thinly

2

large Yukon Gold potatoes, peel and sliced thinly

2 cups

whole milk

1 cup

heavy cream
Salt and pepper to taste

2 tablespoons

fresh chopped chives

1

slice bread

1 tablespoon

butter

1

small clove garlic, minced

1/4 cup

chopped pancetta (or

two

slices bacon)
---
Instructions
Put leeks, potatoes, milk and 2 cups of water in a large pot and bring to a boil. Reduce heat and simmer until the potatoes are tender, about 25 minutes. Cool for 10 minutes and stir in the cream.
Using either a regular blender or an immersion blender, puree until smooth. Set a fine mesh strainer over a large bowl and pour the soup through it, stirring the soup as it goes through the strainer to get out any remaining solids.
Season to taste with salt and pepper and refrigerate until chilled, a minimum of three hours.
Pulse bread slice in food processor to make crumbs. Heat butter in a medium skillet over medium high heat. Add garlic and breadcrumbs and stir until crumbs are golden and crunchy. Set aside.
Wipe out skillet and add pancetta or bacon. Stir over medium high heat until crispy and drain on paper towels until slightly cooled.
Divide soup among bowls. Garnish with bread crumbs, pancetta and chives and serve at once.