So, anyone who reads this blog on a regular basis would probably very understandably assume that my favorite sandwich is a BLT.  (Maybe because I have mentioned bacon a few times here and there over the years.)  But astonishingly it is not…nope, my heart belongs to a sandwich called the Monte Cristo, which is a ham, cheese and turkey sandwich that is dipped in egg batter and fried to golden perfection.  (Pause here to close eyes and imagine the wonderfulness).
So there's your background for the story I am about to tell.  A little while back I made the Southern husband a Southern dinner of ham with red-eye gravy and grits.  And at the end of that deliciousness, I had a good-sized chunk of ham left over, and it dawned on me that while I always order Monte Cristo sandwiches on any (and I mean any) menu where I find them, I've never made one at home.  And since you need very thin sliced ham for a Monte Cristo sandwich and since my leftovers were in a big old chunk of ham and since I am kind of terrified of my mandoline slicer (you don't want to know, believe me), I let go of my Monte Cristo sandwich dream and resigned myself to making something that required chunks of ham.
And then I had a vision.
(Bear with me.  That's the closest picture I have to what I imagine a vision might look like.)
What if I took all the fabulous elements of a Monte Cristo…the ham, the turkey, the cheese, the bread, the egg batter…and just rearranged them a little?  Into a mixture of ham chunks and sliced turkey and shredded Swiss cheese and cubes of bread, all soaked in a mixture of eggs and milk and cream, and then baked?
Heck, without the whole frying part, this was even HEALTHY!  Er.  Healthi-ER.  Than the fried Monte Cristo sandwich.  That's my story and I'm sticking to it.
Anyway, this little dish of heaven that I have christened Monte Cristo Bread Pudding is a quick mixture of all those ingredients above.  I scattered a few bread cubes in the bottom of some individual baking dishes, then put cubed ham, some shredded cheese and some sliced turkey on top of the bread (you could definitely use cubed turkey as well if that's what you have on hand.)  I covered all this with another layer of bread cubes.  Then I mixed up some eggs with a little cream and milk and pepper and poured it over the bread mixture.  Then I covered the dishes with plastic wrap and popped them into the fridge for a few hours so everything could get nice and soaked through.
When suppertime rolled around I sprinkled the top with a little more cheese and baked them for about 30 minutes until things were looking nice and golden.  Now, if you want the FULL Monte Cristo experience, you could sprinkle yours with a little confectioner's sugar and serve them with some raspberry jam on the side, since that's often how the sandwich is served.  In all my excitement I forgot about that part, and so we dove into ours as is.
Which means I need to make them again soon so I can try them with the sugar and the jam.  Which means I need to make ham with red-eye gravy and grits again soon.
It's a never-ending circle.
Print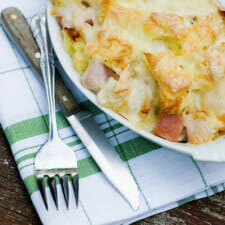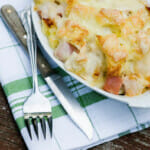 Monte Cristo Bread Pudding
---
Prep Time:

15 minutes

Cook Time:

30 minutes

Total Time:

45 minutes

Yield:

2

servings

1

x
Category:

Breakfast

Method:

Oven

Cuisine:

American
Ingredients
3 cups

bread cubes

2 cups

cubed ham

1 cup

cubed or sliced turkey

1 1/2 cups

shredded Swiss cheese

1 cup

milk

1/2 cup

cream

2

eggs
Powdered sugar (optional)
Raspberry jam (optional)
---
Instructions
Preheat oven to 350.
Lightly grease two individual baking dishes and put one cup of bread cubes into the bottom of each. Divide the ham and turkey between each dish. Top each dish with 1/2 cup of cheese and another 1/2 cup of bread cubes.
Thoroughly mix the egg, cream and milk together. Pour half of the egg mixture over the contents of one baking dish and repeat with the other. Cover each dish with plastic wrap, press down on the top a little to make sure the bread is in contact with the egg mixture, and refrigerate for at least 6 hours (and up to overnight)
Remove plastic wrap and sprinkle the remaining cheese on top. Bake for 30 minutes or until golden brown.
Serve sprinkled with powdered sugar and with raspberry jam, or just as is!
Still Hungry?
Savory French Toast BLT from Framed Cooks
Turkey Monte Cristo Panini from Panini Happy
Prosciutto, Apple and Brie Monte Cristo from Fine Cooking