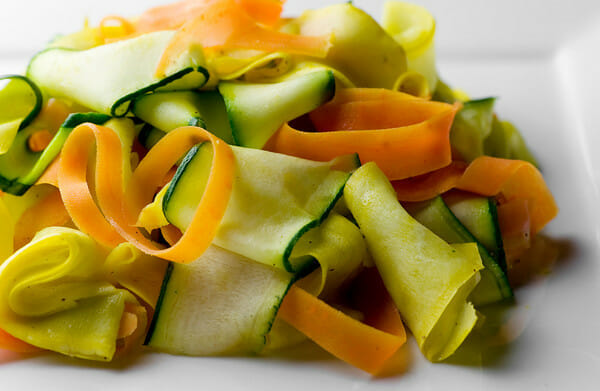 I know, it's not TECHNICALLY summer yet.  But we've had a gorgeous string of days in the 70's and 80's, and the Southern husband has hosed down the outside table on the patio and revved up the grill a few times, and so that's good enough for me.  It's summer in my back yard, and I'm celebrating with some ribbons.  Summer vegetable ribbons!
You can technically make these any old time of year, but they are a wonderful thing to make when you want something festive on your plate next to your grilled buttermilk chicken, or your grilled steak with chimichurri sauce, or whatever it is you are grilling.  And this side dish takes pretty much no time to make, so you'll have plenty of time to sit outside smelling the early summer roses before suppertime.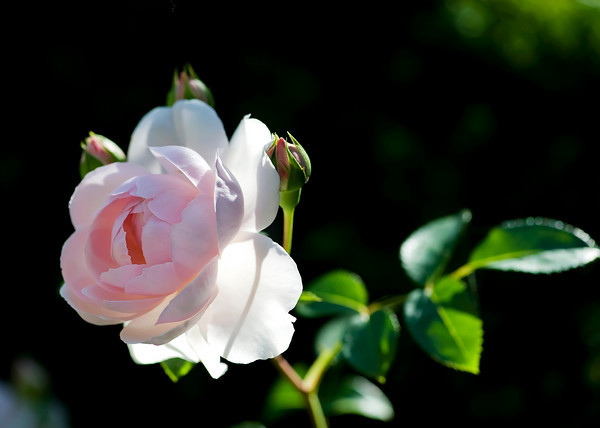 Here's all there is to it: grab your trusty vegetable peeler, a couple of green and yellow summer squash, and a few of these….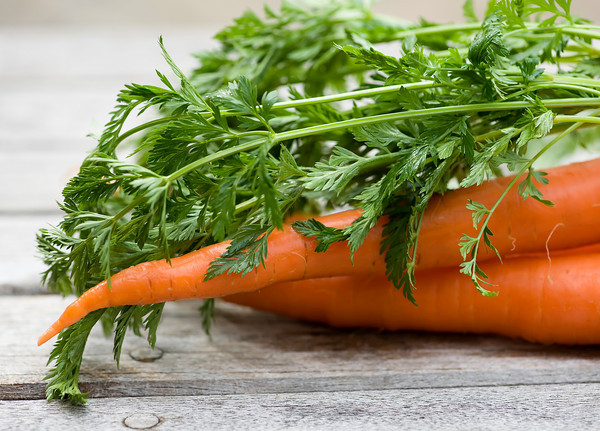 Peel the outside of the carrots as you normally would, and peel one strip down the side of each squash, and toss those.  Now grab a big bowl and using the peeler to cut super-thin ribbons of each veggie into the bowl.  It's going to look like you have a LOT of ribbons, but don't fret…they are going to settle down considerably when you cook them.
After you have your beautiful bowl of ribbons, melt 2 tablespoons of butter in a large skillet over medium-high heat.  Add your ribbons, and use tongs to toss them in the butter for about 2-3 minutes until they are just cooked through.  Now season with a little bit of salt and fresh ground pepper, and you are done!
Well, except for the arranging part.  If you are a normal person, you will just put the ribbons onto plate or a serving bowl and dig in.  If you are me, you will spend an inordinate amount of time arranging your ribbons so they look super-pretty.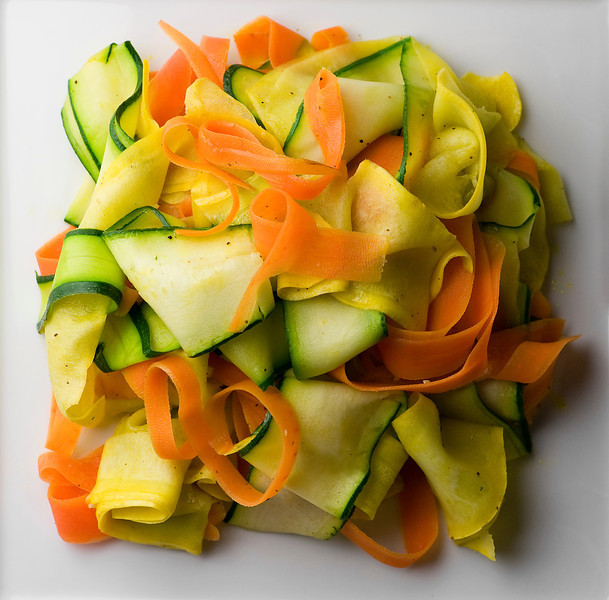 I can't help myself.  I do this with presents too, so all of you out there who have ever gotten a present from me?  I tied that bow about 15 times until I got it right.  I know, I know.
Vegetable ribbons!  Hello, summer.
Print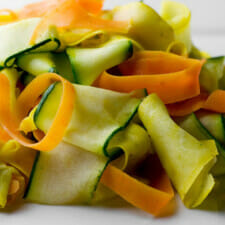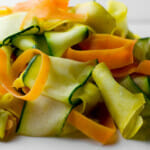 Summer Vegetable Ribbons
---
Prep Time:

15 minutes

Cook Time:

5 minutes

Total Time:

20 minutes

Yield:

4

servings

1

x
Category:

Side Dish

Method:

Stovetop

Cuisine:

American
Ingredients
1

zucchini squash

1

yellow squash

4

carrots

2 tablespoons

butter
Coarse salt and fresh ground pepper
---
Instructions
Using a vegetable peeler, peel just the outside skin of the carrots, and one long strip of the outside skin of each squash and discard.
Now peel long strips of the squash and the carrots directly into a large bowl. Try and make the strip the entire length of the vegetable. With the squash, once you get close to the middle it might be easiest to flip it over and start again from the other side (also discarding that first outside layer of peel).
Melt the butter in a large skillet over medium high heat (do not brown it.) Add the ribbons and toss for a few minutes until just tender. Season to taste with salt and pepper and serve immediately.
Still Hungry?
Zucchini Carpaccio, from Framed Cooks
Sauteed Squash from Add A Pinch
Carrots with Thyme, from Framed Cooks