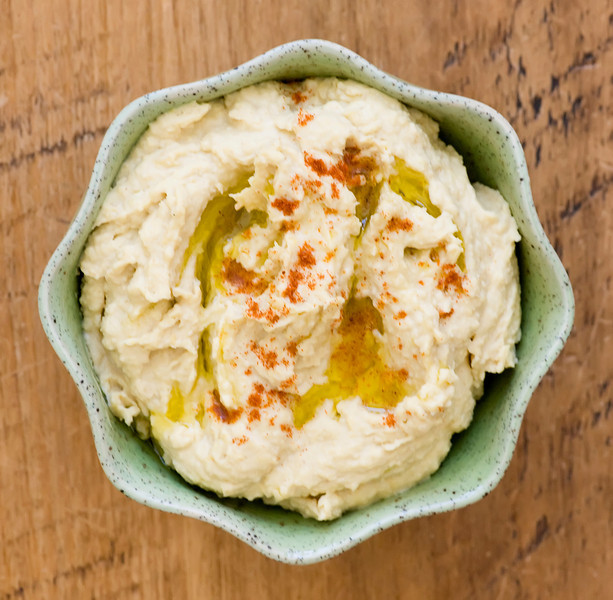 One of the questions I get a lot is, how do I make and photograph and then EAT all this stuff and still fit into my favorite jeans? (The questions usually are asked in a much nicer way than that, but that's the general drift.) And while I'm not as slender as I was before I got-married-had-a-baby-started-a-food-blog, I'm so far still fitting into the same size denim I've been wearing for the last 10 years or so. One of the answers I always give (and it is very true) is this: small plates! I'm a great believer in eating things that are truly delicious, and I'd rather have a little bit of bacon then a whole lot of celery.
Whip up your own delicious hummus in your food processor in less than 5 minutes!Click To TweetHowever, from time to time I have to resort to, shall we say, a more strict eating regimen? Just for a little while until the jeans can be buttoned without the whole lie down on the floor trick. And this time, I am going for Mark Bittman's routine which he calls Simple Till Six. The basic gist is this: you eat like a vegan from the minute you wake up until 6pm…and then you eat the way you always eat, maybe watching things a little more carefully, but in general, going your usual bacon-loving way.

So I've been doing this for the past month or so, and it's actually been pretty great, both for my Levi's and in terms of coming up with some interesting recipes that rely exclusively on veggies, fruits, whole grains, nuts and anything else that doesn't involve meat/poultry/fish/dairy/eggs/bacon. And that I, food-worshipper that I am, actually LIKE. So, I am going to start a new "vegan" tag on these recipes so I can keep track, and the first one I made and adore is this one. I can't believe I have been buying overpriced, pre-packaged, not-as-good hummus at the supermarket when I can literally make it in LESS than 5 minutes at home.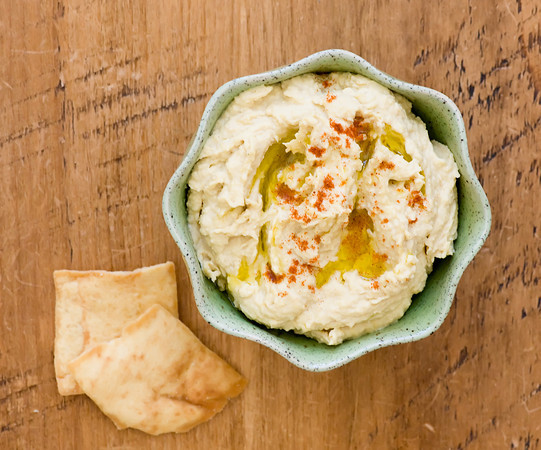 I'll put the recipe in formal form below just to be all official, but here's basically what it is: Dump the following items in your food processor: one can of drained chick peas, 1/4 cup olive oil, 2 tablespoons lemon juice, 1 teaspoon cumin, 1/2 teaspoon salt, a clove of garlic, 2 tablespoons tahini (this is optional but I like the taste). Press the on switch and let it rip until it looks like hummus. You can thin it down with a tablespoon or two of water if you like your hummus really smooth.

After that, feel free to garnish it with a little paprika, maybe an extra swirl of olive oil, and then it's just a matter of deciding what you will be scooping it up with. Pita chips, cherry tomatoes, cucumber slices and your finger all work equally well.
And at 6pm, I'll be breaking out the bacon.
Print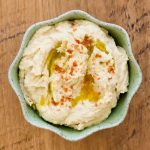 Five Minute Hummus
---
Yield:

4-6
Ingredients
1 15-ounce can chickpeas, rinsed
1 clove garlic
1⁄4 cup olive oil, plus more for serving
2 tablespoons fresh lemon juice
2 tablespoons tahini (optional but great!)
1 teaspoon ground cumin
kosher salt
1/4 teaspoon paprika
---
Instructions
In a food processor, puree the chickpeas and garlic with the olive oil, lemon juice, tahini (if using), cumin, and ¾ teaspoon salt until smooth and creamy.
Add 2-3 tablespoons water as necessary if you like your hummus creamier.
Transfer to a bowl. Drizzle with olive oil and sprinkle with the paprika before serving.
Recipe adapted slightly from Real Simple