This bagel, lox and avocado recipe is so easy it almost doesn't qualify as a recipe! But it definitely qualifies as a scrumptious, simple breakfast.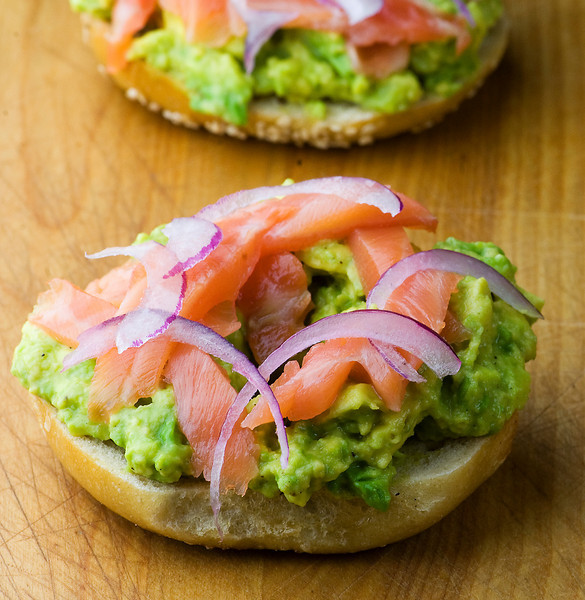 I've mentioned this here and there before, but I'll say it once again just for the record: the Southern husband has a serious love affair going with Costco.
From giant packages of paper towels, to 5 pound bags of chocolate chips, to camoflauge fabric shorts, to the world's largest bag of dog biscuits, I never know what he is going to come home with next.
Whatever it is usually makes at least someone in the house ecstatically happy.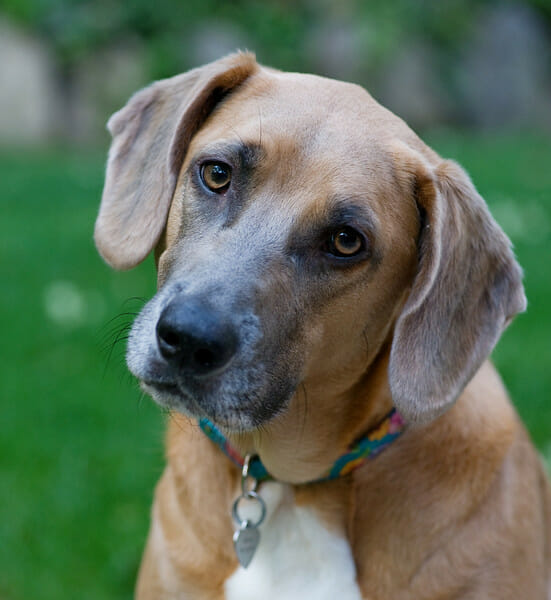 Especially the dog biscuit part.
Now, all of this works out really well when you are talking about paper towels, because you put one roll on the paper towel dispenser and put the other 29 rolls in the closet and you are set.
However, when the thing that catches his eye is perishable, it turns into a game of Beat The Clock…because as you may know, Costco sells in bulk. As in lots and lots and lots of whatever that item is.
Which is how I ended up with this particular recipe, because not so long ago along with a giant container of laundry detergent and package of 24 containers of strawberry yogurt, he also came home with a Costco-sized bag of avocados.
Now, I love avocados, and I have made everything from avocado and shrimp salad in mason jars to cucumber avocado soup, but a bag of 12 avocados was a bit of a challenge.
Sure, I could make the world's largest bowl of guacamole, but that seemed like cheating to me.
So over the course of a week filled with various and sundry avocado recipes that I had already tried before, we also had what is now known in my house as the BLA.
Not to be confused with a BLT, since the letters stand for totally different items. BLA is a bagel with lox (or smoked salmon – here's what the difference is) and avocado, and I tossed a little sliced red onion on top just for good measure.
(Pro tip: ask at your supermarket seafood counter if they have any smoked salmon ends – they often do, and they are a fraction of the cost of buying a regular piece of smoked salmon…and they are usually already the perfect size!)
Here's how you make a bagel with lox and avocado!
Here's all you do. Cut your bagel in half, and toast it or don't, depending on your own personal bagel preferences. My little sis will also sometimes scoop out the bagel itself so it is mostly crust, which gives you that much more room for the topping. She's a smart cookie!
Take an avocado, cut it in half and scoop it out onto a plate. Drizzle a little lemon juice on top – about 2 tablespoons, and if it's fresh-squeezed all the better.
Now take a fork and mash it all up. Mix in a pinch of coarse salt and a little fresh ground pepper.
Now spread a generous amount on your bagel, lay some lox or smoked salmon on top, garnish with some thin sliced red onion if you have any, and there you go – BLA!
Now if I can just figure out where to put all the paper towels.
Print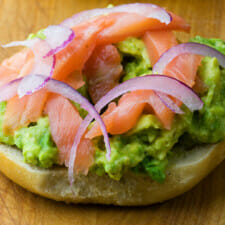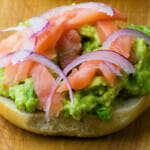 Bagel, Lox and Avocado
---
Author:

Prep Time:

5 minutes

Total Time:

5 minutes

Yield:

4

1

x
Category:

Breakfast

Method:

No Cook

Cuisine:

American
Description
This bagel, lox and avocado recipe is so easy it almost doesn't qualify as a recipe! But it definitely qualifies as a scrumptious, simple breakfast.
---
Ingredients
1

ripe avocado, peeled and mashed

1

–

2

tablespoons fresh lemon juice
Sea salt and fresh ground pepper

2

split bagels, toasted or not – it's up to you!

4 ounces

of lox or smoked salmon

1

small red onion, peeled and sliced
---
Instructions
Add lemon juice, salt and pepper to mashed avocado and stir.
Spread each bagel half with avocado.
Top with lox and onion and serve immediately.
Notes
Need to add something to your kitchen equipment to make this recipe? Below are some of the items we used in the Framed Cooks kitchen to help cook this up. These are affiliate links to things we use and love, which helps to pay for all that bacon I keep buying!