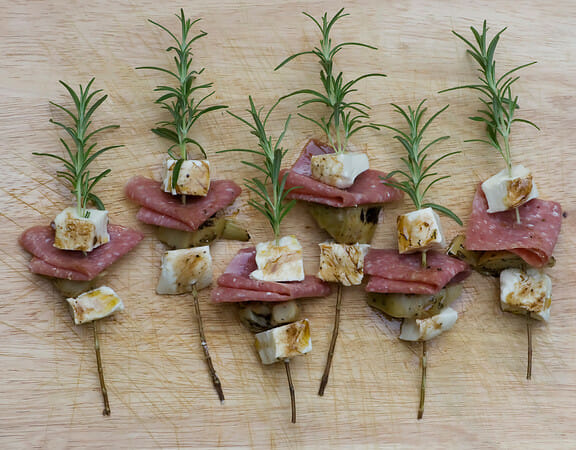 Yes, it is almost September (how is that POSSIBLE??) and as you know from some of my earlier posts, I am in major "use it or lose it" mode with my beloved barrels of herbs that live right outside my kitchen door. Their days are numbered, and so I am pulling out all my recipes that involve fresh herbs so that I can have another few weeks of herb extravaganza before things start getting chilly out there. And in case you want to join me, all my posts this week are going to feature some kind of wonderful herb or another, starting with these rosemary skewers.
I have to admit, it took me a while to warm up to rosemary. For the longest time I only knew about dried rosemary in the jar – those sharp little needles that could be used as miniature weapons in a pinch. But somewhere along the line I discovered soft, fragrant fresh rosemary, and a light dawned. Now I grow it in one of the whiskey barrels outside my back door, and this summer it just went crazy..I have a TON of it.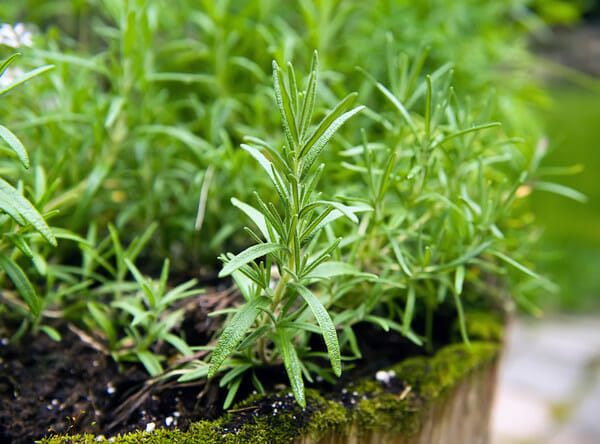 So I took the opportunity to try out a recipe I found on the always fabulous Pioneer Woman site. Sometimes on a Friday evening the Southern husband and I will skip actual dinner and just have some kind of interesting appetizer-type food for supper, and this fit the bill perfectly. You take stems of rosemary – and for obvious reasons these need to be sturdy stems (which they usually are). Strip off the leaves except for a couple of inches on the top. Then all you have left to do is skewer whatever you like on to these gorgeous smelling skewers. I used fresh mozzarella, grilled marinated artichoke hearts and pieces of genoa salami that had been folded in quarters. The original recipe called for olives as well. You could really used any kind of cheese you like, you could try sun-dried tomatoes, pieces of folded ham…you get the idea.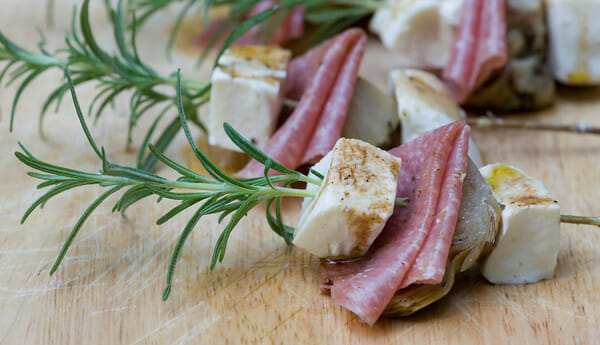 Some rosemary skewers, the setting sun, and sitting outside with your honey on a Friday evening — does it get any better?
Print
Ingredients
Rosemary Skewers, from The Pioneer Woman
Rosemary sprigs, leaved stripped except for the top 2 inches
Cubes of fresh mozzarella
Marinated artichoke hearts
Genoa salami, sliced thin and folded
1/2 cup olive oil
3 tablespoons balsamic vinegar
Salt and fresh ground pepper
Ground thyme
---
Instructions
Thread the cheese, artichoke hearts and salami on to the rosemary skewers in any order or amount you like.
Mix the olive oil, vinegar and spices until thoroughly combined and then brush onto the skewers. Arrange on a plate and enjoy!