This easy recipe for pork dumplings with chili sauce from the amazing Jaden Hair at Steamy Kitchen will convince you that you CAN (and should!) make your very own homemade dumplings!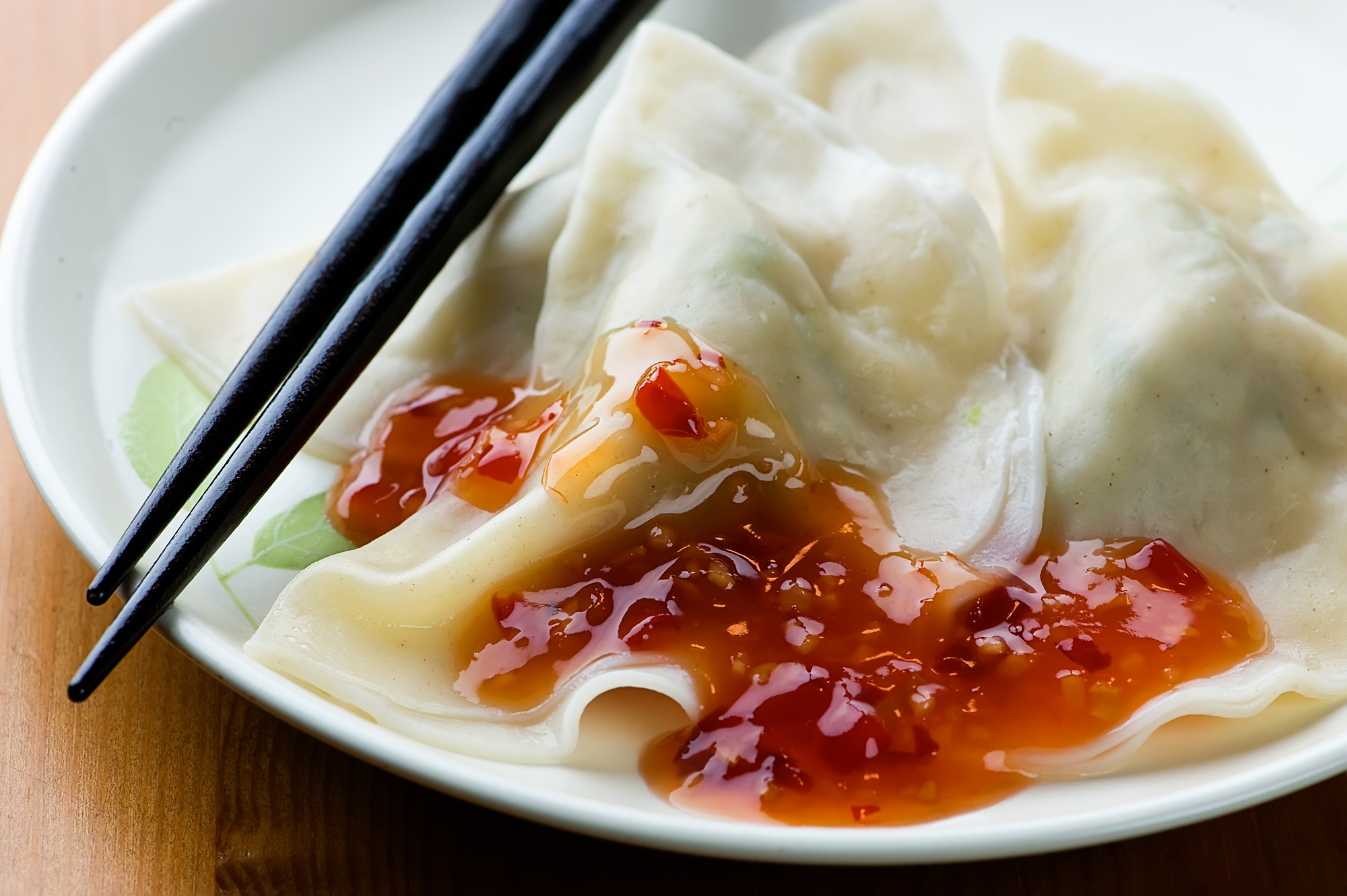 I just love this recipe, and I have to tell you, I am not sure why I made it in the first place, because I was absolutely sure it was going to be a disaster. But I found the recipe on the Steamy Kitchen website and I knew I had to give it a try, and here's why.
Steamy Kitchen is a fabulous recipe site, written and photographed by the even more fabulous Jaden Hair. Jaden is one of those rock star food bloggers with a television show and a huge blog and a cookbook…and she still took the time to visit my little blog when it was in its toddler stages and leave me an encouraging comment that made me think — hey, maybe I can actually DO this.  
She was and is so kind and encouraging, and made think that not only could I try my hand at food blogging, I could also make pork dumplings, because she made these dumplings look so good and sound so easy that I put them on the menu and got the ingredients. And scheduled them for a weekday dinner.
And then got home on that weeknight and thought to myself — am I NUTS?? The recipe made 50 of them, and I could just see myself making dumplings into the wee hours of the morning and then watching them all self-destruct as I put them into the boiling water.
So I enlisted the helpful Southern husband, figuring it would be comforting to share the blame when everything went South (went South…Southern husband…get it?? I crack myself up!) and we got down to it. And you know what?
15 minutes later we had 50 adorable looking little pork dumplings. I held my breath and lowered them into the boiling water, and 6 minutes later we had the most perfect little cooked dumplings. Not a single one fell apart. I popped them onto plates with a puddle of Sweet Ginger Chili sauce and they were as light and tender and delicious as can be.
So, thank you to the amazing Jaden for being such a generous, supportive person, and for this recipe. And make sure to check out her website AND her fabulous cookbook!  
Print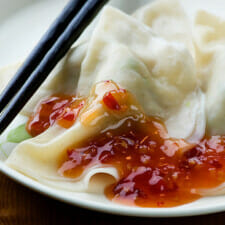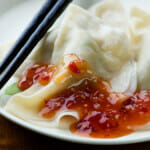 Pork Dumplings with Chili Sauce
---
Author:

Prep Time:

20 minutes

Cook Time:

15 minutes

Total Time:

35 minutes

Yield:

Makes 50 dumplings

Category:

Dinner

Method:

Stovetop

Cuisine:

Asian
Description
This easy recipe for pork dumplings with chili sauce from the amazing Jaden Hair at Steamy Kitchen will convince you that you CAN make homemade dumplings!
---
Ingredients
12 ounces

napa cabbage leaves, roughly chopped (or regular cabbage)

1 teaspoon

kosher salt (or

1/2 teaspoon

table salt)

1 teaspoon

grated fresh ginger (use microplane grater)

1/4 cup

minced Chinese chives or green onions (white and green parts)

2/3

pound ground pork

1/8 teaspoon

ground white pepper (or freshly ground black pepper)

1 1/2 tablespoons

soy sauce

1 tablespoon

Chinese rice wine (or dry sherry)

2 teaspoons

sesame oil

1

package frozen round dumpling wrappers (gyoza/potsticker wrappers), defrosted at room temperature for 30 minutes
For the slurry: 1 tablespoon cornstarch + 1/2 cup water
---
Instructions
To make the filling, put the cabbage in a food processor and process until cabbage is finely minced. Remove the cabbage to a large bowl and sprinkle with the salt. Let cabbage sit for 10 minutes.
In the meantime, return the food processor bowl to the stand and add the ginger, chives, pork, pepper, soy sauce, rice wine and sesame oil. Pulse 4 times to mix the ingredients well. Set aside.
Use your hands to grab a handful of the cabbage and squeeze and discard the excess moisture out into the sink. You can also spoon all of the cabbage onto a cheesecloth and then squeeze all the water out. Place the dry cabbage back into the large bowl and add the pork mixture. Fold the cabbage into the pork mixture.
Mix together the slurry. Take one dumpling wrapper, spoon scant 1 tablespoon of the pork mixture onto the middle of the wrapper. Dip one finger into the slurry and "paint" the edges of the dumpling wrapper. Bring up the bottom side of the wrapper, fold up and press to shape into a half-moon shape, encasing all of the filling.
Place on baking sheet, cover loosely with plastic wrap and repeat with rest of dumplings. Make sure that the dumplings do not touch each other on the sheet.
4 When all dumplings assembled, you can cook immediately or cover with plastic wrap and refrigerate for up to several hours. To cook, half-fill a large pot with water and bring to boil. When boiling, and gently slide in 1/3 of the dumplings. When water returns to a boil, turn heat to a simmer and gently cook for 6-8 minutes. Remove with slotted spoon and repeat with remaining dumplings.
Serve with hot chili sauce.
Recipe reprinted with permission from Steamy Kitchen