It's just amazing how something (or somethings in this case) can turn plain old chicken into elegance.  I love elegance on a weeknight.  I mean, elegance can reasonably be expected on a Sunday when one has all afternoon for kitchen puttering, but elegance on a Thursday?  It's a wonderful thing, and totally doable if you have 30 minutes, some chicken, a few cracked peppercorns, a little butter and cream and some fresh rosemary.  Elegance, here we come!
One of the things that I've been delighted to see in my supermarket lately are little teeny packages of fresh herbs.  They've always been pretty good about stocking bunches of them, but really all I usually want is a tablespoon or two, and with the big bunches I am then left with the rest of the bunch of sage or rosemary or whatever looking reprovingly at me from the crisper.  And my life is complicated enough without having my vegetable drawer make me feel guilty, so whomever invented the little packages of herbs?  I like you a lot.
The other thing you need for this recipe is cracked peppercorns.  I happen to have a jar of these on hand, but if you can't find them, simply put a few whole peppercorns in a plastic bag and whack them with a meat pounder until they are cracked.  This will also chase anyone who happens to be annoying you out of your kitchen for a while.
Yes, I might be talking about you.  Not that I don't love you.
Anyway, once you have your cracked peppercorns, you are going to scatter them over some boneless chicken breast and once again pick up that meat pounder, and pound, pound, pound them into the chicken until the chicken is about 1/2 inch thick and studded with peppercorns.
Now fry the chicken up in some butter until it is nice and golden, and then add a little more butter and some heavy cream and fresh chopped rosemary to the pan juices and simmer it until it is nice and bubbling.  Add a little salt.  Pour a puddle of sauce on each plate and pop the chicken breasts on top of the puddle.  Drizzle a little more sauce on top for good measure.
When you bite into the chicken it will be a creamy, peppery, rosemary-infused taste of deliciousness.  And your kitchen is going to smell like heaven, by the way.
Elegance, right?  I love elegance.  Especially when it comes in less than 30 minutes!
Print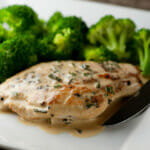 Rosemary Peppercorn Chicken
---
Yield:

4 servings
Ingredients
4 tablespoons cracked peppercorns
4 boneless, skinless chicken breast halves
1 stick (1/2 cup) butter
1 cup heavy cream
3 tablespoons fresh rosemary, chopped
---
Instructions
Spread a towel on the counter and top with a sheet of plastic wrap. Lay the chicken breasts on the plastic wrap and sprinkle half the cracked peppercorns on top. Place another sheet of plastic wrap on top and pound the chicken with a meat mallet until the peppercorns are embedded in the chicken. Flip the whole thing over, scatter the remaining peppercorns on top, replace the plastic wrap and pound again until the chicken is 1/2 inch thick.
Melt half the butter in a large skillet over medium high heat. Saute the chicken breasts until golden brown, about 4-5 minutes per side. Remove to a plate and cover with foil to keep warm.
Add the rest of the butter to the skillet along with the cream and the rosemary and heat until bubbling and heated through, about 3-4 minutes.
Return the chicken to the skillet with any juices and turn to heat and coat with the sauce.
Ladle a puddle of sauce on each plate, top with chicken and spoon more sauce on top. Serve at once.