Okay, so for me this one started with the pretty skewers.  I was looking for pretty toothpicks for some recipe or another that I can't even remember now, and I couldn't find anything besides plain old run of the mill toothpicks.  The perfectly straight, non-festive variety.  And at some point I mentioned this to my mother, who of course knew the exactly place to find exactly the adorable little skewers I had in mind.  After that, there was nothing to do but turn my next antipasto into antipasto skewers!
As we are smack in the middle of holiday party season, this recipe is going to be your good friend.  All you need is an assortment of your favorite antipasto items (more on those later), a pretty platter and a pile of these.
(And just for the record, regular old long toothpicks will work just as well.  Or those kind with the frilly cellophane ends.  You be you, toothpick-wise.)
Now for the antipasto part.  You want three or four things per skewer, and I like to have a mix of something salty and something sweet or creamy on each one, just to even things out.  So, here are some ideas:
Folded pieces of ham, salami, prosciutto, roast beef, etc
Little balls of mozzarella
Cherry tomatoes
Marinated artichoke hearts
Olives
Baby pickles (sweet or dill)
Roasted peppers
Chunks of cheddar or jack cheese
Pepperoni slices
Folded slices of provolone
Etcetera.  I'm a great believer in following your heart when it comes to antipasto, even if some of the items that I spear on my skewers probably aren't completely authentic.  If you want to be super-fancy, you can offer up a basket of thinly sliced Italian or French bread alongside your platter of antipasto skewers, but honestly?  Folks will probably be perfectly happy just slurping the antipasto goodness right off those skewers exactly as they are.
And if you really, really need to have those cute little skewers as much as I did, please click here.  This has been a full-service, public skewer service announcement, from me to you!
Print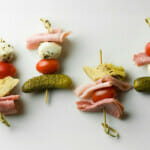 Antipasto Skewers
---
Ingredients
Your choice of the following:
Folded pieces of ham, salami, prosciutto, roast beef, etc
Little balls of mozzarella
Cherry tomatoes
Marinated artichoke hearts
Olives
Baby pickles (sweet or dill)
Roasted peppers
Chunks of cheddar or jack cheese
Pepperoni slices
Folded slices of provolone
---
Instructions
Spear three to four assorted antipasto ingredients on each skewer or toothpick, alternating salty items like deli meats and pickled veggies with sweeter and creamier items like cherry tomatoes and mozzarella cheese. Arrange skewers on a platter and serve, with sliced bread if desired.