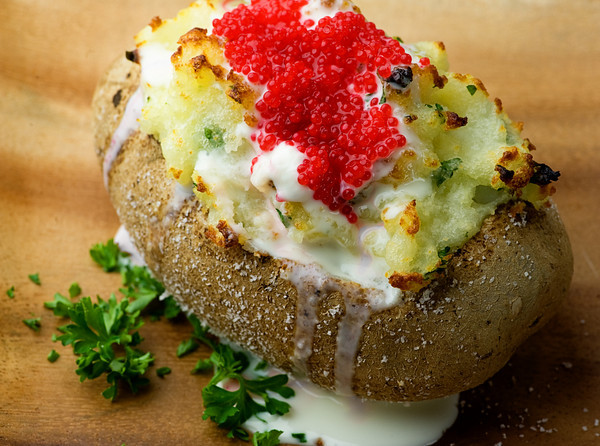 We love baked potatoes for dinner in my house. One of the teenager's favorite meals is to take a potato and top it with cheese and a poached egg. Sometimes I contaminate it by adding broccoli, but it is still a popular supper item – click below to see.
So I am always on the lookout for baked potato recipes that could serve as a meal unto themselves, and this one was a doozy. The New York Times recently ran a piece on twice-baked potatoes that included a few really tempting recipes, and this was one of them. For those of you who haven't experienced the wonder that is a twice-baked potato, you are basically getting a baked potato and a mashed potato all in one heavenly meal. You bake the potato, cool it a little, scoop out the insides, mash it up with whatever your heart desires, spoon it back into the potato shell, and bake it again until the edges are golden and crusty.
In this case, the potato is rubbed with coarse salt before it is baked so that the salt kind of bakes into the potato skin. (Potato chip-like, if you will.) Then when the potato is nice and baked, the inside is mashed up with creme fraiche (you can also use sour cream), butter, chopped chives and salt and pepper. You stuff this incredible mixture back into the potato, bake it until it is golden, and then…take a deep breath…you top it with a little more creme fraiche and a spoonful of caviar or salmon roe. I found a little jar of inexpensive red caviar right by the canned tuna in my supermarket that worked just perfectly.
The teenager, of course, opted to top hers with a poached egg instead of the caviar and creme fraiche. But the Southern husband and I were in creme fraiche/caviar heaven. Give it a try!
Adapted from The New York Times 
Print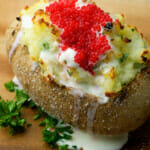 Baked Potatoes with Caviar
---
Author:

Yield:

4
Description
Add some drama to your baked potatoes with a little caviar and some other elegant ingredients!
---
Ingredients
4 large potatoes
3 teaspoons coarse salt
1/4 cup crème fraîche or sour cream, plus extra for garnish
2 tablespoons soft butter
4 teaspoons chopped fresh chives
Fresh ground black pepper
2 ounces caviar or fish roe (I like the dramatic looking red variety for this dish, but any kind is fine!)
Fresh chopped parsley
---
Instructions
Heat oven to 425 degrees. Poke a few holes in the potatoes, then rub them all over with 2 teaspoons of the salt. Place them on a foil-lined baking sheet and bake them until they are tender – a knife should slide in easily. This should take about an hour.
Cool the potatoes for about 10 minutes, then slice off the top 1/4 inches of each one horizontally. Carefully scoop out the insides, making sure not to break the skin. Place the potato insides in a bowl and add the crème fraîche or sour cream, butter, chives and the remaining salt. Give it a good grinding of pepper and mash everything with a potato masher until well combined.
Carefully stuff the potato skins with the potato mixture and put the potatoes back in the oven for another 10 minutes. Return potatoes to oven and bake until heated through, about 10 minutes.
Top with another spoonful of creme fraiche or sour cream, and then a nice big spoonful of caviar on top of that. Garnish with parsley. Serve at once!