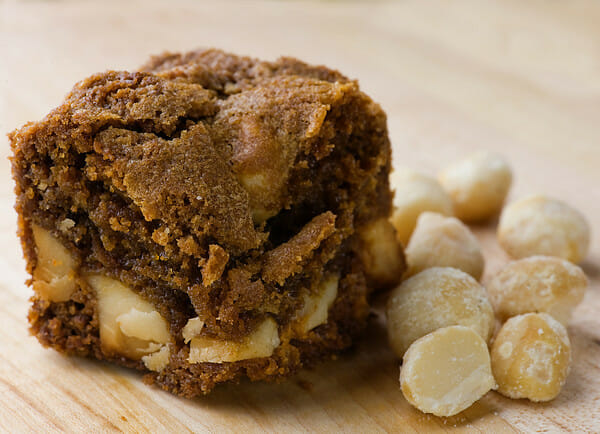 Chocolate? Who needs chocolate when you have butterscotch, macadamia nuts and maple, all baked together into the richest blondie you will ever have in your LIFE? These delectable delightful treats are a breeze to make, and I promise that you will remember them long after the last one is gone, they are that wonderful.
I do have some words of wisdom for you about these babies. Ready?
Grease the pan really well. If you do, and if you run a knife around the outside edge while they are still pretty warm, you should have no problem popping them out of the pan.
2. Wait until they are completely cool before you cut them. It will be difficult. You will be sorely tempted. But until they are cool, they are very likely to fall apart when you cut them. Once they are cool, they are very well-behaved.
3. Cut them into small pieces. SMALL. When I say these are rich, I am not kidding around.
Okay, now that you have all these words of warning, I also have to say that these are hands down the best blondies I have ever eaten in my entire life. Yum, yum, a thousand times yum. Go get yourself some macadamia nuts and make these before any more time goes by.
MAPLE BUTTERSCOTCH MACADAMIA BLONDIES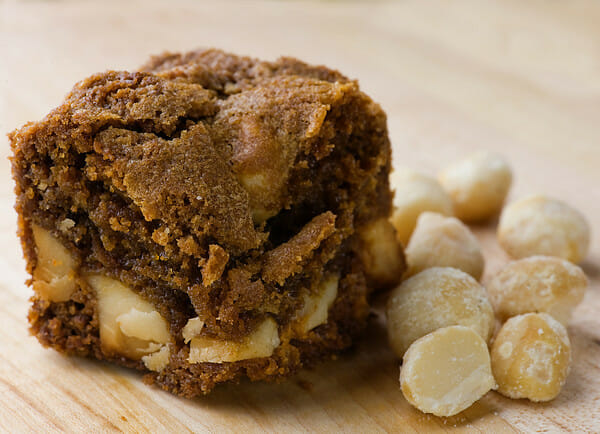 Ingredients
¾ cup chopped macadamia nuts
1½ cups flour
1 teaspoon baking powder
½ teaspoon salt
1½ sticks butter, softened
1 cup light brown sugar
⅔ cup granulated sugar
2 large eggs
1½ teaspoons maple extract
1½ cups butterscotch chips
Instructions
1. Preheat oven to 350. Place nuts on baking sheet and toast for 6 minutes. Remove from oven.
2. Grease 9 inch square cake pan.
3. In medium bowl, combine flour, baking soda and salt.
4. In large bowl, combine butter and sugars and beat until light and fluffy, about 2-3 minutes. Add eggs and maple extract and beat until combined.
5. Add flour mixture and mix slowly until combined. Stir in nuts and chips.
6. Spread batter in pan and bake for one hour.
7. Cook completely and cut into small, small, small squares.