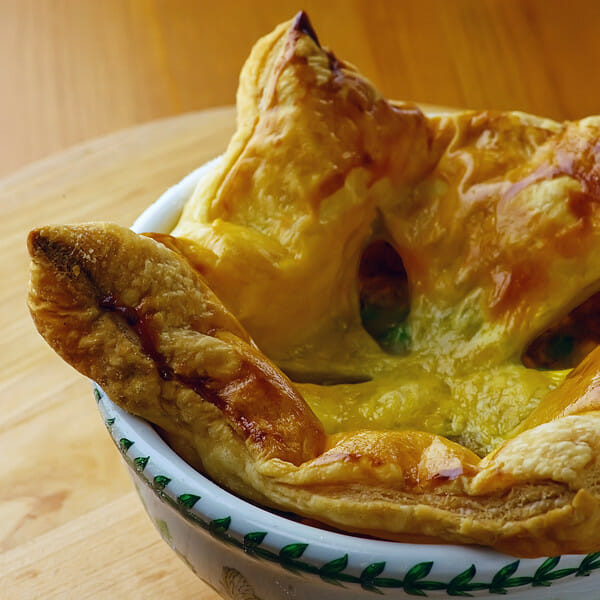 So, we interrupt our usual blog posting to bring you the "news-just-in" that this little blog has been named a Best of the Web site by none other than Saveur. Which is a very ooh-la-la wonderful magazine and website, and oh, my goodness. I am blushing, and thrilled, and don't know what to say, other than…check this out!!
Framed on Saveur's Best of the Web!!
Thank you, my new best friends at Saveur! I am seriously, completely honored.
Where was I? Oh yes. Chicken Pot Pie.
I know, we miss the summer, it was over way, way, way too fast. But the coming of fall means the coming of PIE. And I don't just mean the sweet pies, although I do love pumpkin pie. And apple pie. And pecan pie. Etc. But I also have great love for the savory pies…seafood, beef, chicken…they are an incredibly satisfying comfort food at the end of a long chilly day.
And me being me, I am always looking for the short cut. Not that I don't appreciate a long Sunday's worth of cooking in the kitchen, but sometimes a girl likes a little pot pie on, say, a Wednesday. In those cases you have to cut a few corners, and the trick is to do that while still getting all the old-fashioned pot pie taste. If you know what I mean.
So this one gives you all the warm, comforting, creamy, chickeny goodness of pot pie…without all the time and effort that usually goes into it. don'ttell anyone, we'll just keep it between us. The secret is…pre-cooked chicken and puff pastry. That's all that is standing in between you and a supper that will make you feel like everything is right with the world. Now, this DOES go a bit over my 30 minutes or under rule for cooking during the week, but that just goes to show you how flexible I really am. (That racket in the background is my family laughing their heads off at that comment.) Basically you make a lovely thick chicken and vegetable base, and instead of all the fuss of making a pie crust…you use puff pastry. Which is usually in the freezer section next to the frozen fruit. You pop a square of the pastry on top of the base and voila! Fuss-free chicken pot pie. How great is that?
I will tell you that as we were eating this wonderful dish, fabulous as it is, it gave me the idea that you could use the same base but substitute a mashed potato crust on the top. Stay tuned to this channel for that one..but in the meantime, here's the original.
EASY CHICKEN POT PIE, adapted from Everyday Food
Print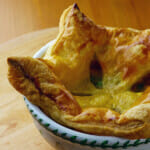 Easy Chicken Pot Pie
---
Ingredients
Serves 4
4 tablespoons butter
1 medium onion, diced
1 large carrot, peeled and diced
1/2 cup flour
Salt and pepper
4 cups chicken broth
3 cups cooked chicken, shredded
1 cup frozen peas
1/1/2 teaspoons chopped fresh thyme
1 sheet frozen puff pastry, thawed
1 large egg yolk
---
Instructions
Melt butter in medium saucepan. Add carrot and onion and saute for 6 minutes.
Add flour and stir to coat. Cook for another 5 minutes, stirring frequently.
Add broth to carrot mixturem whisking constantly. Bring to boil and then simmer for 10 minutes or until thickened.
Add chicken, peas, thyme and season with salt and pepper.
Divide mixture among 4 single serving baking dishes.
Preheat over to 37On a lightly floured work surface, roll pastry to 1/8 inch thickness and cut into 4 equal pieces.
Cut small vents into pastry and lay pieces over each serving dish.
Mix egg yolk with a little water and brush over the top of pastry.
Bake until pastry is golden, about 30 minutes.