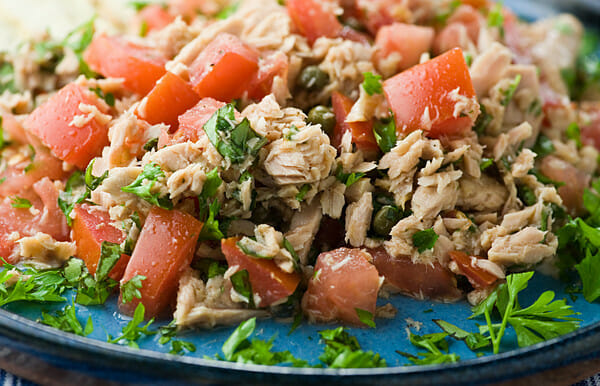 A quick and easy summertime tuna salad that lets you hold the mayo!
Click To Tweet
Got tomatoes? Yep, me too. It's July in New Jersey, and they have us surrounded. If you don't grow them yourself, they practically tackle you whenever you walk into your local farm market. They are gorgeously red and shiny and alluring, and they are only sold in giant bushels-full around us, if you want the home-grown New Jersey ones. Which you do, trust me. So this is not the season of using one tomato at a time - right this second I have a multiple-tomato bolognese sauce cooking away on the stove (four tomatoes!), and I am planning a tomato mozzarella salad for later this week (three more tomatoes!). This tuna salad is only a one-tomato number, but it all helps. We all know and love the tuna/mayo/celery salad, but this one is a little different. First of all, you MUST use tuna packed in oil. Must must must. Don't worry, you get to drain most of it off, but it is essential for the flavor (and you are not using the mayo, remember, so they cancel each other out. Isn't it great how that works out?) This is also not a sandwich-filling type of tuna salad, although I guess you
could
if you really wanted to. It's more of a salad-salad, just mounded on a plate and served with bread or crackers or something else bread-ish.  This salad is quick and lovely, and so long as you use the tuna in the oil you have my permission to mess around with the other ingredients, especially the herbs. And don't forget the tomato, of course....And uh-oh, here comes my mom with a giant bag of string beans from her garden...
Summertime Tuna Salad
Ingredients
1 six ounce can of tuna, packed in oil.
1 tomato, seeded and chopped
1 tablespoon capers
Salt and fresh pepper to taste
¼ cup chopped herbs (basil, parsley, thyme are all good -- mix them up!)
Instructions
Drain the excess oil from the tuna and mix up with all other ingredients.
Serve with crackers, bread, flatbread, etc etc etc. Happy summer.