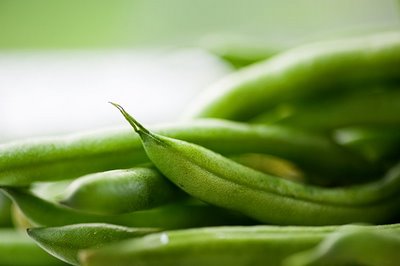 I think of summer as the season of the side dish. You can throw pretty much anything on the grill — steak, fish, chicken — and it will cook and slice up just fine on its own. And so now is the time to get creative with the side dish. Even better, it is the season of Delicious Fresh Produce, and if you are lucky enough to live close to either a farm market or Fairway (I am 10 minutes away from both! Whoo-hoo!) you are in business. Last night my handsome husband, savior of baby deer and Grillmaster Extraordinaire, cooked us up some chicken breasts on the alternate love of his life, his LazyMan grill. I'm going to assume you can hold your own with a grilled chicken breast recipe (ok, Twitter version recipe: pound chicken breasts flat, marinate in olive oil, fresh ground pepper and fresh lemon juice, grill on high heat for 6 minutes on each side) and give you the recipe for the side dish: Roasted String Beans with Walnuts. String beans are just now in season. Look for ones that are slender and bright green and firm — it's worth the time it takes to pick through them. This recipe originally called for pecans but I am not the biggest pecan fan (don't tell my Southern husband) so I used walnuts. Here goes:
Roasted String Beans with Walnuts

Ingredients
3 cups fresh string beans, stems snapped off
½ cup chopped walnuts (or pecans!)
2 tablespoons olive oil
Sea salt
Fresh ground pepper
Instructions
Preheat oven to 400. Line a rimmed baking sheet with foil. Toss beans with oil, nuts, salt and pepper. Roast until the beans are tender, about 12 minutes, tossing once halfway through baking. Serve immediately with grilled sliced steak or chicken. Feel ridiculously happy that it is finally summertime.