A cool refreshing glass of sparkling raspberry fizz is only a handful of raspberries, a lime and a bottle of cold seltzer away with this easy summer recipe!
This refreshing little raspberry fizz recipe came about as a result of me not being able to keep my hands off of ANYTHING that has the word "local" on it at our nearby farm market.
Local strawberries, local peaches, local blueberries…they all have me at hello.
And local raspberries? They immediately bring back memories of my grandmother's Vermont farm, where we were sent out with buckets to bring back blackberries and raspberries with the promise of pie. So that little cardboard container with the cheery fuzzy raspberries didn't stand a chance.
Nope, I popped it in my cart and brought it home where I made it right into that sparkly glass of raspberry fizz you see up there. You can too!
Here's how you make sparkling raspberry fizz!
Aside from the raspberries, you need a bottle of cold fizz.
Otherwise known as seltzer.
Side note: we have one bottle opener in the house. It is a New York Yankees bottle opener, purchased by the Southern husband who inexplicably loves the Yankees with all his Southern heart.
I myself am a long-suffering Mets fan. So not only is it painful to use the Yankees bottle opener whenever I want to open a bottle of something, it is doubly painful because the thing TALKS.
Something about the metal of the bottle opener meeting the metal of the bottle cap triggers it. ain. And no, there is no talking Mets bottle opener that I can find to make it fair fight. Send non-partisan bottle openers please.
Anyway.
Take those fragrant raspberries and drop them into your food processor, and process away until you have what looks like beautiful smooth raspberry sauce.
Carefully pour a bottle of the cold seltzer into a smallish pitcher or a large measuring cup (I use my four cup measuring cup for this) and then scrape half the raspberry puree into the seltzer. Stir. Add a squeeze of lime juice. Stir again.
Now you have decision to make. I wrote this recipe while I was doing the Whole 30 eating plan so I had mine exactly like this. But if you want your fizzy fruit-filled drinks with a little more sweetness than you get from the fruit, you can add a little of your favorite sweetener.
You can be elegant and use some simple syrup, or you can be basic and use plain old sugar…whatever works for you. Just be sure to taste as you go. And maybe the sweetness of the raspberries will be just enough! Pop a sprig of mint on top…
….and you are good to go!
Now, this is of course a-okay for the kiddos, but if it happens to be around cocktail hour and you add a shot glass full of vodka to your raspberry fizz…well, I won't tell!
One way or the other, if that's not a glass full of summer freshness, I don't know what is. Cheers!
Print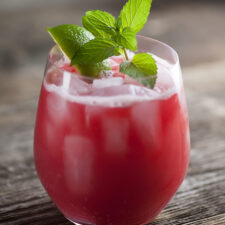 Sparkling Raspberry Fizz
---
Author:

Prep Time:

5 minutes

Cook Time:

0 minutes

Total Time:

5 minutes

Yield:

2

1

x
Category:

Beverages

Method:

No Cook

Cuisine:

American

Diet:

Gluten Free
Description
A cool refreshing glass of sparkling raspberry fizz is only a handful of raspberries, a lime and a bottle of cold seltzer away with this easy summer recipe!
---
Ingredients
1 pint

raspberries

2

single serving bottles of chilled seltzer (and if it's cocktail house, see note below!)
One lime
Mint sprigs for garnish (optional)
---
Instructions
Puree raspberries in a food processor until smooth.
Pour one bottle of seltzer slowly into a pitcher or large measuring cup. Spoon half of the raspberry puree into the seltzer. Stir slowly until combined.
Pour into a glass filled with ice. Stir in a squeeze of lime juice and garnish with mint.
Repeat with the remaining ingredients to make a second glass. Cheers!
Notes
If it's cocktail hour, I am here to tell you that adding a shot glass of vodka to each serving is ALL kinds of wonderful.
Updated (and made even more delicious!) from a previously published Framed Cooks post!