Billi Bi is an elegant and delicious soup made of mussels, cream, white wine and eggs. This easy recipe is perfect for a special occasion winter meal, or any time you want a deeply satisfying soup!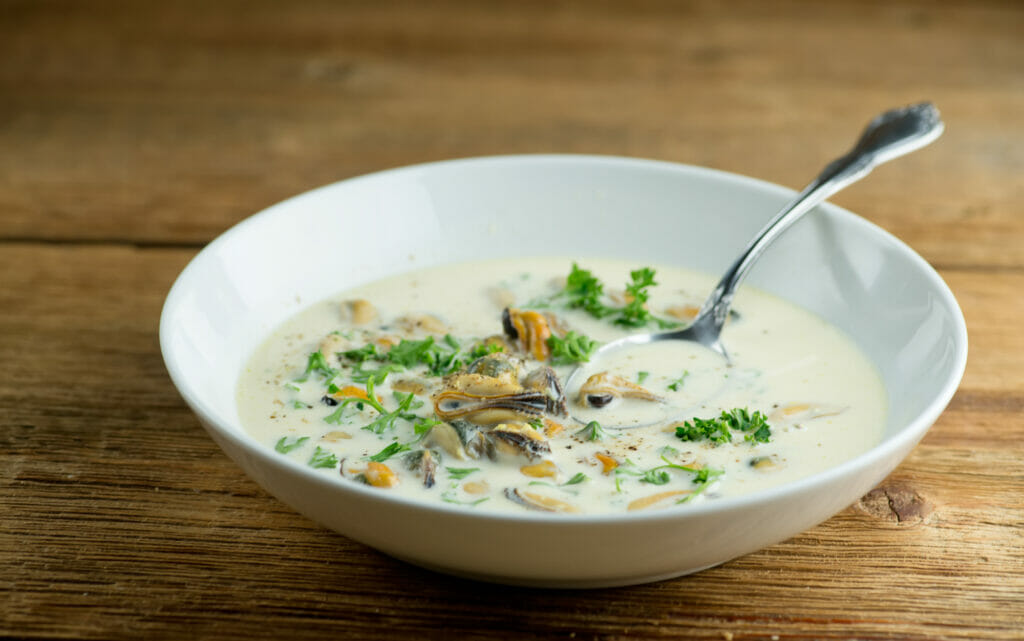 Ah, this creamy, dreamy soup!  I've had it on my list to do my own version of for ages and ages, and I'm not sure why.  Once I got down to it and started drafting and testing my own spin on this decadently good soup, it was all kinds of easy.
But for some reason, it was stuck in my head that it was hard to make (it is SO NOT) and so it kept slipping down my list.
And so I did what I tend to do when anything hard – big or small – comes my way.  I think, what would Grandma say?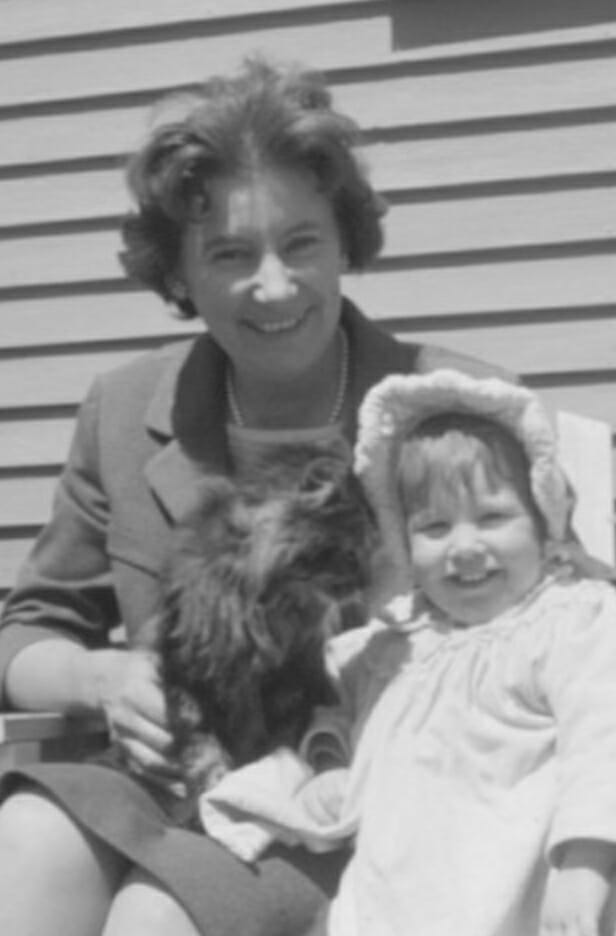 My grandmother Aileen was a force of nature.  Fearless, whip-smart, encouraging, and so far ahead of her time.
One of my greatest regrets was that she missed the Internet…she was a writer and would have loved the enormous amount of information and possibility.
She was forever encouraging me (and all her grandkids) to chase our dreams, no matter what.  Nothing was too far out of reach to at least TRY for, and she lived her life that way as well.
I miss her every day, and I can only imagine what kind of glorious blog she would have written, because she would have!  And she definitely wouldn't have been intimidated by a soup recipe.
And so on this February 2nd – her birthday! – I'm sharing this luscious, elegant, EASY recipe for Billi Bi, otherwise known as the creamiest, most scrumptious seafood soup you will ever slurp up.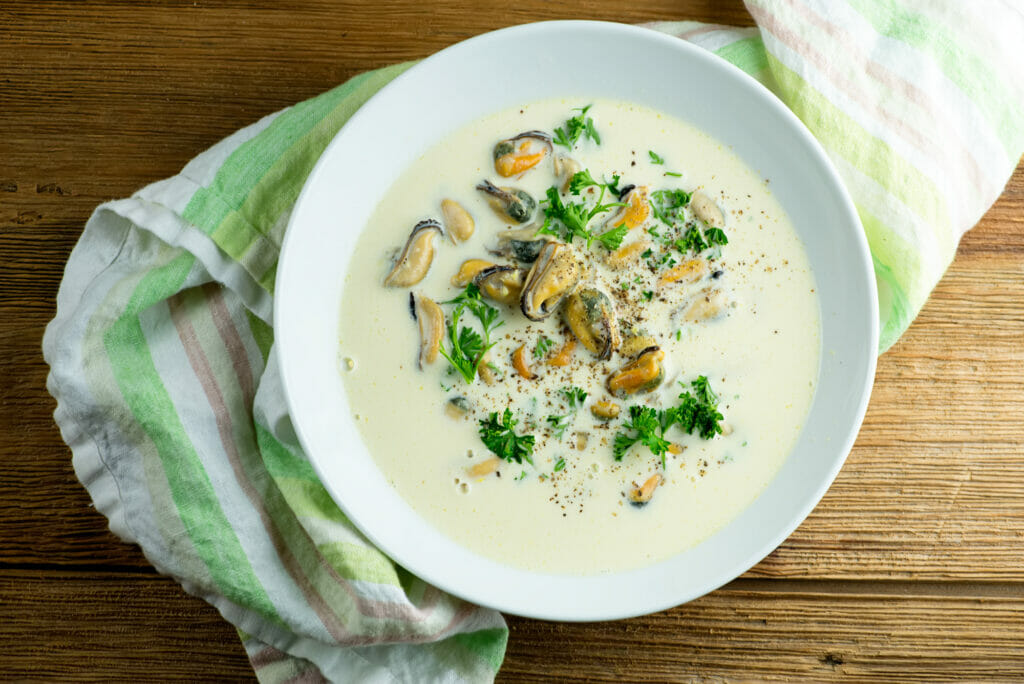 (My grandmother would not approve of slurping, just for the record.  Or elbows on the table.)
Here's how you make Billi Bi!
You start with a couple pounds of mussels – your friendly neighborhood supermarket will have them.  Rinse them off and toss any with broken or open shells.
Steam them up in a bath of wine and butter and a few other flavorful things until the shells are open, and then talk your own version of the Southern husband into taking all the mussel meat out of the shells while you finish making the soup part.
You are going to strain that mussel broth into a pot, add some cream and egg yolks until it thickens up a bit, and then stir in the mussel meat along with some salt and pepper.
Ladle it out into warmed bowls, scatter on some chopped parsley and go ahead and slurp that first dreamy spoonful.
And here's to all the people who help us follow our dreams, big and small!
Want to round out your meal? This recipe pairs well with...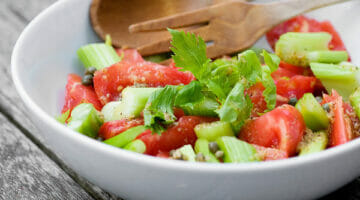 Bloody Mary Salad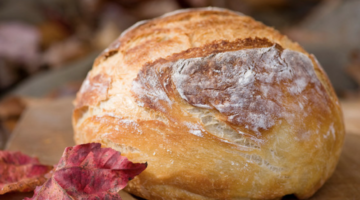 Almost No Knead Bread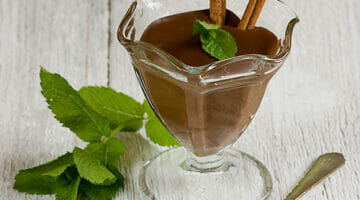 Chocolate Cinnamon Pudding
Print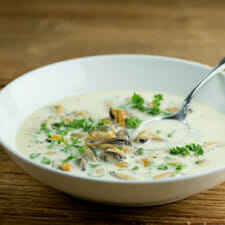 Billi Bi
---
Author:

Prep Time:

20 minutes

Cook Time:

20 minutes

Total Time:

40 minutes

Yield:

4

1

x
Category:

Lunch

Method:

Stovetop

Cuisine:

French
Description
Billi Bi is an elegant and delicious soup made of mussels, cream, white wine and eggs. This easy recipe is perfect for a special occasion winter meal, or any time you want a deeply satisfying soup!
---
Ingredients
2

pounds mussels, rinsed well (discard any that are opened or have broken shells)

2

shallots, peeled and chopped
Salt and pepper

1 cup

white wine

2 tablespoons

  butter

½ teaspoon

dried thyme

1

bay leaf

2 cups

heavy cream

2

egg yolks
Chopped fresh parsley for garnish
---
Instructions
Put the mussels in a large pot and add the shallots, wine, butter, thyme, bay leaf and a pinch of salt and pepper. Cover and cook over medium heat until the mussels have all opened, about 10 minutes.
Toss out any unopened mussels. Pour the contents of the pot through a fine mesh strainer into a bowl and save for the soup.
When the mussels are cool enough, take the meat out of the shells and set aside. Toss out the shells and any other solids left over in the strainer.
Put the reserved liquid into a pot and bring to a simmer over medium high heat. Stir in the cream and return to a simmer for a minute, then take the pot off the burner.
Whisk in the egg and put the pot back on the burner over low heat until the soup thickens just a bit. Stir in mussel meat.  Taste and add salt if needed.
Ladle into bowls, garnish with chopped parsley and fresh ground pepper and serve.