This easy recipe for brown butter pasta with egg mixes the rich, nutty taste of browned butter with creamy egg to make an out of this world sauce for your pasta supper. Crunchy walnuts and a dusting of parmesan cheese round out the flavors, and it can be all yours in less than 30 minutes. Winner, winner, pasta dinner!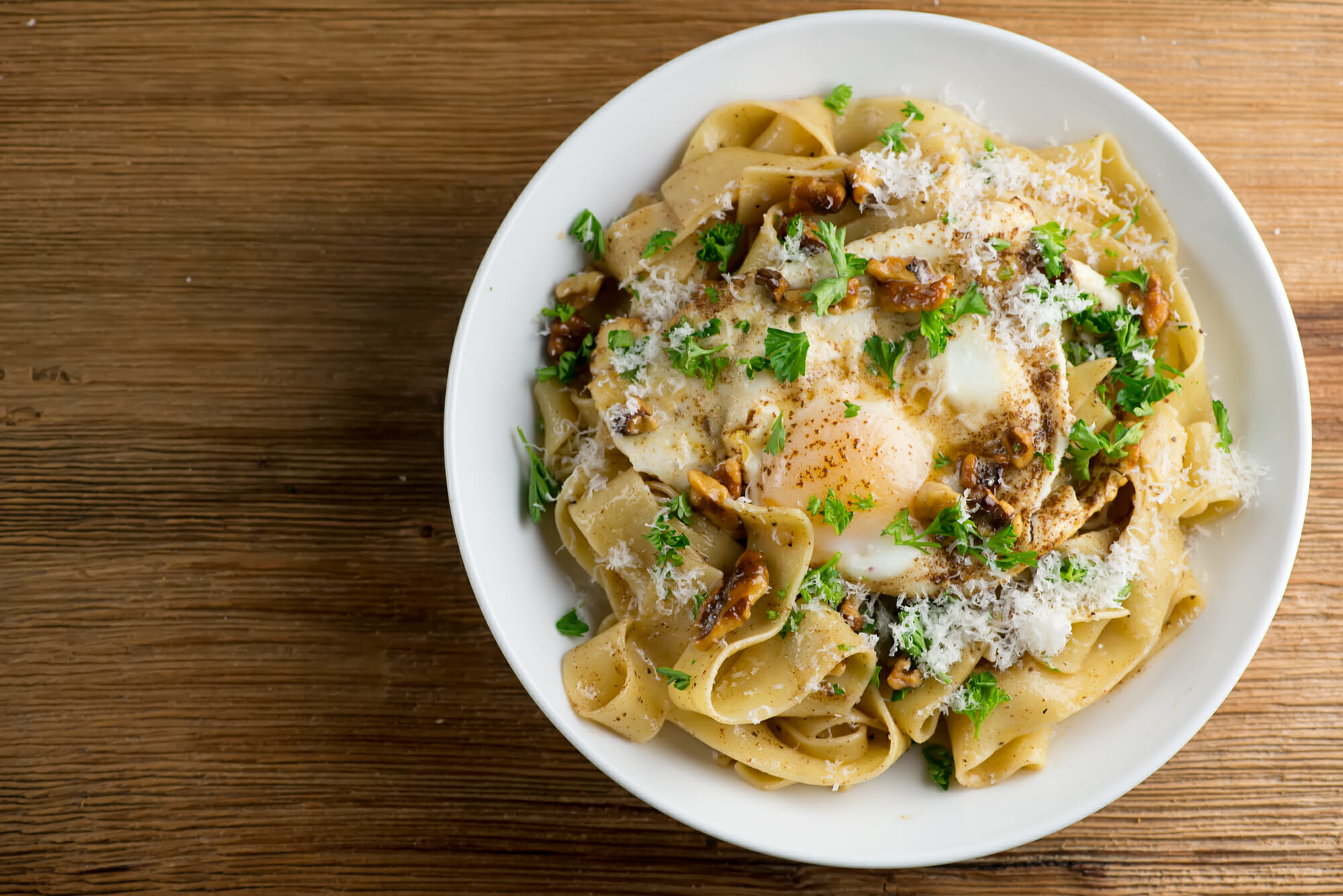 Oh, this recipe. It's probably my favorite supper that doesn't include bacon, and you know what? I'm not even tempted to add any bacon to this recipe, because it is so perfectly perfect the way it is. Partly because it includes pasta, partly because it includes a creamy dreamy egg, but the magical part?
The brown butter. If you are not already a brown butter lover, I am here to convert you.
So What Is Brown Butter And How Do I Make Me Some?
Brown butter is magic – let's just get that straight first. You take a regular old stick of butter (I love Kerrygold and Kate's Homemade Butter the best) and you put it in a regular old pot (pro tip: if you have one with a light surface it's easier to see the magic happen).
Now turn the heat on to medium and let that butter melt. When it starts to turn foamy, start stirring it until it turns, yep, golden brown. Little brown specks are going to start to appear (those are the milk solids cooking up and dropping to the bottom) and the butter is going to give off a heavenly, nutty aroma that will make you want to cry happy tears.
Now, brown butter is great all by itself for tossing with pasta or drizzling over grilled fish, but as you know I cannot leave well enough alone, and so I upped my brown butter pasta game with some walnuts and some eggs.
Here's How You Make Brown Butter Pasta With Egg!
I like using a nice wide pasta for this recipe, and you start by cooking it up in salted water until it is done. While the pasta is cooking, start the brown butter process. Melt the butter, but before it turns foamy, toss in some walnuts. Once the butter is just turning golden brown, scoop out the walnuts and turn the heat off until your pasta is done and drained (save some pasta water before you drain).
Now turn the heat back on under the butter and crack in a few eggs. As they cook, use a spoon to ladle the brown butter over the eggs, and as soon as the eggs are just done, take them out and let them rest on a plate.
Here comes the assembly! Pour the pasta and the walnuts into that glorious pan of brown butter and toss it with tongs until everything is coated well. Drizzle in a little pasta water to make a light sauce, taste and add a little salt and pepper, and now it is time to dish it up. Divide the pasta among warmed plates and top each one with an egg and a scatter of chopped parsley.
Now break into that egg…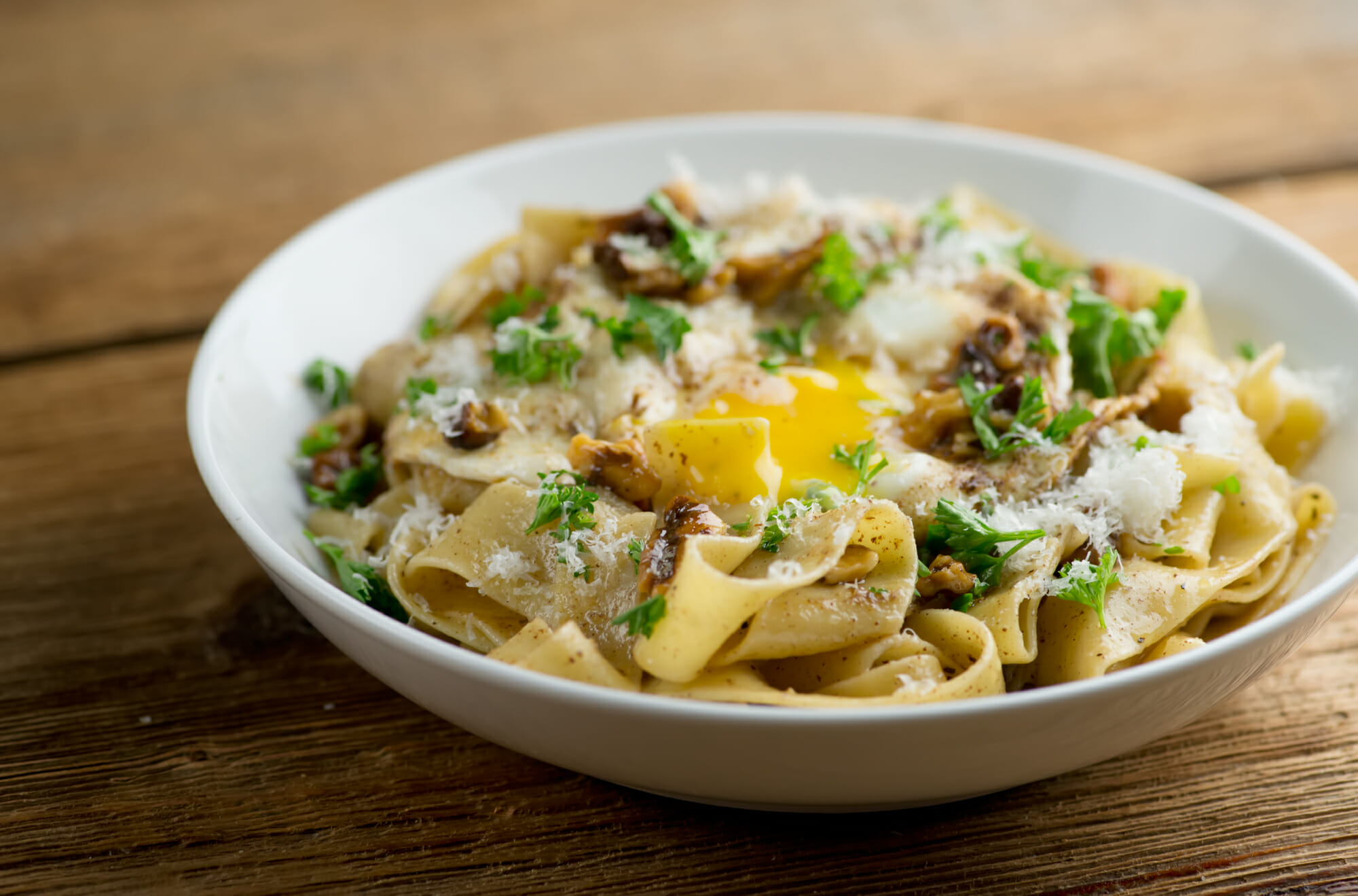 I KNOW.
I KNOW. Here's a quick little video to show you just how easy this deliciousness is…
Now go make some right now, because I need you to know the wonder that is brown butter pasta with egg as soon as humanly possible.
Want to round out your meal? This recipe pairs well with...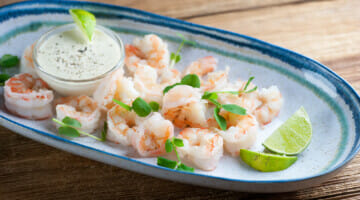 Shrimp with Lime Dipping Sauce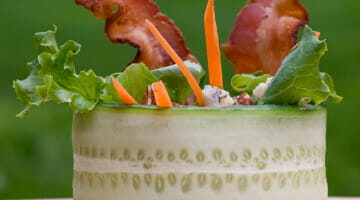 Cucumber Wrap Salad with Bacon and Blue Cheese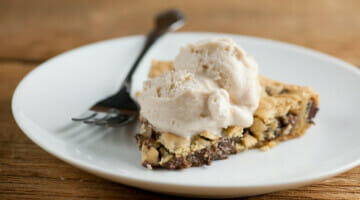 Skillet Chocolate Chip Cookie
Print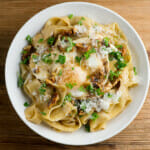 Brown Butter Pasta with Egg
---
Author:

Prep Time:

5 minutes

Cook Time:

20

Total Time:

25 minutes

Yield:

4

1

x
Category:

Dinner

Method:

Stovetop

Cuisine:

Italian
Description
This easy recipe for brown butter pasta with egg mixes the rich, nutty taste of browned butter with creamy egg to make an out of this world sauce for your pasta supper.
---
Ingredients
8 ounces

thick ribbon pasta, such as fettuccine or pappardelle

1 cup

butter

3⁄4 cup

chopped walnuts

4

eggs
Freshly ground black pepper, 
to taste
Freshly grated Parmesan for garnish
Chopped fresh parsley for garnish
---
Instructions
Cook pasta according to package directions. Save a cup of pasta water before you drain it.
While the pasta is cooking, melt butter in a deep large skillet over medium heat. When the butter starts to foam, add the walnuts and cook, stirring often, until the butter starts to turn golden brown. Scoop out with a slotted spoon and set aside.
Crack eggs into butter and cook, spooning butter over yolks, until whites are set but yolks are still runny, about 3 minutes. Transfer eggs to a plate and cover with a piece of foil to keep warm.
Add pasta and half the walnuts to the skillet and toss until warmed through. Stir in some of the reserved pasta water to make a sauce, and season with salt and pepper.
To serve, divide pasta between four plates and top each serving with a fried egg. Sprinkle with remaining parmesan, chopped parsley and the rest of the walnuts.
Updated and made even more scrumptious from a previously published Framed Cooks post!