This easy mini lemon cheesecake bites recipe is full of creamy cheesecake and sparkling lemon flavor, in a fun bite-sized serving.  Bet you can't eat just one!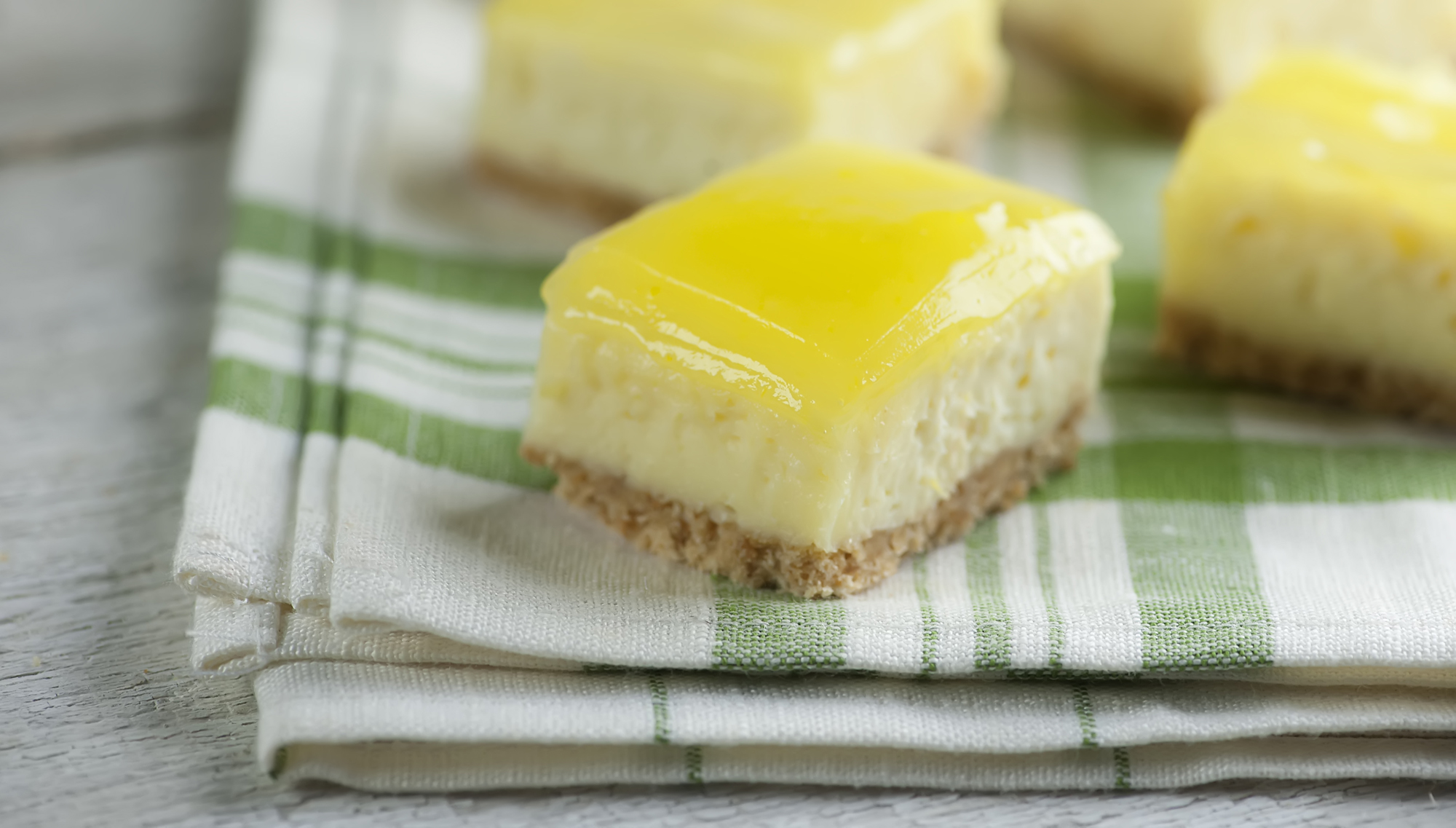 As you probably know,  if you asked me what my favorite flavor was, I would say bacon.  (Yes, I consider bacon a flavor.)
But if you asked the Southern husband, I am betting that lemon would be in his top three, if not Number One altogether.
So every now and then I figure out a lemony treat to make for him, and in this case it turned out to be these cute little lemon cheesecake bites.
Lemon cheesecake, lemon topping, lemon lemon everywhere.  He was one happy camper!  So if you have a lemon-lover in your life too, let's make them!
Here's how you make lemon cheesecake bites!
This recipe is pretty dang easy as cheesecake recipes go, but it involves lots of cooling time in the fridge, so if you are making them for a specific time, start early or even the day before.
The crust is a super easy mixture of Nilla Wafers (does anyone else get a warm fuzzy feeling at the sight of a Nilla Wafers box?  I heart Nilla Wafters) and melted butter.
The cake part involves cream cheese and sugar and a few other things, including (as you probably guessed) lemon juice.  And lemon zest.
You need to get actual lemons for this recipe, which always makes me happy because I love the look of lemons in my kitchen.  They are all kinds of cheery, and I always seem to need them for something, so I tend to buy them by the bag.
There's also some lemon juice in that silky, delectable topping.  Yay lemons!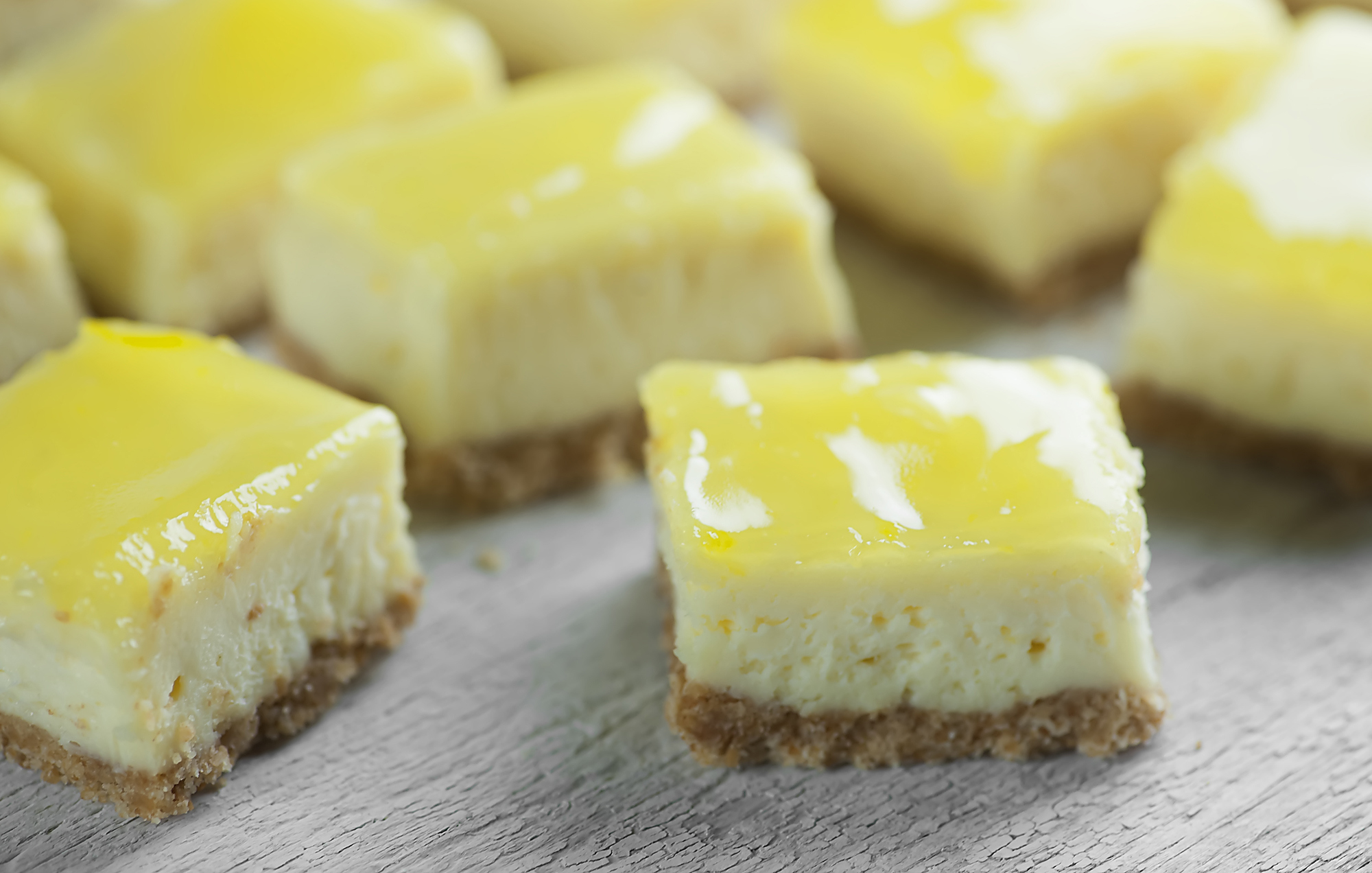 And so while bacon will never move from my number one flavor, chocolate might be getting some competition from these adorable little lemon cheesecake bites!
What's your favorite flavor treat?  Tell me in the comments!
Print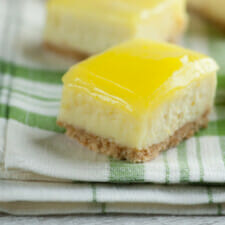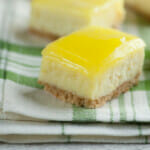 Lemon Cheesecake Bites
---
Author:

Prep Time:

20 minutes

Cook Time:

60 minutes

Total Time:

1 hour 20 minutes

Yield: Serves

12

-

1

5

1

x
Category:

Dessert

Method:

Stovetop and Oven

Cuisine:

American
Description
This easy mini lemon cheesecake bites recipe is full of creamy cheesecake and sparkling lemon flavor, in a fun bite-sized serving.  Bet you can't eat just one!
---
Ingredients
50

Nilla wafers

3 tablespoons

of butter, melted

4

eight ounce packages of cream cheese, room temperature

4 tablespoons

flour
Zest and juice from 2 lemons

1 2/3 cups

sugar

4

eggs

1 teaspoon

vanilla extract

2 tablespoons

cornstarch

1/2 cup

water
---
Instructions
Preheat oven to 325 and line a 13×9 inch pan with nonstick foil, letting some of the foil extend over the long sides of the pan.
Put the Nilla wafers in a food processor and process until they are fine crumbs (alternatively you can put them in a zippered plastic bag and crush them with a rolling pin).  Mix the crumbs with the melted butter and press the mixture on to the bottom of the foil-lined pan.  Bake for 10 minutes and then remove, leaving the oven on.
Put the cream cheese, flour, lemon zest, 3 tablespoons of the lemon juice, 1 cup of the sugar and three eggs into a bowl.  Separate the white from the yolk of the 4th egg, set the yolk aside in the fridge (you are going to use it later to make the topping) and add the egg white.  Beat this all up until well blended.
Spoon the cream cheese batter over the baked crust and pop it back in the oven for 45 minutes.  Cool for 30 minutes on a wire rack, and then cool it completely in the fridge for at least 4 hours.
Now for the topping!  Remember that egg yolk?  Take it out and stir it up until the yolk is broken and liquid.
Now put the cornstarch and 2/3 cup sugar in a small saucepan and whisk in the water and the remaining lemon juice.  Turn the heat on to medium high and keep whisking until the mixture is starting to thicken.  Scoop out a little of the cornstarch mixture and mix it with the egg yolk, and then pour the egg yolk mixture into the pot.  Whisk it for another minute or two.
Take the cheesecake out of the fridge and spoon that delectable topping over it.  Pop it back in the fridge for an hour or so until everything is nice and cool.
Use those foil edges to carefully lift it out of the pan and on to a big cutting board.  Cut the cake into one inch squares and serve!
Still Hungry?  Click on the titles of these delicious recipes!
Chocolate Chip Cheesecake from Recipe Girl
Creamy Lemonade Popsicles from Dine and Dish
White Chocolate Lemon Tart from Framed Cooks