A few pantry ingredients transform into a delicious chicken enchilada soup that is guaranteed to spice up your supper! And there are Fritos involved, so you KNOW they will be running to get to the dinner table.
Yes, you are seeing things correctly — those ARE in fact Fritos floating on the top of this easy peasy chicken enchilada soup. Because sometimes you just have to go for the gusto in life, and sometimes that includes sprinkling Fritos on things. And sometimes that means dropping everything to drive to another state at the drop of a hat because of very wonderful but unexpected circumstances.
Let's discuss both that AND the deliciousness that is chicken enchilada soup. With Fritos. Let's make it!But first, my weekend adventure (and if you want to skip my adventure and scroll right on down to the recipe I understand. Scroll away.) The Southern husband got us tickets to see Bon Jovi in concert in Philly this weekend. He planned the whole thing out perfectly – a nice drive down the turnpike on Saturday, a swanky steakhouse dinner, then amble on over to the Wells Fargo Center to see Jon and the band, and then back to the hotel. Off I went to work on Friday with visions of our musical weekend getaway dancing in my head.
Around lunchtime I got a text from the Southern husband (who is not a big text-er, so I knew something momentous must have happened).
And it had. The tickets were not for Saturday after all. They were for Friday. As in that same day. I was ensconced in my day job office in lower Manhattan. The concert started in 8 hours in Philadelphia. So I had about six hours to get home, pack and make the usually 2 hour trip to Philly.
Now, much as I would like to say I am a Carpe Diem, seize the day, go with the flow girl, I'm just…not. I like lists, and advance notice, and to have mapped out every scenario in advance. But I raced out of the office, made it home, packed in 15 minutes and we hopped in the car. I was pretty dang proud of my flexibility. How bad could it be?
Well, it was Friday. And raining. This was our situation after creeping along in the Jeep for about an hour and a half of the usually 2 hour trip. WOULD WE MAKE IT? We were not even halfway there. We were living on a prayer. I may have prayed out loud at some points.
We arrived in Philly about two hours later, and instead of checking in to the hotel (as with Plan A), we headed straight for the venue, and here we are approximately 3 minutes before the concert started. Because I am nothing if not go-with-the-flow flexible.
In our seats, ready for Bon Jovi!
Who jumped into the crowd about 5 rows away from us.
And then he took off his leather jacket. I'll just put that out there and let the picture speak a thousand words.
We were so deliriously happy about our drop of the hat concert success that after we checked into our hotel, we celebrated in the rooftop bar. And (in another first for me) we were there for last call. This is a flat-out miracle for someone who is usually snoozing by 9:30. I'm a changed woman!
The next morning we discovered that our hotel has my new favorite Philly restaurant. SO. GOOD.
They served my breakfast tea in one of these fascinating tea infusers – it gets filled with tea leaves and hot water and you put it on the top of your cup and all the tea drains through this strainer at the bottom. It was fascinating and so fun and good that I immediately ordered one on my phone as we were sitting there, because I am now a spur of the moment girl.
All of which has very little to do with chicken enchilada soup, except for the fact that both last-second Bon Jovi concerts and a handful of Fritos floating in your soup are definitely things that you should enjoy every once in a while.
Back at this soup, it falls into one of my favorite culinary genres: the "back of the box" category – as in the recipes that you sometimes find on the back of cans and boxes of ingredients. I always read those, because some of them are pretty fabulous, including this recipe, which was inspired by one the back of the Old El Paso Enchilada Sauce can and then doctored it up a bit (among other things, the Fritos are my own addition, thank you very much!).
It's a great thing to do with leftover chicken, and is one of those last minute dishes that you can whip up very quickly if you have the right stuff in the pantry. So keep an eye on the back of those boxes and cans in your pantry, because every now and again you do run across what we call in our house "a keeper." This one is a keeper.
And just for the record, so is the Southern husband, who not only takes me to fabulous concerts, but also helps this Type A girl to loosen up and seize the day. I'm going to have some Fritos now!
Print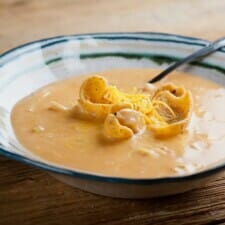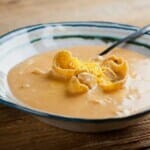 Chicken Enchilada Soup
---
Author:

Prep Time:

5 minutes

Cook Time:

10 minutes

Total Time:

15 minutes

Yield:

4

servings

1

x
Category:

Dinner

Method:

Stovetop

Cuisine:

Mexican
Ingredients
Two

10 oz

cans cream of chicken soup
One

10 oz

can enchilada sauce

2 cups

milk

1 cup

shredded cheddar cheese

1 cup

shredded chicken

1 cup

Fritos
---
Instructions
Mix all ingredients except Fritos in medium saucepan
Cook over medium heat, stirring, until thoroughly heated and cheese is melted
Ladle into soup bowls and garnish with Fritos
If you want to get REALLY elegant, you can also top with chopped tomato, or avocado, or sour cream. But nothing really tops Fritos if we are being totally honest, right?
Edited – a lot! – from a previous Framed Cooks post
SaveSave