It's a muffin! It's a cupcake! It's an easy recipe for Oreo Muffins! Turn your favorite cookie into your new favorite muffin.
This recipe for Oreo muffins is a dangerous, dangerous thing for me to make, because I will admit right now that I have zero self control when it comes to having Oreos in the house, and I'll warn you now that the recipe only calls for 15 Oreos.
Meaning that there will be more than half a package of Oreos lurking around after this recipe is over. As long as you are able to grapple with that, go ahead and read on…in my case, I literally had to gift my remaining Oreos to someone in order to save myself from myself.
Oreo-wise. But it was all worth it in the end, because I came out the other side with these crunchy on the outside, tender on the inside, stuffed with chunks of Oreo, drizzled with vanilla glaze muffins. Let's make them!
I agonized for a little while about whether to name this recipe Oreo Muffins or Oreo cupcakes, because let's face it: they are DESSERT. And for me, muffin always means something vaguely main course or side dish-like.
But they just look so muffin-like that I made the executive decision to call them muffins. These are the kind of discussions that go on in my kitchen.
Here's how you make Oreo muffins!
So! You need a package of Oreos, and you need to take 15 of them and break them up into little Oreo chunks. (Before you do this, eat an Oreo or two just to make sure they still taste like Oreos. Quality control. It's important.)
I find that the easiest way to make Oreo chunks is to put them in a ziplock bag, put the ziplock bag on dish towel on your counter to soften the blows, and then to whack them a few times with a meat tenderizer (or a can of soup, if you don't have a meat tenderizer handy).
Once you have your Oreo chunks all ready to go, you are going to whip up a pretty basic muffin batter, and once that is all ready, gently mix in the Oreo pieces.
I find this is easiest to do with my hands, at least at the end of the mixing, just to make sure you don't break them any further. You do want your muffins to come out with nice recognizable chunks of Oreo in them.
Bake them up until a toothpick comes out clean, and then cool them completely on a cooling rack before drizzling them with the glaze.
When it's time to eat the muffins (and it will seem like an eternity, trust me) you'll find that the outside is crispy and crunchy and the inside is tender and cake-like, which is my personal favorite combo when it comes to muffins.
And hey, if you had a little white chocolate vanilla ice cream on the side with your muffin, I won't tell anyone.
Print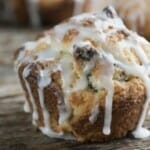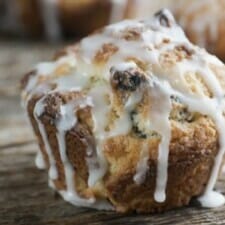 Oreo Muffins
---
Author:

Prep Time:

15 minutes

Cook Time:

15 minutes

Total Time:

30 minutes

Yield:

12

muffins

1

x
Category:

Breakfast

Method:

Oven

Cuisine:

American
Description
It's a muffin! It's a cupcake! It's an easy recipe for Oreo Muffins! Turn your favorite cookie into your new favorite muffin.
---
Ingredients
2 cups

flour

3/4 cup

sugar

2 teaspoon

baking powder

3/4 cup

chilled butter

1

egg

1/2 cup

milk

1 teaspoon

vanilla

15

Oreos, broken into pieces
For the glaze
1 cup

confectioner's sugar

3 tablespoons

milk

1/2 teaspoon

vanilla
---
Instructions
Preheat oven to 375 and grease a 12 muffin pan.
Put flour, sugar, and baking powder into a food processor. Cut butter into chunks and add to processor. Pulse until the butter is fully cut into the flour and the mixture is crumbly.
Mix egg, milk and vanilla together. Add flour mixture to egg mixture and stir until combined. Add Oreo chunks to batter and stir gently to combine – this may be easiest to do with your hands.
Spoon batter into muffin tin and bake until a toothpick comes out clean, about 15-20 minutes.
Cool completely on a rack. (I know! So hard to wait!)
Mix confectioner's sugar, milk and vanilla together to make a glaze. Drizzle over muffins. Now you can dig in!