Easy, creamy, dreamy, chocolate deliciousness is all yours in this recipe for French Silk Pie! This quick dessert is perfect for the holidays.
Here comes the time of year when I start stockpiling those dessert recipes that seem a little too luxurious for the rest of the year, but absolutely required at this time of year.  Decadent, luscious, swirly chocolate luxury on a plate.
But here's the thing for me…with everything else going on between now and January 2nd when I swear off everything but celery, it has to be EASY.  And totally RELIABLE.
Because the two things I don't want to happen are to be spending all day making some elaborate concoction, and/or to have said concoction not come out okay.
Which is why I adore French Silk Pie…it is swirly chocolately decadent lusciousness, and it is both easy and perfect every time.
Easy, creamy, dreamy, chocolate deliciousness is all yours in this recipe for French Silk Pie! This quick dessert is perfect for the holidays.Click to TweetNow I can't speak to the French part of this pie…the historical research I have done on this baby all seems to date back to the icebox pies of the 50's – but I can vouch 1000% for the silkiness.  And that silkiness, my friends, comes from whipped eggs.  I realize there are many folks out there who are not friends with uncooked eggs, and I totally respect that.
But if you are willing to walk on the wild side with me and dive into Caesar salad and Steak Tartare and other things that just have to have raw eggs as an ingredient in order to blow your tastebuds away, I promise that French Silk Pie is in that category of amazingness.  And you can always use pasteurized eggs, which have been treated – here's a link from The Kitchn with more on that.
Here's how you make French Silk Pie!
]So for those of you who are still with me, here's what you need to do.  Start with an unbaked pie crust.  I love this version from Leite's Culinaria, but if you need to, the refrigerated pie crust in the supermarket is totally fine.  I won't tell if you won't tell.
Bake it up until it is nice and golden and let it cool while you are making the rest of the pie.
You need 4 ounces of the nicest chocolate you can find.  It can be anything from semi-sweet to dark, depending on what you like, but once you settle on it, it needs to be melted.
Now, melting chocolate used to be the bane of my existence until I found this totally reliable method: Put the chocolate in your food processor and pulse it into chocolate dust.  Or really really teeny tiny chocolate pieces.
Put the chocolate in a bowl and place that bowl over a second bowl or pot that you have filled with boiling water.  Leave it along for a few minutes, and then come back and stir the chocolate.  Stir stir stir, and it will magically transform into melted chocolate.
This method has Changed My Life.
Now beat some heavy cream until it forms stiff peaks of whipped cream.  Set that aside, and whip together some butter and sugar and vanilla.  Add the chocolate and whip it again.  (I know.   Lots of whipping.  Here comes more.)
Add in three eggs and let the mixer rip for a few minutes.  Now fold in the whipped cream with a spatula, stirring gently and lovingly until the whole thing is combined.
Spoon it into your piecrust and have some fun making swirly designs on the top, and then pop it in the fridge for a few hours (you can also make this one the day before – bonus points!).
French Silk Pie is perfect just like this, but you can also adorn it with whipped cream, chocolate shavings, etc etc.
So there you have it – one of the most divine desserts I know, just for you!
Print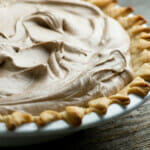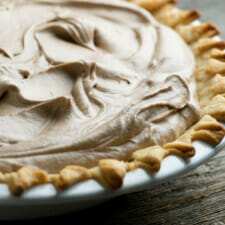 French Silk Pie
---
Author:

Prep Time:

20 minutes

Cook Time:

5 minutes

Total Time:

25 minutes

Yield:

10

servings

1

x
Category:

Dessert

Method:

Stovetop

Cuisine:

American
Description
Easy, creamy, dreamy, chocolate deliciousness is all yours in this recipe for French Silk Pie! This quick dessert is perfect for the holidays.
---
Ingredients
1

pie crust for a 9 inch pie, cooked and cooled (to ensure no puffing in the center, either pierce it a few times with a fork or use pie weights

4 ounces

of your favorite chocolate, ground in a food processor

1 cup

heavy cream

1 cup

white sugar

6 ounces

soft butter

1 teaspoon

vanilla

3

eggs (preferably organic or pasteurized)
---
Instructions
Melt chocolate by placing it in a bowl and setting that bowl over another bowl filled with boiling water. Leave it for 3-5 minutes, take the chocolate bowl off of the other one, and stir vigorously until the chocolate is smooth. Set aside.
Whip the cream until if forms stiff peaks of whipped cream. Set aside.
Cream the butter and sugar with a mixer for 2 minutes or until fluffy. Add vanilla and whip for another minute.
Add chocolate and mix at medium speed until well combined.
Add eggs and whip on medium speed for 5 minutes.
Gently fold the whipped cream into the chocolate mixture until completely combined, Spoon into cooked pie crust and make pretty swirly designs on the top.
Refrigerate for 3 hours – you can even refrigerate it overnight!
Serve as is, or garnished with more whipped cream and/or chocolate shavings. Refrigerate any leftovers. (As if there will be leftovers!)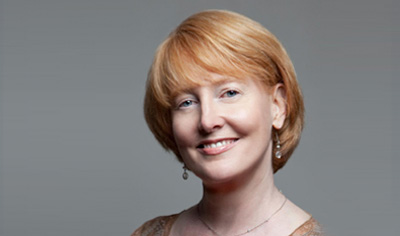 Hi there!  I'm Kate, and I'm a recipe writer, food photographer and devoted bacon lover.  I started Framed Cooks in 2009, and my mission is to create and share family-friendly recipes that make cooking both easy and fun…yes, I said FUN!  My kitchen is my happy place, and I want yours to be that place too.  And if you make this recipe, I would love you to tag @FramedCooks on Instagram so I can see the deliciousness!