Give a whole new spin to your oatmeal with this delicious and easy overnight no cook oatmeal recipe that cooks in your refrigerator!
Let me just start by saying I Love Oatmeal. Sweet oatmeal, savory oatmeal, oatmeal for breakfast, oatmeal for lunch.
Don't even get me started on oatmeal cookies. I could be president of the Oatmeal Appreciation Society. I am that devoted to you, oatmeal.
But up until recently with the exception of the oatmeal cookies, I had only had my many variations of oatmeal hot. But then I got swept up into this wave of making oatmeal without cooking it, but rather by letting it sit in a bath of milk and other good things in your fridge overnight until it was soft and sweet.
Could overnight no cook oatmeal work? Read on, oatmeal lovers.
The short answer is yes, yes, a thousand times yes. The long answer involves telling you how overnight oatmeal happens, followed by me begging you to give it a try.
Here's how you make overnight no cook oatmeal!
You start with one cup of rolled oats (the kind in your regular old round Quaker Oats box) and one cup of your choice of milk. Whole, skim, soy, almond…it will all work.
Mix the oats and the milk together, and if you are a purist, you are done.
I am not a purist, so I tossed in a couple of tablespoons of dried blueberries, a little cinnamon, some chopped walnuts, a little vanilla and a generous tablespoon of honey.
I did all of this in a mason jar, partly because I love eating anything out of mason jars, and partly because it was exactly the right single serving size, and it had a lid, and I'm always looking for excuses to use my mason jars.
Now pop it in the fridge for about 12 hours. If you want your oatmeal for breakfast then just mix this up after dinner – we had ours for supper so I put it in the fridge before I left for work.
While you are snoozing, the oatmeal is going to absorb most of the that milk and get all lovely and soft and perfect. When it's time to eat, give the whole thing a stir.
We topped ours with a little granola and chopped fresh pear and pomegranate seeds, and the second time I made it we had it with fresh blueberries and raspberries on top. HEAVEN.
A few other things to tell you about this.
First, it's obviously going to be cold if you eat it right out the fridge (which was actually pretty wonderful), or you can let it come to room temperature. If you absolutely NEED to have your oatmeal warm, a minute or two in the microwave will do the trick.
Second, oatmeal made this way won't be as soft and mushy as the stovetop kind. It has a little rustic chewiness to it that I love.
And third, while I have heard tell that folks have made this with steel cut oats (those little hard oatmeal nuggets), I did try that variation and didn't like it nearly as much as the rolled oats variety. The steel cut oats did soften up, but the milk and the oats didn't come together as perfectly as they did with the rolled oats variety.
Last but not least, as long as you do the one cup oats/one cup milk mixture, you can get as creative as you want with the mix-ins. Things that are on my list to mix in to future overnight oatmeal meals are coconut, molasses, raisins, maple syrup…you get the idea.
And I'll end with the plea I mentioned earlier: please give this a try? I can't bear for you to miss out on the fabulousness that is overnight oatmeal.
Print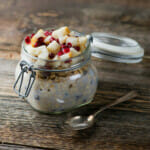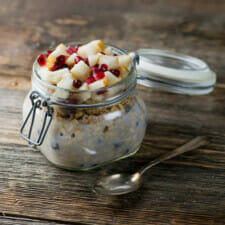 Overnight No Cook Oatmeal
---
Author:

Prep Time:

10 minutes

Total Time:

10 minutes

Yield:

1

serving, can be increased infinitely!

1

x
Category:

Breakfast

Method:

No Cook

Cuisine:

American
Description
Give a whole new spin to your oatmeal with this delicious and easy overnight no cook oatmeal recipe that cooks in your refrigerator!
---
Ingredients
1 cup

rolled oats

1 cup

milk (any kind)

1 tablespoon

honey

2 tablespoons

raisins or other dried fruit

2 tablespoons

chopped walnuts

1/2 teaspoon

cinnamon

1/4 teaspoon

vanilla extract
Fresh chopped fruit and/or granola as topping
---
Instructions
Mix together oats and milk in a jar or bowl.
Add in the honey, dried fruit, nuts, cinnamon, vanilla and/or any other mix-ins you like. Be creative!
Cover the oatmeal and place in the refrigerator for 10-12 hours.
When you are ready to eat it, give everything a stir, top with fresh fruit and/or granola if you like and dig in!