I think steak tartare might be one of the most dramatic, controversial recipes ever.  Whenever it comes up in conversation (What?  You don't find yourself chatting about steak tartare on a regular basis?  Maybe it's just me.) I find that folks fall into two camps.  The "I love and adore it" camp, and the "Are you crazy?  You want me to eat raw meat???" camp.  I'm in the love camp, along with the Southern husband and the dog.  But I understand the viewpoint of the other side, and on the other hand I don't want them to miss out on the wonderful flavors – the shallot, the Worcestershire, the garlic, the egg, all blending with the chopped steak.  So finally here is a tartare that can bring us all together…beef tartare burgers!
So here's the good news for all you non-lovers-of-raw-meat…yes, the burger is cooked!  And you can of course cook it however you like, although I do highly recommend going as rare as you possibly can, just to be as true as possible to the whole tartare thing.  But before we get to the whole cooking thing, there's the excitement of the preparation, because this is not your usual supermarket ground beef adventure.  Nope, we are going to make our own, and don't be scared!  It's as easy as a few whirls in the food processor.
You want to get a nice sirloin or chuck steak, one with a few ribbons of fat in in to give us a nice juicy burger.  Cut it up into chunks and drop it in the food processor, and hit the pulse button just until it is finely chopped.  You want little teeny chunks, not a paste. Congrats…you have made your own ground beef, and you know for a fact that there is exactly NO alarming filler in there.
Once you've gotten over the excitement of that part, gently mix your beef with some fresh chopped parsley, a little Worcestershire sauce, some salt and pepper and a little hot sauce, and then form it into burgers.  The secret here is to do all this as gently as possible – the less you smush the meat together, the tenderer the burger.  And we are all about the tenderness!
Now crank up your frying pan or griddle (these babies are delicate, and will cook better on a flat surface than on your grill) and cook them to your preference.  If you are going for rare, that means 3 minutes on the first side and about 1-2 minutes on the second.  Once they are done, you can get the full tartare experience by topping the burger with any or all of the usual steak tartare toppings – I used chopped hardboiled egg and capers, but you can also squeeze on some lemon juice, sprinkle on chopped onions…whatever sounds good to you!
Have I convinced you on the whole tartare thing yet?  If so, please proceed directly to tuna tartare!
Print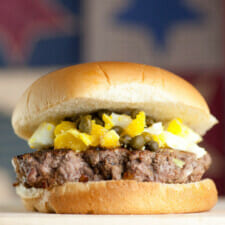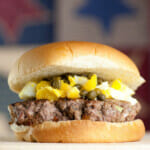 Beef Tartare Burgers
---
Prep Time:

15 minutes

Cook Time:

5 minutes

Total Time:

20 minutes

Yield:

4

burgers

1

x
Category:

Dinner

Method:

Stovetop

Cuisine:

American
Ingredients
1 1/3

pounds well-marbled chuck or sirloin steak

1

shallot, peeled

1

garlic clove, peeled

2 tablespoons

capers

1/2 cup

chopped fresh parsley

1 tablespoon

Worcestershire sauce
Salt and pepper and hot sauce to taste

4

hamburger rolls, warmed
For garnish: chopped hardboiled egg, capers, lemon juice, chopped onion – your choice!
---
Instructions
Cut steak into small chunks and put into food processor with the shallot, garlic and capers. Pulse the food processor in short bursts until the meat is finely chopped (don't let it get pasty).
Transfer meat to a bowl and using clean hands, gently mix with the parsley and Worcestershire sauce. Season with salt, pepper and hot sauce and gently form into 4 burgers.
Heat skillet or griddle over medium high and cook burgers for 3 minutes on one side and another 1-2 on second side for rare, or longer if you like them done more. Transfer to buns, garnish with your choice of toppings and serve!
Recipe lightly adapted from The New York Times