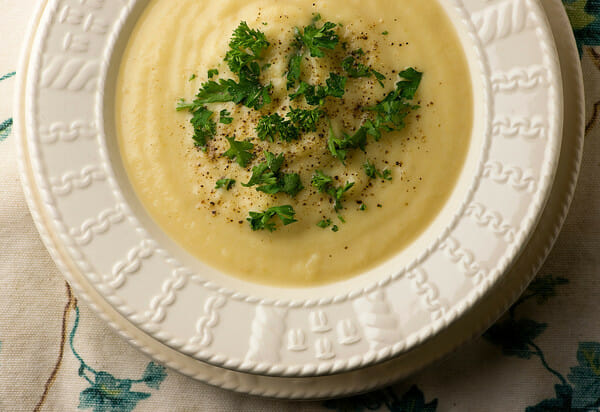 So, I read somewhere recently that cauliflower season runs from October to April, which sent me into a mild panic because I try hard to find/cook/eat vegetables and fruits when they are in season…mainly because they taste best when they are in season, and also because it appeals to the compulsively over-organized part of my personality.  (Those of you who have looked in my spice cabinet know what I mean.
At any rate, I realized that cauliflower season was Almost Over and I hadn't made anywhere near enough cauliflower anything.  (I actually don't think I made a single cauliflower thing, and I don't know why.  I really love cauliflower.  It's a mystery.)  Anyway, once this dawned on me it was then a mad rush to make this simple and simply wonderful soup.  It's basically cauliflower (you might have guessed that part), a few other veggies, some cheddar cheese, some chicken broth, a little evaporated milk and voila!  Warm and wonderful soup, perfect for an easy supper on the last of the early spring nights where there is still a little nip in the air.
Phew, made it right under the cauliflower wire.
Print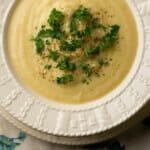 Cauliflower Cheese Soup
---
Yield:

4-6 servings
Ingredients
2 cups chicken broth (I like the Imagine and Pacific brand in the box, not the can)
1 head cauliflower (about a pound), broken into large pieces
1 stalk celery, chopped
1 carrot, peeled and chopped
1 onion, chopped
1 five ounce can evaporated milk
1 1/2 cups shredded cheddar cheese (I love the Cabot brand!)
Salt and pepper to taste
Chopped fresh parsley for garnish
---
Instructions
Add all ingredients except milk and cheese to a large saucepan. Cook over medium-low heat for 1 1/2 hours until cauliflower is very tender.
Ladle mixture into a food processor and process until smooth. (Depending on the size of your food processor you may need to do this in batches.)
Return pureed mixture to saucepan and stir in milk and cheese. Cook over medium heat, stirring constantly until cheese is melted.
Add salt and pepper to taste. Ladle into bowls, garnish with a little parsley and serve.
Recipe adapted from BETTY CROCKER SMART COOK