Weeknight chicken dinner just got fancy without the fuss with this simple and delicious chicken francese recipe! Lemon lovers of the world, unite!
Whenever the Southern husband and I go out to dinner, there are a few things that I can predict with almost 100% certainty that he will order if it's on the menu.  These include shrimp with grits, pretty much anything featuring a scallop, key lime pie and Chicken Francese.  For those of you who aren't yet acquainted with this delightful spin on chicken, it's a boneless sauteed chicken cutlet in a lovely lemon butter sauce.  It's easy, it's delicious, it's for lemon lovers like me, and it can definitely add some sparkle to your usual chicken supper!
I like to get regular chicken breasts (not the thin cutlets), cut them in half, put them between pieces of plastic wrap and pound the heck out of them for this recipe.  I like the uneven surface that you get by doing your own pounding – so much better for holding the coating and the sauce!  Plus you get to get out all the frustrations of the day with all that pounding.  Silver lining!
Once your chicken is nice and pounded, you are going to dunk it in some flour, some beaten egg and then back in the flour…this is going to give it a nice golden crust when you saute it in some olive oil.
Once the chicken is done, you make a quick sauce by adding a little more oil to the pan along with some flour, some white wine, a little chicken broth, a little butter, and some fresh squeezed lemon juice.  Simmer it all up until it is just a teeny bit thick, and you are ready to roll.  Lay your chicken on the plates and drizzle the bright, lemony sauce generously over the top.  Scatter some fresh chopped parsley over the chicken and voila!  Chicken Francese!
I like to serve this with mashed potatoes and fresh steamed green beans, and if you have any extra Francese sauce, make sure those two side dishes get a little drizzle too. Now all I need is a good key lime pie recipe and the Southern husband may never need to eat out again.  Hmm…on second thought….
Print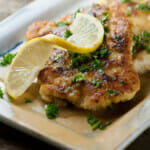 Chicken Francese
---
Yield:

4 servings
Ingredients
4 boneless chicken breasts, pounded to 1/4-1/2 inch thickness
3/4 cup flour
1 teaspoon salt
1/2 teaspoon pepper
3 eggs, beaten to blend
4 tablespoons olive oil
Sauce
3 tablespoons olive oil
2 tablespoons flour
1 cup chicken broth
1/2 cup white wine
Juice from two large lemons (about 1/4 cup)
3 tablespoons butter
Salt and pepper to taste
Fresh chopped parsley
---
Instructions
Heat olive oil in a large skillet over medium high heat
Mix salt and pepper into the flour, and place flour and egg in separate shallow bowls. Dip chicken first in flour, then in egg, then in flour again. Fry in oil until golden on both sides, about 3-4 minutes per side. Transfer to a plate.
Add remaining oil to pan and whisk in flour. Stir in chicken broth, wine and lemon juice and bring to a simmer. Simmer for about 3-4 minutes until starting to get a little bit thick.
Stir in butter until it is melted. Season sauce to taste with salt and pepper.
Carefully pour sauce from the pan into a heat-proof measuring cup. Place cooked chicken on plates, pour sauce over chicken, garnish with fresh parsley and serve!