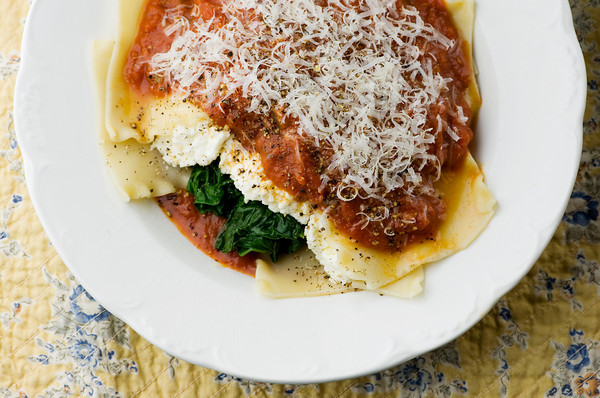 I have to say, I have a love-hate relationship with lasagna. I love it…but I kinda hate the production of making the traditional 13×9 inch pan of the stuff. The boiling, the grating, the layering, the baking, the cooling, the slicing…it's just exhausting. Especially for something that will be devoured in no time.
Which is why I love this recipe for soup bowl lasagna so very much. It's all the joy of lasagna in a fraction of the time. You cook up the lasagna noodles the way you always do, but instead of assembling all the ingredients in a baking dish, you skip right to the plate. Some warm marinara sauce, some spinach, a delicious mixture of warmed ricotta and mozzarella, the cooked noodles, some parmesan cheese…instant, super-easy lasagna! No muss, no fuss, no baking. This is a lasagna you can actually make on a school night. And even better, you can make exactly the amount you need, portion by portion, because you are assembling it right into individual soup bowls. Which you probably figured out. From the name of the recipe.

So for all of you who are looking for lasagna shortcuts, break out your soup bowls and give this one a whirl.


Soup Bowl Lasagna, adapted from Bon Appetit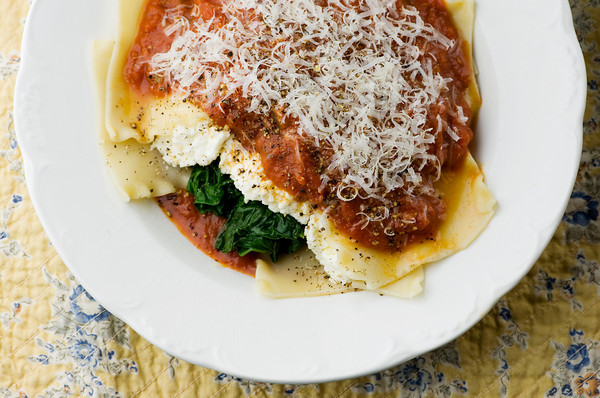 Ingredients
12 ounces baby spinach
8 lasagna noodles, broken in half
1 1/4 cup ricotta cheese
4 ounces shredded mozzarella cheese
2 cups marinara sauce
Grated parmesan cheese
Directions
1. Bring a large pot of water to the boil and add a tablespoon of salt. Blanch the spinach in the water for one minute, scoop out with a slotted spoon into a colander and drain.
2. Add noodles to the boiling water and cook until just tender. Drain.
3. Meanwhile, heat ricotta in heavy small saucepan until smooth. Stir over low heat for 2 minutes, add mozzarella and stir until melted, about one minute more. Remove from heat and grind in some pepper.
4. Warm marinara sauce in separate saucepan.
5. Time to assemble! Line up 4 soup bowls and ladle a quarter cup of sauce into each bowl. Top with two noodles. Divide spinach on top of noodles, and then divide cheese mixture on top of spinach. Top with second later of noodles, remaining sauce and grated parmesan. Serve at once.