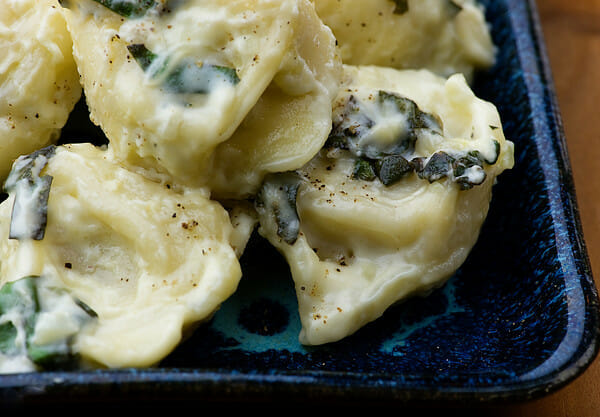 You know, sometimes I think I am just plain contrary when it comes to ingredients. This past summer, when my basil looked like this…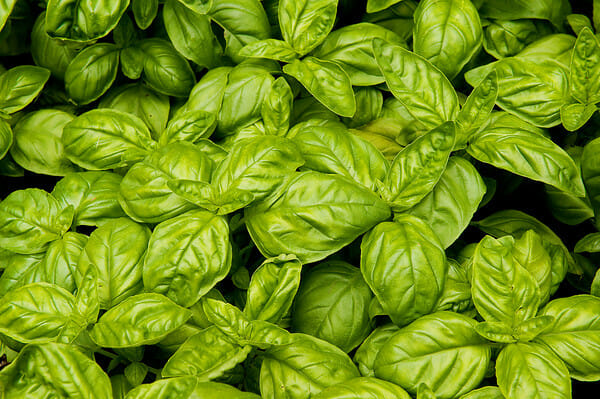 …and was pretty much threatening to take over the world, I was racking my brain for basil recipes. After all, there is only so much pesto that one girl can take. Now that we are in the cold hard dead of winter and my basil crop is just a sweet-smelling memory, I keep running across recipes that call for, yes, you guessed it. And with most of them I just sigh and put them in my "make this next summer" folder, but with this one, I just couldn't stand it anymore. I had to make it, and I had to make it NOW. And of course, basil can be had in the cold hard dead of winter. For a price. But sometimes a girl's gotta do what a girl's gotta do, and so there I was in the checkout line with my million dollar per pound bunch of basil, and visions of basil cream sauce dancing in my head.
Now next summer when I am once again moaning over all the basil in my garden and how in the world will I ever use it all up, could someone please remind me about this recipe?
Thank you.
Tortellini with Basil Cream Sauce
Ingredients
2 shallots, minced
2 cloves garlic, minced
1 tablespoon butter
1 tablespoon flour
¼ cup butter, room temperature
¼ cup white wine
1¼ cups cream
1 cup grated parmesan cheese
1 cup fresh basil, chopped
2 9-ounce packages cheese tortellini, cooked and drained
Fresh ground pepper
Instructions
Saute shallots and garlic in butter in a medium saucepan over medium-high heat until softened, about 3 minutes.
Add flour and stir for one more minute. Stir in ¼ cup butter and cook for one more minute. Stir in wine and cook one minute more. Slowly add cream, stirring until smooth.
Add cheese and and cook over medium heat until smooth and thick, about 3-5 minutes.
Stir in basil, mix well. Add cooked tortellini and stir to coat.
Divide among plates and grind fresh pepper over top.