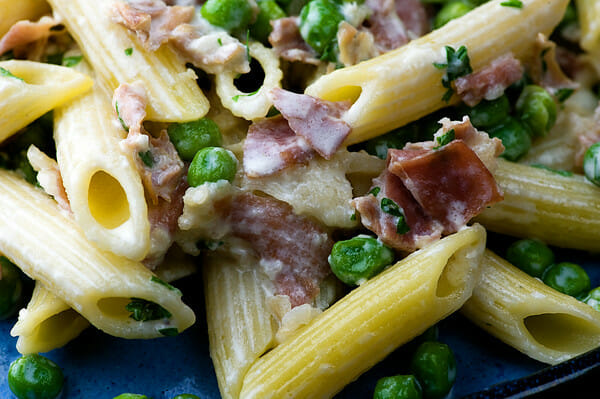 Now, I do love all my wonderful cookbooks. The Silver Palate Cookbook. Cold Weather Cooking by Sarah Chase. There's A Chef in My Soup by Emeril Lagasse. My current favorite, The Pioneer Woman Cooks. And my all-time favorite, The New Best Recipe by the genius cooks at Cooks Illustrated. But truth be told, I am also a big fan of what I call "back of the box" recipes. I am forever turning boxes and bags and jars over to see what the recipe possibilities are, because pretty much anything edible and in a package these days has a recipe that goes with it. And sometimes they are pretty dang good.
That's where I got this lovely penne recipe from. I had some prosciutto left over from one of my favorite quick appetizer dishes (take a chunk of fresh pineapple, wrap it in some thin prosciutto, spear it with a toothpick, put on a pretty plate, repeat 25 times, instant elegant appetizer!) and I was trolling around for something to make with it. And then I remembered that I had cut this recipe out of the back of the Ronzoni penne box. Yes! Now me being me, I did mess with it a little. It called for mushrooms, and since mushrooms and I do not get along I substituted peas. It wanted me to put the prosciutto in early on in the recipe, and since I know from sad experience that if you put prosciutto (or bacon) into recipes too early, it loses some of its nice salty punch….so I changed that too. If you want to try the original version of this recipe, click here and type "penne di parma" in the keyword search box. But if you want my adjusted version, it's here for you below. And if you want to try it but don't have any leftover prosciutto hanging around, you can use bacon and it will work perfectly well. I've found that his is true for most things in life…bacon will work perfectly well for whatever you need. Think about it — it's true, right?
Print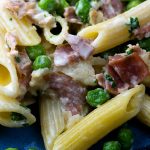 Penne di Parma
---
Ingredients
2 tablespoons butter
2 cloves garlic, minced
1-1/2 cups peas
3/4 cup (about 2 oz.) prosciutto, sliced into thin strips*
1 cup milk
1/2 cup light cream
2-2/3 cups (8 oz.) RONZONI PENNE RIGATE, uncooked
1/4 cup grated Parmesan cheese, divided
1/4 cup chopped fresh parsley
---
Instructions
In large skillet over medium heat, melt butter; add garlic. Cook for 1 minute.
Add milk and cream; heat to boiling. Reduce heat to medium; simmer, uncovered, until mixture is reduced by half, about 6 minutes.
Meanwhile, cook pasta according to package directions; drain. Remove sauce from heat; add peas, prosciutto, 3 tablespoons Parmesan cheese and parsley.
Toss hot pasta and sauce; sprinkle with remaining cheese.
Notes
*Or substitute bacon or thinly sliced smoked ham.