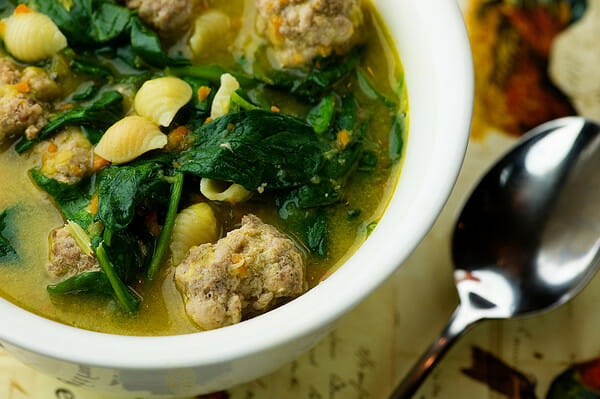 Oh, I love and adore this soup. For richer, for poorer, in sickness and in health, til death do us part, I love this soup, and true love lasts forever. For me, this soup is all about the adorable little meatballs, which cook right in the soup. You make them nice and tiny so they fit right on your spoon. Use a really nice prepared chicken broth for the soup base — these days I am liking Imagine free range chicken broth, which comes in a box and has a smooth and rich chicken broth flavor (some of the canned chicken broths taste a little tinny and watery to me). The broth is enhanced with some chopped sauteed veggies, some pasta, some fresh baby spinach…and of course those wonderful teeny meatballs.
I like to make a nice big batch of this soup on a Sunday afternoon — it makes a perfect Sunday supper, especially served with some crusty French bread and butter, or even grilled cheese sandwiches if you have an especially hungry crew on your hands. The leftovers save just beautifully and will give you a warm and fuzzy feeling when you look into your fridge wondering what's for lunch and see the container of wedding soup.
Ah, Italian Wedding Soup. Make it for your true love today.
Print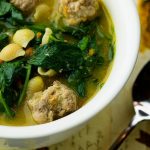 Italian Wedding Soup
---
Yield:

6
Ingredients
2 tablespoons olive oil
2 carrots, peeled and chopped fine
2 ribs celery, chopped fine
1 medium onion, chopped fine
2 bay leaves
Salt and pepper
1 pound ground pork/veal/beef combined
1 egg, beaten
2 cloves garlic, minced
1/3 cup grated Parmesan
1/3 cup bread crumbs
1/2 teaspoon nutmeg
6 cups chicken broth
2 cups water
1 1/2 cup dried pasta (I use tiny shells, but your choice)
1 pound fresh baby spinach
---
Instructions
Heat oil in a deep large saucepan over medium heat and add carrots, celery, onion and bay leaves. Season with salt and pepper, cover pot and cook veggies for 5 minutes, stirring now and then.
While the veggies cook, combine meat, egg, garlic, cheese, crumbs and nutmeg.
Uncover pot and add broth and water and bring to a boil. When soup boils, reduce heat a bit and start rolling the meat mixture into very small meatballs, dropping them in the soup as you go.
When you are done with the meatballs, add the pasta, stir, cover and simmer for 10 minutes.
When pasta is tender, stir in spinach. When spinach is wilted, the soup is ready. Taste, adjust seasonings, light some romantic candles and serve.