This easy recipe for warm chicken and green bean salad can be customized all kinds of delicious ways! Hearty grains and cheese round out this perfect lunch or light supper.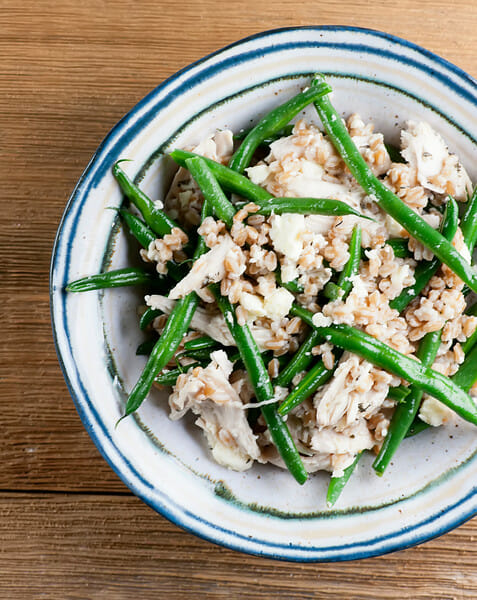 Hi there friends! So, a quick catch-up as to the current situation for the Southern husband and myself. As you know if you've been following along, the Southern husband is back to his Southern roots with our move this week to North Carolina.
However! This is the not the final stage of our move, because our Carolina Dream House still has a couple of months to go before we get the keys, so we are bunking in with the Southern daughter and my sweet son-in-law, and guess what?
I have been named head chef!
So here's the thing. When we were in our sweet New Jersey house, I had my studio all set up, and dinnertime usually involved testing a new recipe and photographing it, and as soon as I get the keys to the Carolina Dream House you KNOW the first thing that I will unpack is my new North Carolina studio.
Until then we are determined to be good house guests, and I didn't think hauling along my giant light and my distressed wood and my 384,246 plates and all of my cameras and lenses would qualify me as House Guest Of The Year, even though I know our two sweethearts would absolutely have let me do that.
(Not that we had room in the car even if I had!).
So while I am still dreaming up new recipes to test out in the new house, and while I have tons of new recipes already waiting in line to share with you between now and then, I had an idea.
For the next couple of months, sprinkled in with new recipes that I have already tested in my old studio, I'm going to revisit some old faves – specifically the old faves I am cooking up in my new position as Head Chef.
And in many cases, I'll spiff them up with any adjustments I've made since they were first born.
For some of you who have been following me for a while, hopefully this will be a fun reminder of past recipes – and for most of you, it will probably be just like brand new!
So! Tonight I am making my crew a warm chicken and green bean salad from about 3 years ago, so that's the first one I am going to re-share.
This recipe for warm chicken and green bean salad was born one day when I had a bowl of leftover green beans in my fridge, and since I have a strict No Ingredient Left Behind rule in my house, I was pondering what I could do with them other than serve them on the side of something else.
Then I spied a hunk of feta cheese in my fridge as well, and the wheels started turning…what if I poached a chicken breast, shredded it up into bite-sized pieces, and then tossed it with the beans and the feta? And maybe some grains for extra heartiness?
And a little olive oil and a big dash of oregano?
And a little while later I had a bowl of warm chicken salad deliciousness.
Now, if you also have leftover chicken in your fridge you can absolutely use that as well, either cold, room temperature or warmed up in a little chicken broth if you want to keep true to the warm vibe of this recipe.
I've put directions in the recipe below for my tried and true way to poach a chicken breast, which is the way I make this salad most of the time. It always yields the most tender chicken, which is key to a top-rate chicken salad.
Here's how you make warm chicken and green bean salad!
Pop a boneless chicken breast in a pot and cover it with water. Add a pinch each of salt and pepper – if I am feeling especially fancy, I also toss in a carrot and/or a piece of celery and onion.
Bring it to a boil, let it simmer for about 5 minutes and then turn off the heat and let the chicken stay in the water until the water is just barely warm.
Now scoop out the chicken and shred it into bite sized piece.
Next, toss it in a bowl with some cooked green beans, a handful of feta cheese, and your grain of choice. My grain of choice is almost always farro, which I continue to have a major crush on, but you can also use brown rice or barley – this recipe is all kinds of flexible.
You can also sub in goat cheese for the feta, and I bet this would also be good with cherry tomatoes tossed in there. It's freeform! You be you!
Once you have tossed the main ingredients together, drizzle on a teeny bit of olive oil, a generous pinch of oregano, season to taste with salt and pepper, and voila! Supper is ready.
You just never know where gazing into your fridge at containers of leftovers can lead…
Thanks for this first journey down memory lane, my friends!
Love, Kate
Print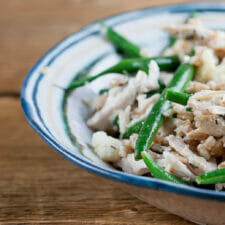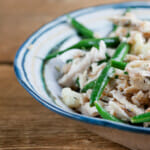 Warm Chicken and Green Bean Salad
---
Author:

Prep Time:

10 minutes

Cook Time:

5 minutes

Total Time:

15 minutes

Yield:

4

1

x
Category:

Dinner

Method:

Stovetop

Cuisine:

American

Diet:

Gluten Free
Description
This easy recipe for warm chicken and green bean salad can be customized so many ways! Hearty grains and cheese round out this lunch or light supper.
---
Ingredients
1

large boneless, skinless chicken breast half

2 cups

cooked green beans

1/2 cup

crumbled feta

2 cups

cooked farro, barley or brown rice – your choice!

1 tablespoon

oregano
Salt and pepper
Olive oil for drizzling
---
Instructions
Place the chicken breast in a pot and cover with water. Add a pinch of salt and pepper and bring to a boil. Simmer for 5 minutes and then let the chicken cool in the water until the water is just barely warm. Remove and shred into pieces.
Combine the chicken with the beans, feta and grains in a bowl and toss.
Drizzle with a little olive oil (a tablespoon or two will be enough) and the oregano and toss again. Season to taste with salt and pepper.
Notes
If you already have cooked chicken in your fridge, this is a great way to use it up! Shred and it either use it at room temp, or warm it up in a little chicken broth.
Need to add something to your kitchen equipment to make this recipe? Below are some of the items we used in the Framed Cooks kitchen to help cook this up. These are affiliate links to things we use and love, which helps to pay for all that bacon I keep buying!
Equipment