This fun and easy recipe for sheet pan pancakes cooks up a whole batch of pancakes at once. Mix and match your toppings for a breakfast treat!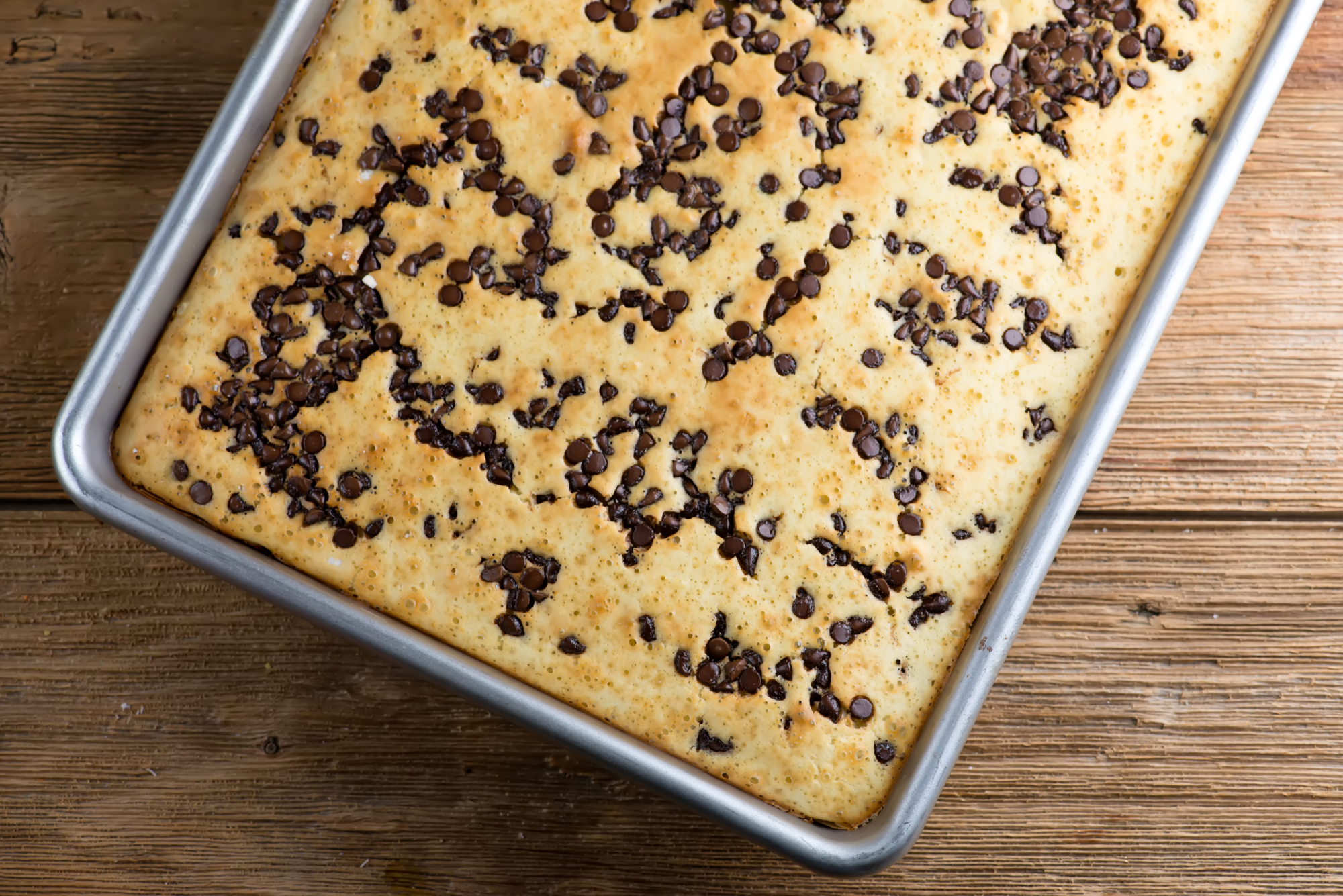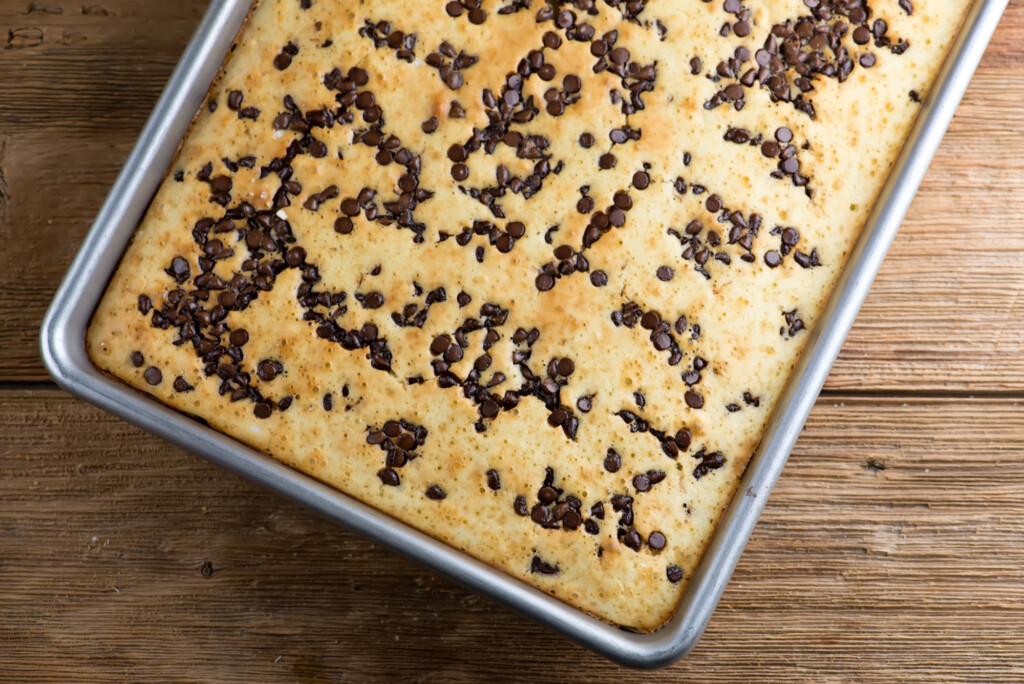 We are so enchanted by this sheet pan pancakes recipe in my house lately.  Maybe it's because we are now eating breakfast for dinner and vice versa.
Maybe it's because you can mix it up with chocolate chips OR bananas tossed with cinnamon sugar OR blueberries, depending on your mood.
Maybe it's because they all cook up at once, so the pancake maker can actually sit down with everyone else and have her breakfast.
Whatever the reason is, I highly recommend shaking up your usual pancake method for this sheet pan version!
And speaking of shaking things up, during my last post I mentioned that my hair has gotten so dang long that I was considering taking drastic action.
Here is my hair in its usual state.  Blow-dried until it is straight and obedient.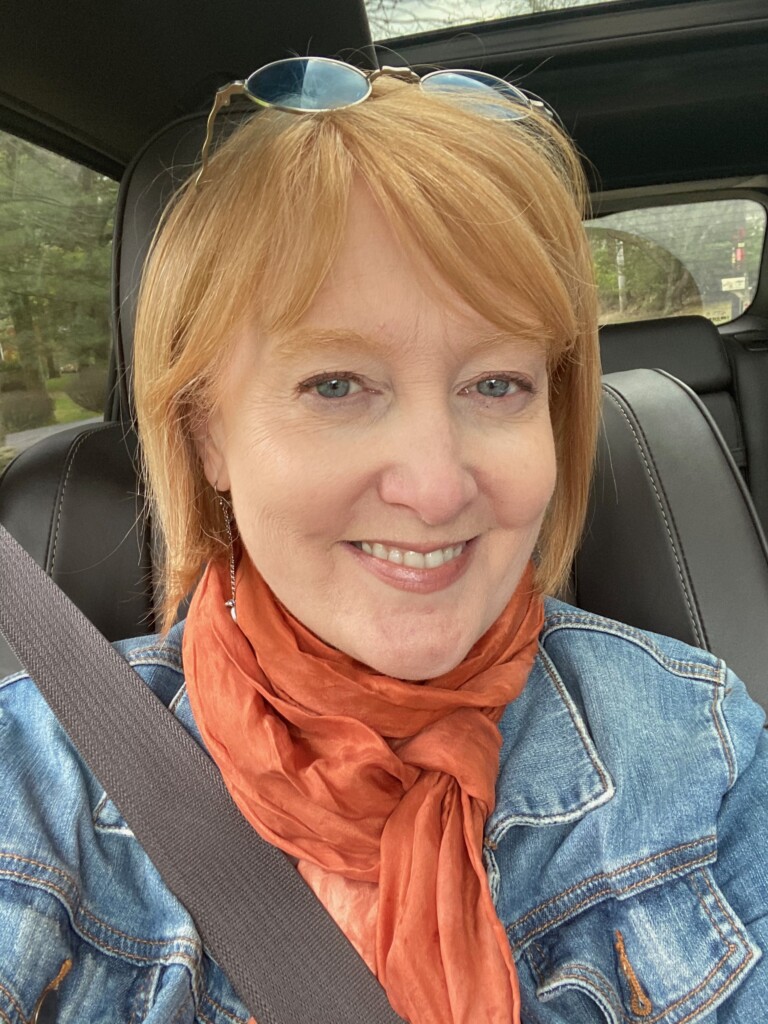 So in the interest of shaking things up, and because the Southern husband is the only one who has to look at me these days, I decided to throw caution to the wind, and for the first time in (not kidding) DECADES I just let my dang hair air dry and do its thing.
Here is its thing.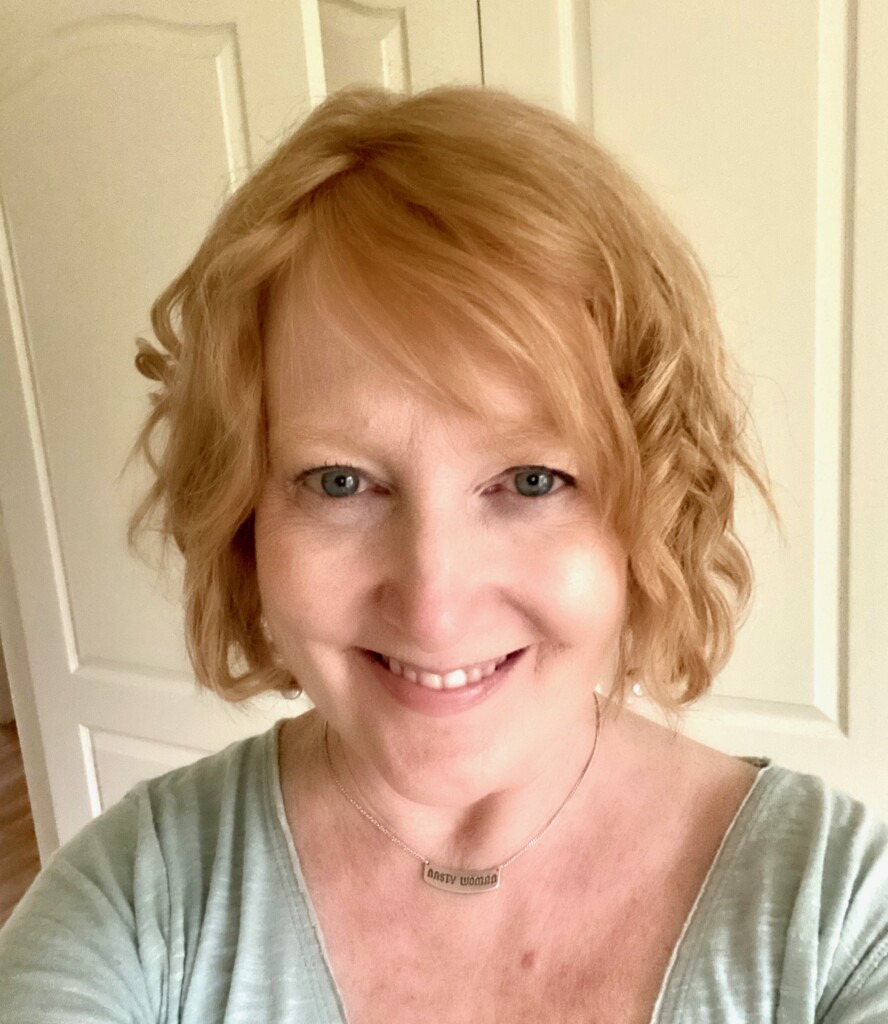 It's a kind of annoying conglomeration of kinda curly/mostly wavy/definitely messy.  I looked at myself in the mirror approximately 500 times that day, and went from YIKES! to I kinda like it and back to YIKES! again.  I'm not getting rid of my blow dryer anytime soon.
So, that's the excitement that's been happening around these parts.  Aside from making sheet pan pancakes on the regular though!
Here's how you make sheet pan pancakes!
You start out with that old favorite, your box of Bisquick (and if you don't have a box on hand At All Times the way I do, here's a handy recipe for making it from scratch).
You also need milk, eggs and your choice of toppings (more on that in a sec).
Mix up your Bisquick, eggs and milk and pour it into a rimmed baking pan that you have lined with parchment paper.
Now comes the fun part – while of course you can have these pancakes plain, we like to sprinkle in the following: mini chocolate chips.  Slice bananas that are dusted with cinnamon sugar.  Sliced strawberries.  Blueberries.  Etc. Etc Etc.
Sprinkle your topping on top, pop it in the oven, and bake until things are just turning golden brown.
And here comes the best part for the pancake maker – you cut these into squares and serve them up all at once!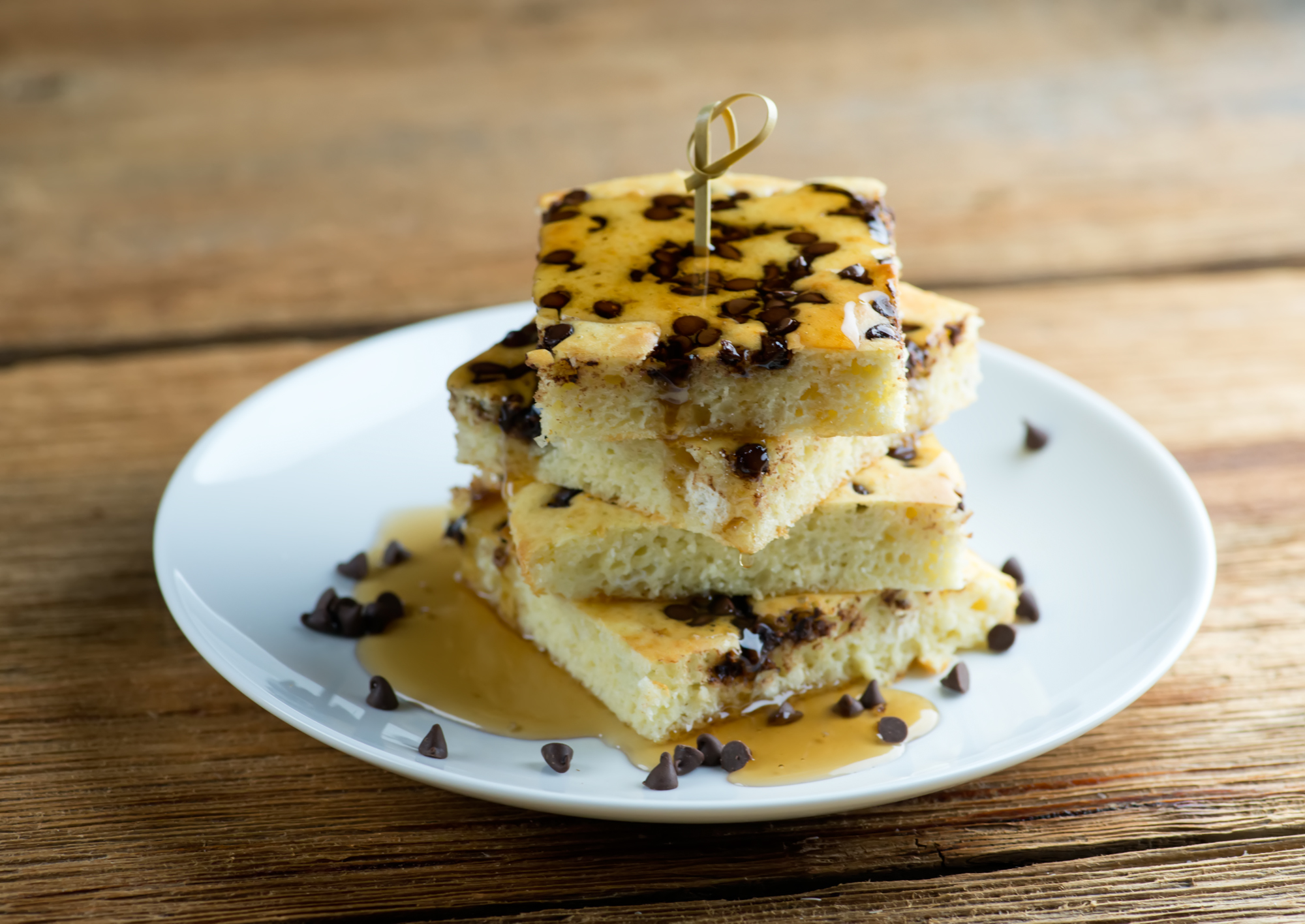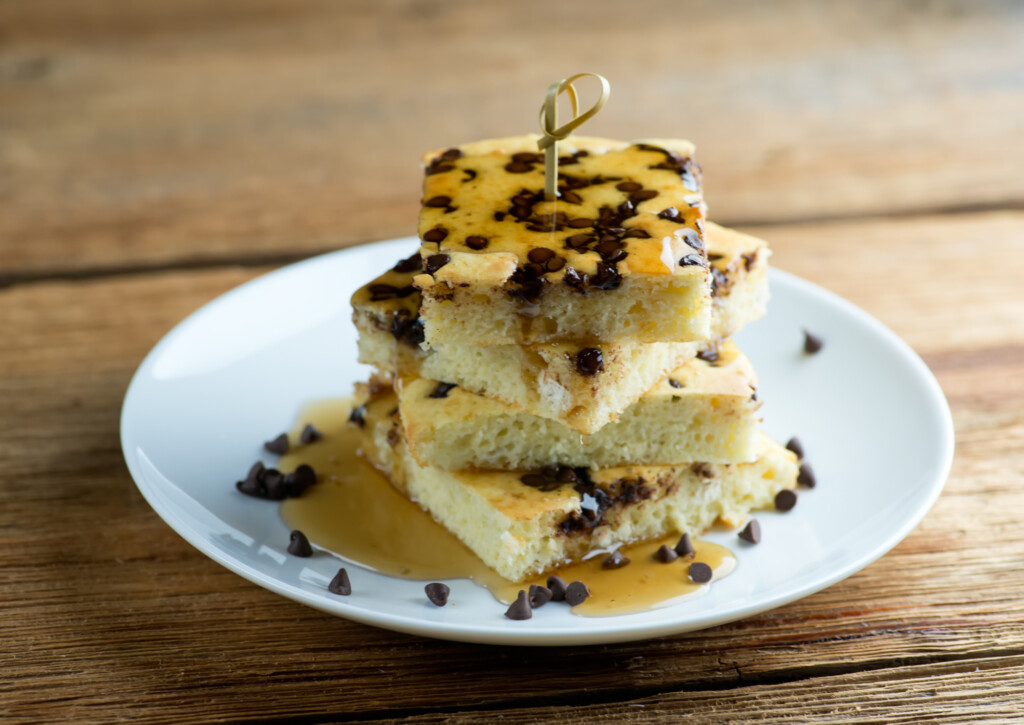 Pancakes for dinner!  And whatever you do, don't forget the maple syrup. :)
Want to round out your meal? This recipe pairs well with...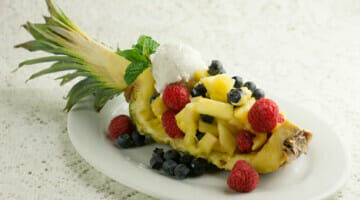 Pina Colada Fruit Salad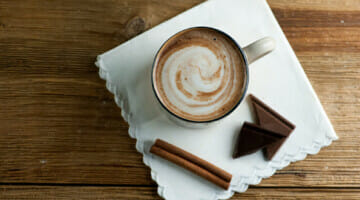 Chai Hot Chocolate
Print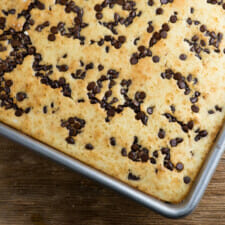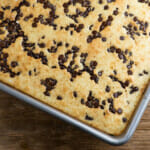 Sheet Pan Pancakes
---
Author:

Prep Time:

5 minutes

Cook Time:

15 minutes

Total Time:

20 minutes

Yield:

8

Category:

Breakfast

Method:

Oven

Cuisine:

American

Diet:

Vegetarian
Description
This fun and easy recipe for sheet pan pancakes cooks up a whole batch of pancakes at once.  Mix and match your toppings for the ultimate breakfast treat!
---
Ingredients
4 cups

Bisquick

4

eggs

2 cups

milk

2 cups

toppings (see note)
---
Instructions
Preheat oven to 425.
Mix Bisquick, eggs and milk together until combined, and let the mixture sit while you prepare the sheet pan.
Line a rimmed half sheet pan (12 x 18 inches) with parchment paper or a silicone mat and spray it with cooking spray.
Pour the batter into the prepared pan and smooth it out to the edges.
If you are using toppings, sprinkle them on!
Bake for 12-15 minutes or until the pancake is just golden brown.
Let them cool for a minute or two, cut into squares and serve!
Notes
You can mix and match toppings to your heart's content with this recipe!  Some of our favorite combos are blueberries and sliced strawberries, banana slices tossed with cinnamon sugar, and good old mini chocolate chips.  If you go with the chocolate chips, you might want to use one cup instead of two so the chips don't overwhelm the pancakes.  And whatever you do, don't forget the maple syrup!