This recipe for salmon vegetable bisque features a bevy of veggies for a hearty and flavorful taste!  The perfect simple seafood lunch, brunch or supper.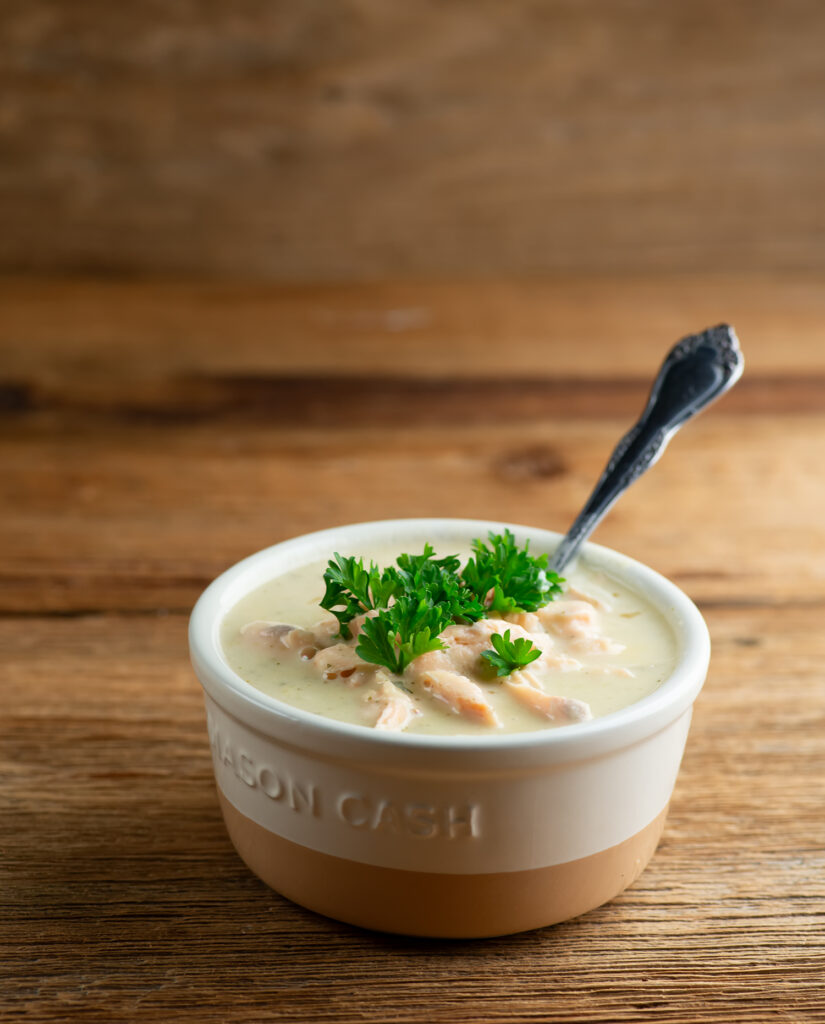 Well, we have almost made it through January and are speeding towards February, and in my house that means we are smack in the middle of Soup Season!
I have been making chicken soups and veggie soups and all kinds of slow cooker soups On The Regular, and I've been trying to expand my seafood soup repertoire beyond my good old shrimp soup recipes, so please meet this creamy, dreamy, easy-to-make salmon vegetable bisque!
What makes a bisque a bisque?
Aside from the fanciness of saying "we are having bisque for lunch today, honey," I do love a bisque because it translates into a soup that is smooth and creamy and generally made with seafood.
A truly authentic bisque will start with a base made from boiling up seafood shells, and will usually feature cream and wine, so my humble little salmon veggie bisque is 100% not authentic because it does none of those things.
But it IS creamy and it DOES feature seafood, so I figure a little poetic license is okay!
The creaminess is going to come from pureeing a whole bunch of veggies (more on that in a sec) and then swirling in some evaporated milk, which helps give it that extra velvety texture.
What is the difference between evaporated milk and regular milk?
It's all in the name – evaporated milk is milk where more than half the water content has been, well, evaporated. Leaving behind a more concentrated, creamy texture that is just perfect for this bisque.
So you have your veggies, your evaporated milk, and the last thing you need is your salmon. As always, try and get wild caught salmon if you possible can. And away we go!
You are going to start by simmering up your veggies – sweet onion, celery and potatoes and parsley in some chicken broth, and then whirling it all up in your blender.
Or in my case, blending it right in the pot with my beloved immersion blender, saving both time and dishwashing. I am all for anything that is a kitchen timesaver, which might explain why I recently did this with my fridge.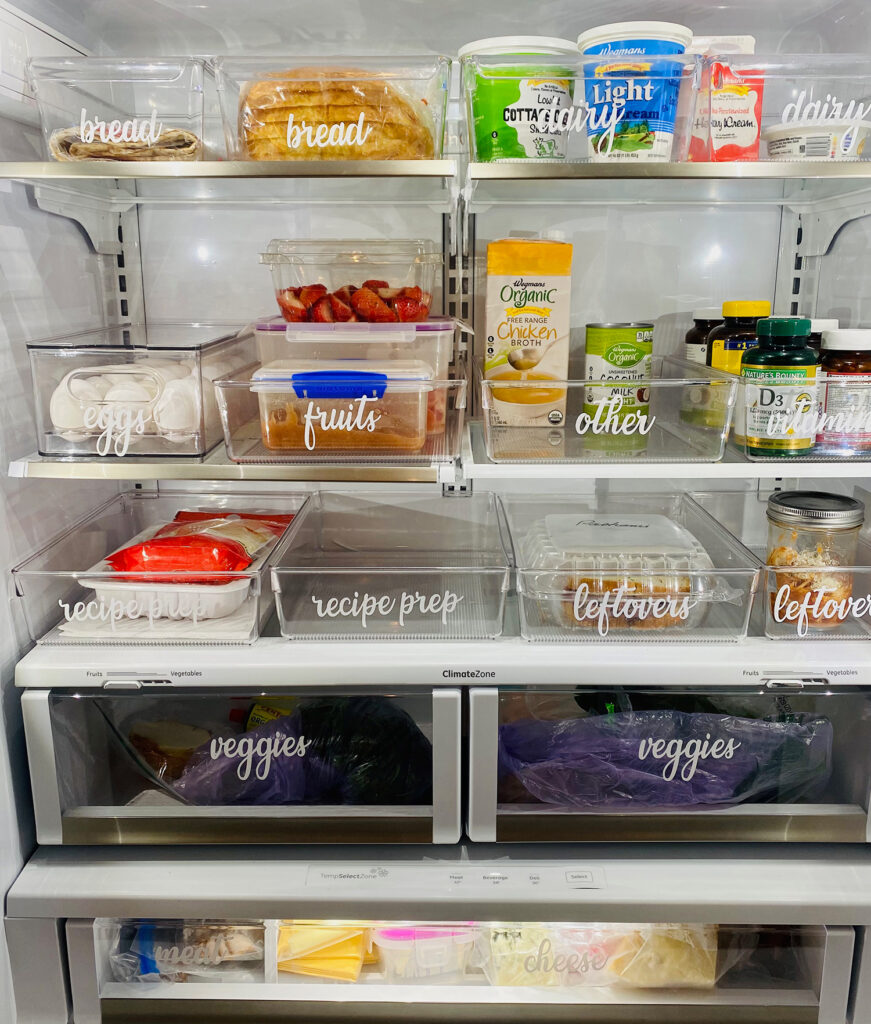 And by me, I mean my friends at Peace in Place. Check them out here as they work on organizing my fridge and my studio.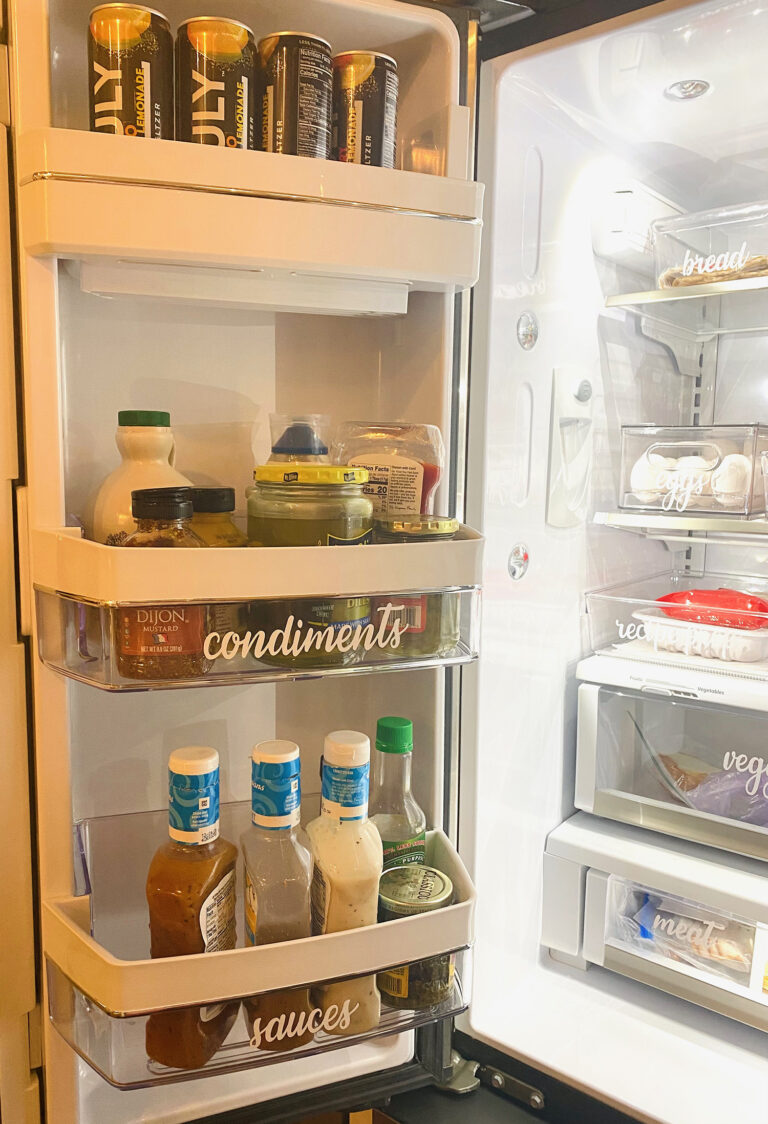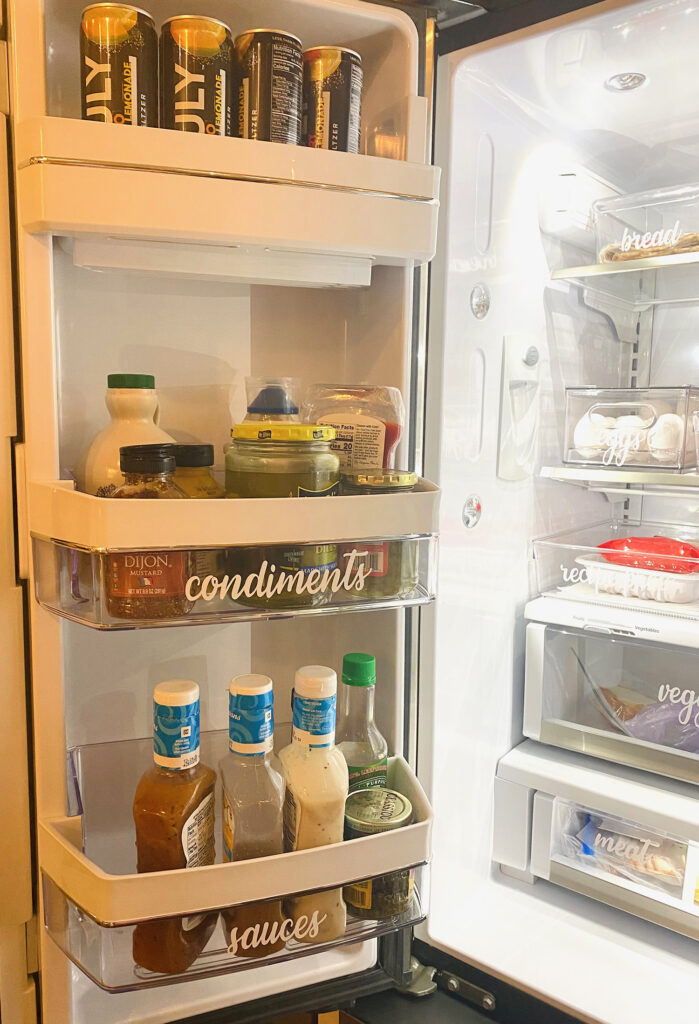 Please note that the one area I don't need a label for is the shelf that holds my cans of Truly. HA.
Meantime, once you have your veggies all nice and creamy, you are going to stir in some evaporated milk, and then you are going to simmer your lovely piece of wild caught salmon until it is just done.
Scoop it out, gently shred it into bite sized pieces and stir it back in. And stand back and look at this fancy bisque that you have made in less than an hour.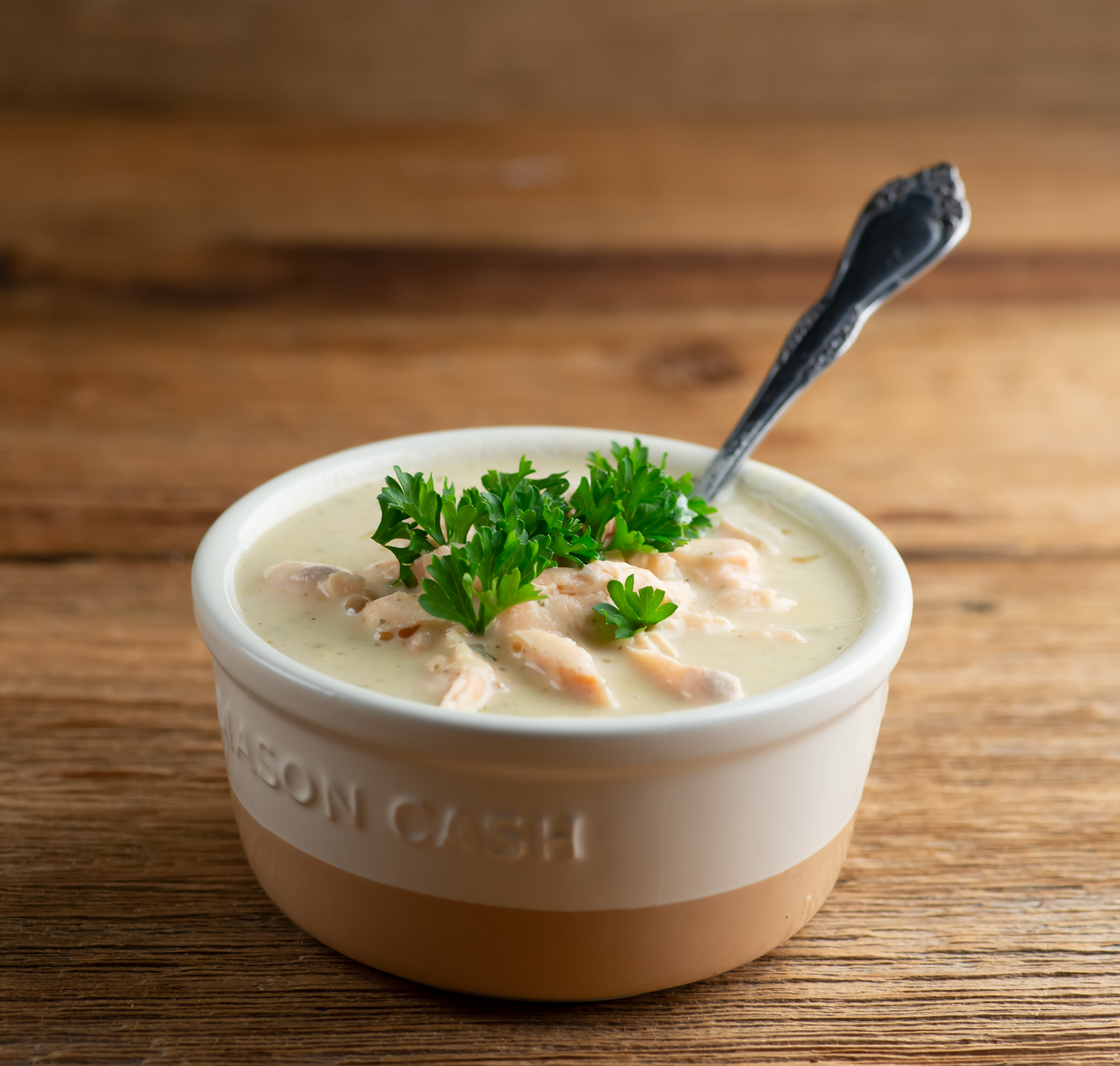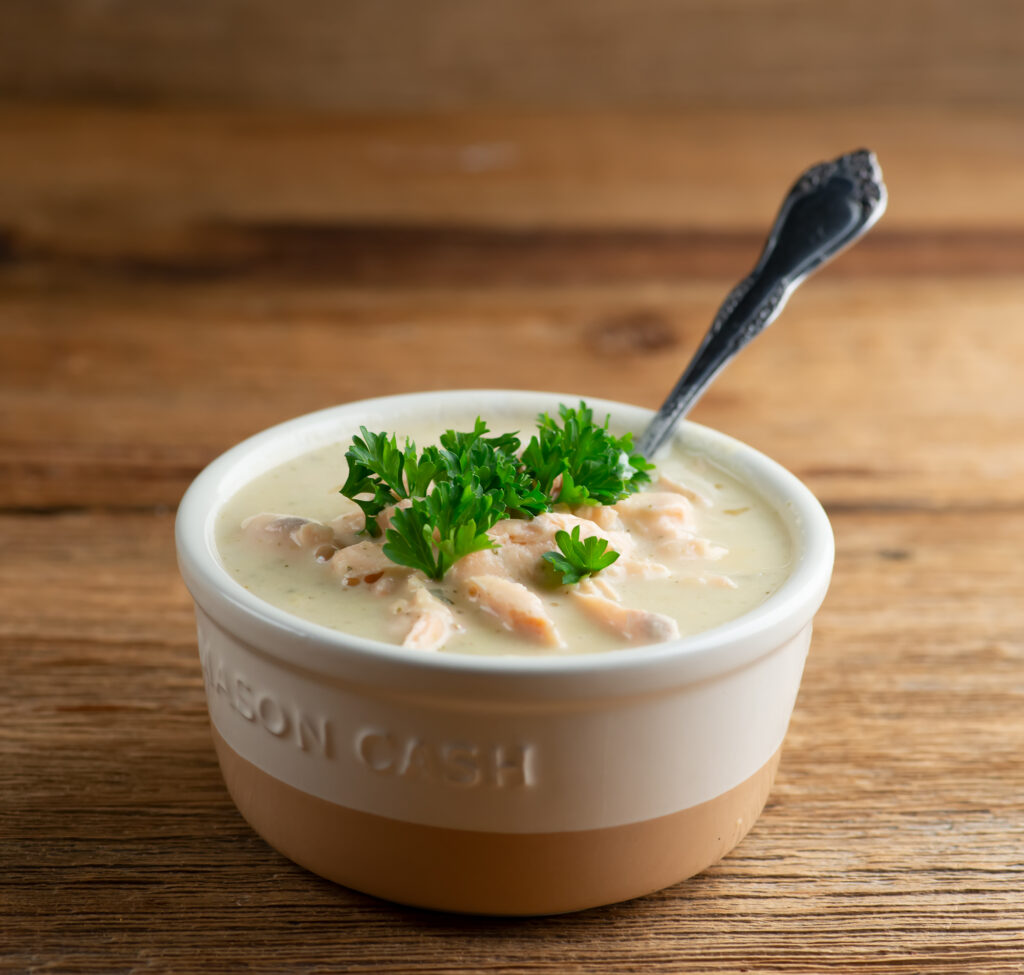 Soup season! It's what's for dinner. :)
Want to round out your meal? This recipe pairs well with...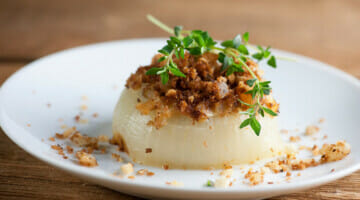 Baked Sweet Onions with Breadcrumbs and Brie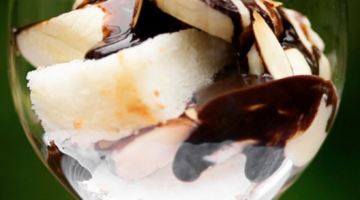 Banana Parfait
Print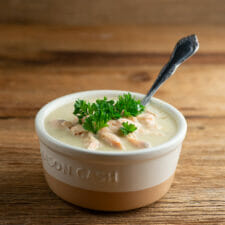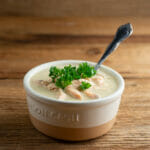 Salmon Vegetable Bisque
---
Author:

Prep Time:

20 minutes

Cook Time:

35 minutes

Total Time:

55 minutes

Yield:

4

1

x
Category:

Lunch

Method:

Stovetop

Cuisine:

American
Description
This recipe for salmon vegetable bisque features a bevy of veggies for a hearty and flavorful taste!  The perfect simple seafood lunch. brunch or supper.
---
Ingredients
1 tablespoon

olive oil

1

sweet onion, peeled and chopped

2

stalks celery, chopped

4

Yukon Gold potatoes, rinsed and diced

1/3 cup

fresh parsley, chopped, plus extra for garnish

4 cups

chicken broth

1 teaspoon

salt

½ teaspoon

pepper
Two

14 ounce

cans evaporated milk

1

pound salmon filet
---
Instructions
Heat the olive oil in a heavy pot (a large Dutch oven works great for this) over medium high heat. Add the onion and celery and sauté for 5 minutes.
Add the potatoes, parsley, chicken broth, salt and pepper and bring to a simmer. Cook until the potatoes are done and tender, about 15 minutes.
Puree the soup with an immersion blender or a regular blender and return to pot.
Stir in the evaporated milk and bring to a simmer. Add the salmon and simmer until cooked through and tender, about 10-15 minutes.
Scoop out the salmon, shred it into flakes (discard any skin) and stir back into the soup. Taste and adjust seasoning as needed.
Divide among bowls, garnish with parsley and serve it up!
Notes
Need to add something to your kitchen equipment to make this recipe? Below are some of the items we used in the Framed Cooks kitchen to help cook this up. These are affiliate links to things we use and love, which helps to pay for all that bacon I keep buying!
Equipment