Cool and refreshing gazpacho gets a makeover with this recipe for a pineapple shrimp gazpacho. This may be your new favorite summer soup!
I know, I know, I just told you last week about my trusty cool shrimp gazpacho, but since we are still in the merry toasty month of August, I couldn't resist taking you down the cool and delicious soup road again.
This time with some pineapple! One pineapple, one cucumber, some chopped shrimp, a few other things and about 10 minutes is all that stands between you and a sweet and spicy bowl of summer soup deliciousness.
The first time I made this I couldn't even wait for the chilling down in the fridge part…we proceeded right to the eating (and it's pretty wonderful at room temperature too, I'm here to tell you!).
The second time I exercised extreme patience and let it hang out in the fridge for a few hours first, and the only thing better than freshly made pineapple gazpacho is cold pineapple gazpacho.
Here's how you make quick and easy pineapple shrimp gazpacho!
First step: get your hands on a pineapple. No fear on the whole picking of a pineapple part (in my opinion, avocados are a LOT trickier to figure out) – basically you are looking for two things.
First, your pineapple should smell like pineapple. Yes, smell it!
Second, the bottom part of the pineapple should be a little bit yellow in color. It's okay if the top of the pineapple is green, but the bottom is where the major sweetness is and you want that baby to be ripe. If anything seems mushy, move on to the next pineapple.
Once you have the pineapple in your possession, slice off the top and the bottom, and then cut the prickly skin off by just running a sharp knife down the sides.
Now, the inside of the pineapple has a tough core – you can see the round center of it at the top of the pineapple – so stand it upright and just slice around that core in four sections.
Toss the core and you should have four big hunks of sweet, juicy pineapple. And yes, if you absolutely can't face a pineapple, you can buy the chunks in the can. You're welcome.
Next, a cucumber or two. I'm thinking you already have cucumber selection figured out. You also need some pineapple juice (I use good old Dole – it is pure pineapple juice with nothing else added in) and a handful of scallions.
We are going to load up this soup with a generous amount of cooked chopped shrimp and some cashews, so you need those as well.
The pineapple and cukes and juice go into the blender with some olive oil and some lime juice with a little salt and pepper. Press the button.
Now comes the most complicated part. Put your glorious pineapple gazpacho in the fridge and leave it there to chill for a few hours.
Or don't – I am here to tell you that it tastes amazing at room temperature as well, so totally up to you on how cold you want it to be.
As for the toppings, you can have it just as is, you can zing it up with a couple of shakes of hot sauce, or you can take it all the way up to the next level but stirring in a decadent amount of cold chopped shrimp and sprinkling on some cashews.
Not only does this make a fabulous light supper or lunch, but I am here to tell you it makes a very fun and fancy appetizer. I serve it up in little shooter glasses – just the soup and a dash of hot sauce – as a before dinner treat – and let's just say our friends ALWAYS want seconds.
So get yourself a good looking pineapple and start gazpacho-ing!
Want to round out your meal? This recipe pairs well with...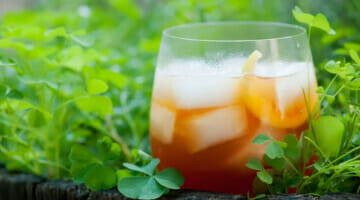 Spiced Tea Cocktail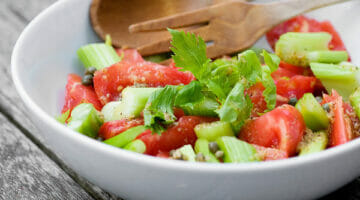 Bloody Mary Salad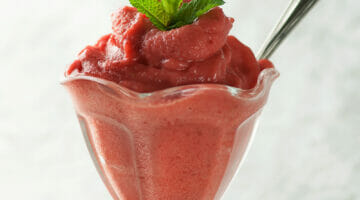 Easy Strawberry Peach Sorbet
Print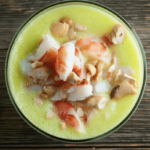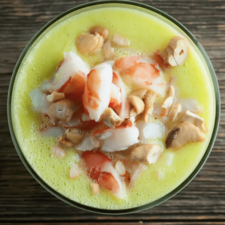 Quick And Easy Pineapple Shrimp Gazpacho
---
Author:

Prep Time:

15 minutes

Cook Time:

0 minutes

Total Time:

15 minutes

Yield:

4

1

x
Category:

Lunch

Method:

No Cook

Cuisine:

American

Diet:

Gluten Free
Description
Cool and refreshing gazpacho gets a makeover with this recipe for a quick and easy pineapple shrimp gazpacho. This may be your new favorite summer soup!
---
Ingredients
3 cups

chopped pineapple (fresh is great but canned will work fine!)

3 cups

peeled and chopped cucumber
Juice from

1/2

lime

1 1/2 cups

pineapple juice

1/4 cup

olive oil

1/2 teaspoon

salt

3

scallions, chopped

1/2

pound shrimp, peeled, cooked and chopped

1/4 cup

chopped cashews
Hot sauce
---
Instructions
Put pineapple, cucumber, lime juice, pineapple juice, olive oil and scallions in a blender. Blend until smooth.
Chill for several hours in the refrigerator (if you can bear it – you can also proceed directly to the next step if you can't stand waiting!)
Right before serving, give it a stir. Divide among bowls and shake on a little hot sauce. Divide shrimp among bowls, and top with cashews.
Notes
Need to add something to your kitchen equipment to make this recipe? Here's what we used in the Framed Cooks kitchen to cook this up! Click on the picture to get the link.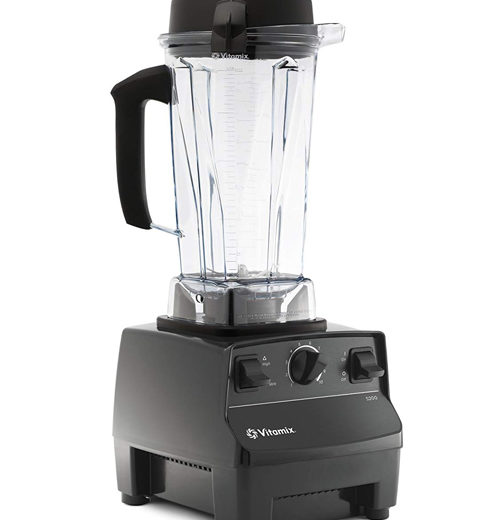 This supercharged Vitamix blender is a little spendy, but you can't beat it for making everything from soups to frozen drinks!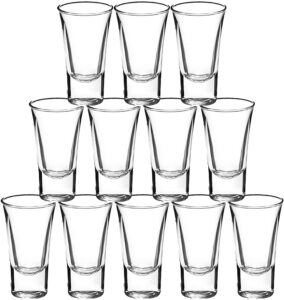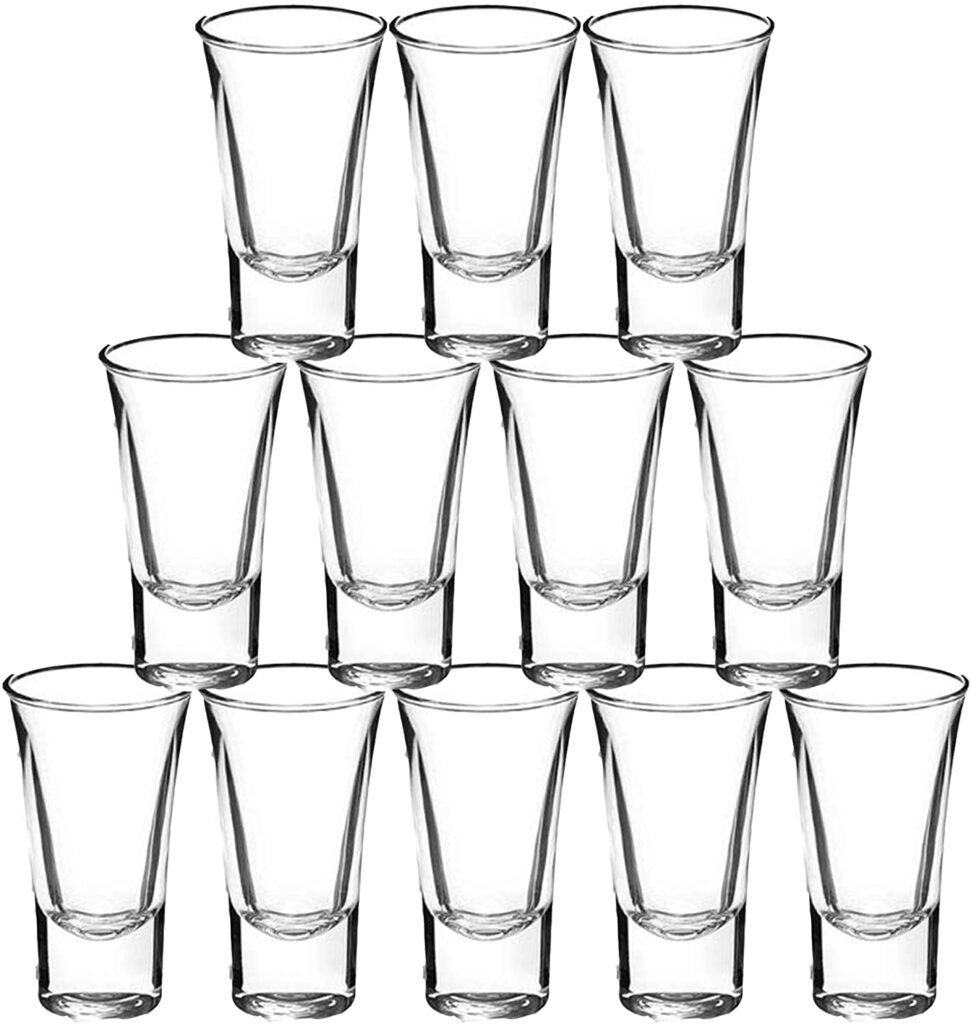 If you decide to serve this soup up as an appetizer, here are the shooter glasses we love to use!
Updated (and made even more delicious!) from a previously published Framed Cooks post!