This easy shrimp and new potato salad with a white wine tarragon dressing makes for a healthy and delicious lunch or light supper!
I am usually very, shall we say, inflexible about my weekly menus. The Southern husband and I decide on our suppers for the week on Saturdays, and on Sundays we hit the farmer's market with our list in hand.
If someone suggests a change in menu after I finish writing out my list, they are usually out of luck. I'm just ornery that way.
But a little while ago I arrived at the farmer's market one Sunday to find heaps of these teeny tiny baby new potatoes – red ones, yellow ones, and (this is what sent me over the edge) purple ones.
And so I broke one of my own cardinal rules and decided right there in the middle of the store to chuck out the dinner plan for one of those already-planned nights and make shrimp salad with new potatoes.
And speaking of ornery (which I take as a compliment because I consider it a by-product of being organized), remember the peek at our Carolina Dream House closets that I talked about the other day?
WELL. I have met my match in terms of organization (and they are most definitely not ornery, they are SO NICE!) with the team at Peace in Place.
Peace in Place is a home organizing service that we are working with to get our new digs in tip-top shape, organization-wise, as we move in.
The wonderful Lindsay from Peace in Place has been talking with us for a few months about the rooms we want to work on (kitchen, laundry room, attic, garage, main closets) and the kind of look we want (glass, wood, natural woven materials, pretty labels).
She has spent quality time in the house during these last stages, measuring and coming up with brilliant ideas, and then she started to order all the things from jars and baskets to attic shelving and laundry carts that will need to get the house off on the best, most organized foot.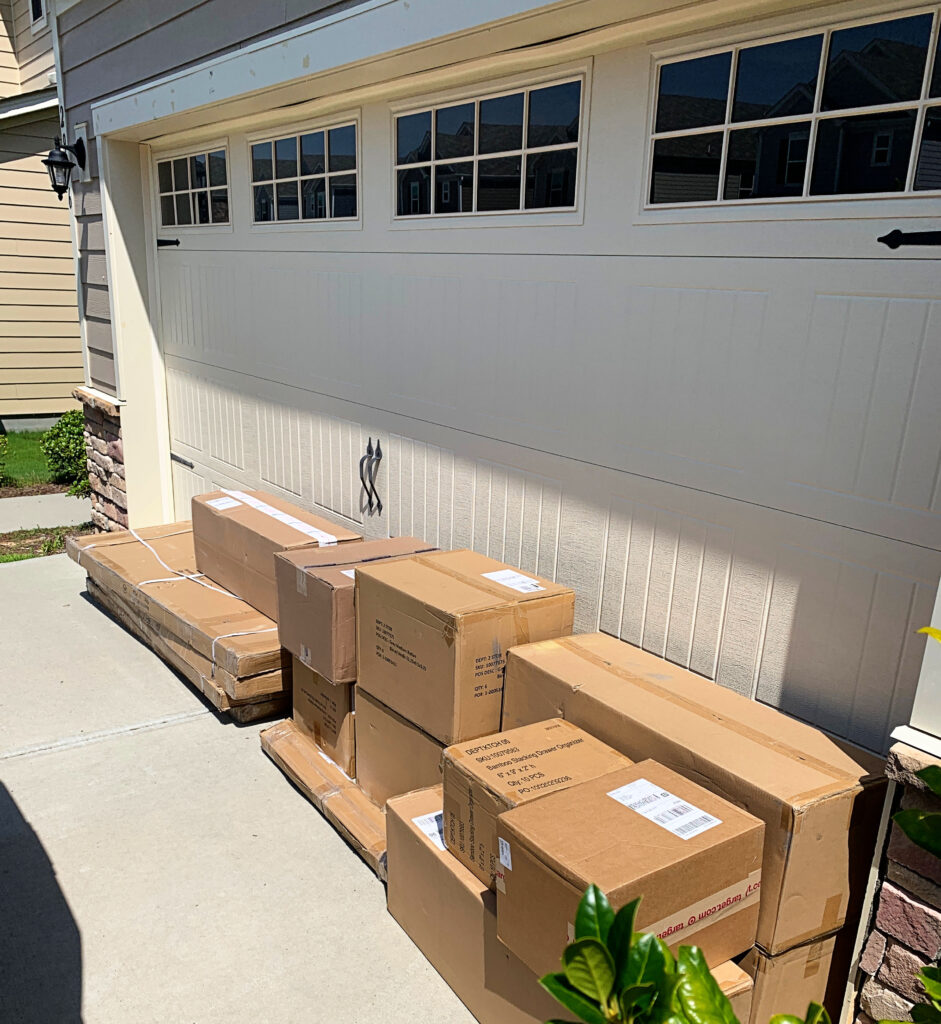 So several times a day we peek outside the front door where we are staying at my Southern daughter and sweet son-in-law's house, and we see this.
My daughter is DYING to open them up, but I am following Lindsay's directions and keeping them in their boxes until a few weeks from now when the house is ready.
Then she and her team will open them all up and tuck them away, and for the first time in my life I will have all my pasta decanted into these pretty jars.
OH THE HAPPINESS. Stay tuned to this channel as I will be taking one million pictures as Lindsay works her peaceful organizational magic over the next few weeks!
Meantime, back at the recipe…
Here's how you make easy shrimp and new potato salad!
I always have bags of frozen shrimp in my freezer exactly for emergencies such as this one, because you never know when you are going to run into an urgent shrimp situation.
So once I had my mitts on the adorable baby potatoes, it was a short trip to dinner. I peeled and butterflied the shrimp, and then poached them just until they were done, and set them in a bowl of cold water to cool.
Next I boiled the potatoes until they were tender, and put them in their own bowl of cold water.
Once they were cool enough to handle, I cut the bigger ones in half – you can leave the littlest ones just as they are. We're looking for bite-sized here, so use your best judgement!
Now for the most important part: we are going to marinate our cooked shrimp and potatoes in a glorious concoction of shallots, white wine and tarragon for a few hours or even overnight ~ this is going to give it a lovely, tangy sparkle.
I threw this all together after supper one night, and the next night I simply pulled it out of the fridge, popped it on a bed of pretty frisee lettuce, gave it a sprinkle of salt and pepper and a drizzle of olive oil and dug in.
So the moral of the story is, whenever you hear the siren song of something calling to you in the farmer's market, you must listen. Delicious things happen that way!
Want to round out your meal? This recipe pairs well with...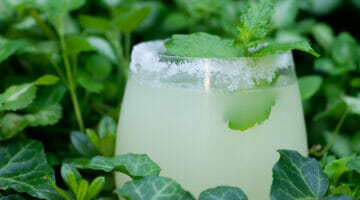 Iced Lemonade Cocktail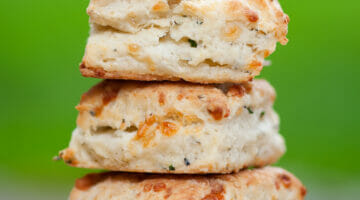 Chive and Cream Cheese Biscuits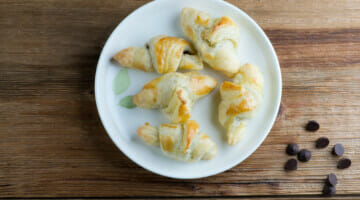 Baby Chocolate Croissants
Print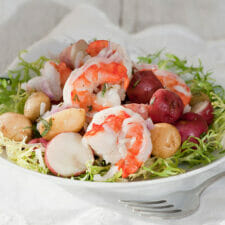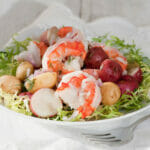 Easy Shrimp and New Potato Salad
---
Author:

Prep Time:

15 minutes

Cook Time:

15 minutes

Total Time:

30 minutes

Yield:

4

1

x
Category:

Dinner

Method:

Stovetop

Cuisine:

American
Description
This easy shrimp and new potato salad with a white wine tarragon dressing makes for a healthy and delicious lunch or light supper!
---
Ingredients
1

pound shrimp, peeled and butterflied

1 pint

new baby potatoes

2

shallots, chopped

2 tablespoons

fresh tarragon, chopped

1/2 cup

white wine

1

head frisee or other lettuce, torn into bite sized pieces
Salt and fresh ground pepper
Olive oil for drizzling
---
Instructions
Bring a pot of water to a simmer and cook shrimp until just done, about 3-5 minutes. Transfer shrimp to a bowl of cold water to cool.
Bring another pot of water to boil and cook potatoes until tender, about 10 minutes. Transfer potatoes to a bowl of cold water to cool.
When potatoes are cool enough to handle, cut the larger ones in half. Place shrimp and potatoes in a large bowl.
Gently stir in shallots and tarragon. Pour the wine over the mixture, cover and refrigerate for several hours and as long as overnight.
When you are ready to serve, make a nice bed of lettuce on each plate. Give the salad another gentle stir, and divide among plates. Sprinkle with a little salt and pepper and drizzle with olive oil. Serve at once.
Updated (and made even more delicious!) from a previously published Framed Cooks post!