This easy recipe for chicken and vegetables with milk gravy cooks up all in one pot for an easy weeknight supper or a perfect Sunday dinner!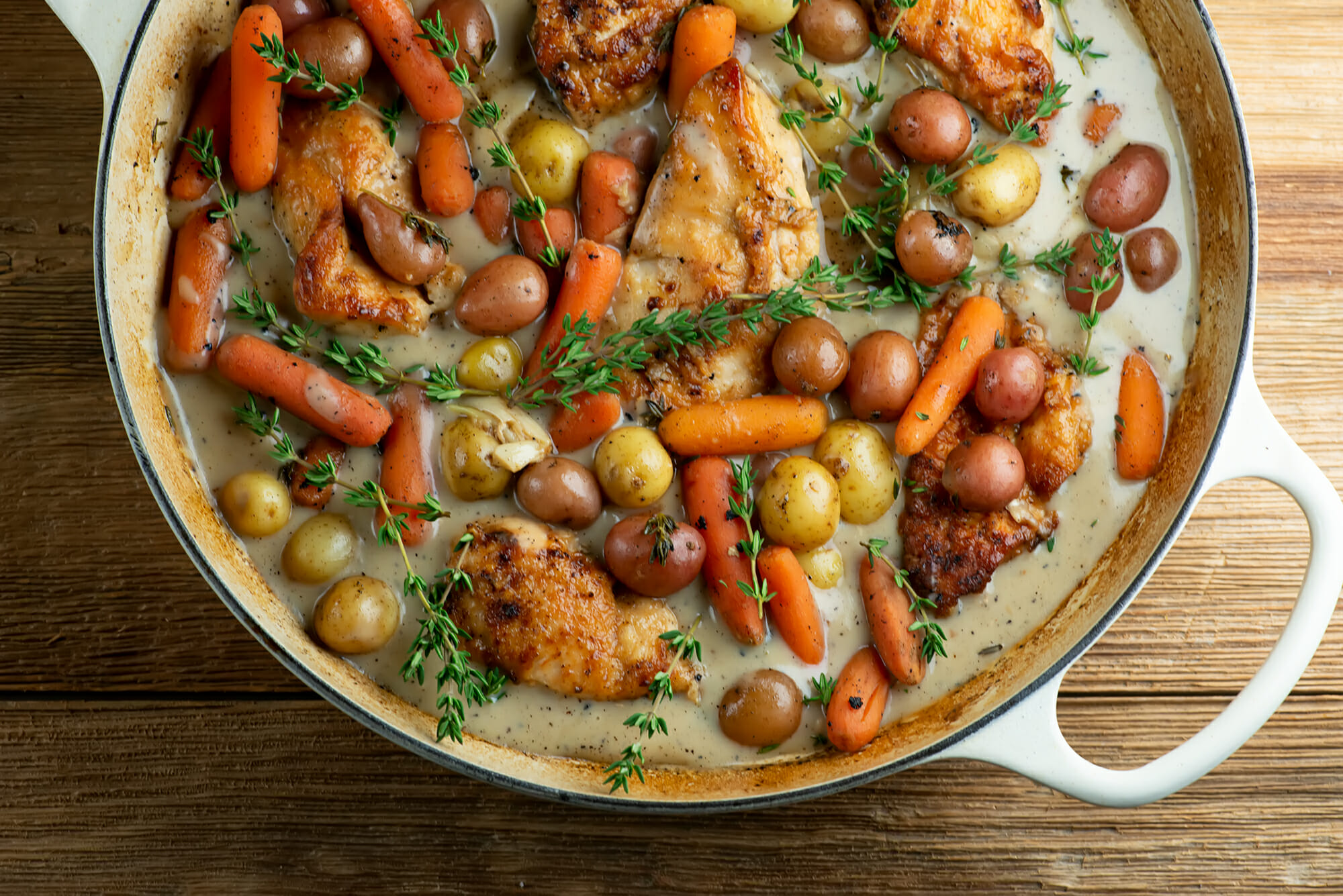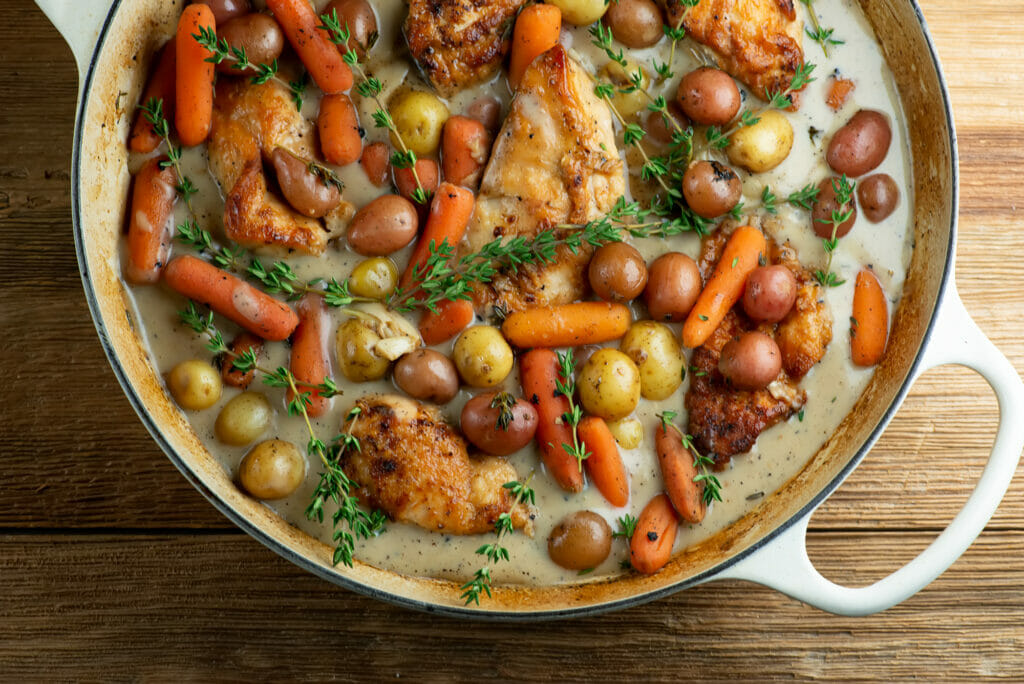 I do love a good one pot supper (which might explain my love affair with my slow cooker), and there's something about any combo of chicken and veggies and gravy that makes me feel all warm and cozy inside!
This recipe for chicken and vegetables with milk gravy (and more on that milk gravy in a sec!) is longer than I usually spend in the kitchen, cooking-time-wise, but the vast majority of that time is this scrumptious supper bubbling away in the oven.
Meaning that you (and I!) can spend part of our cooking process snuggled up on the sofa, maybe with a nice glass of wine?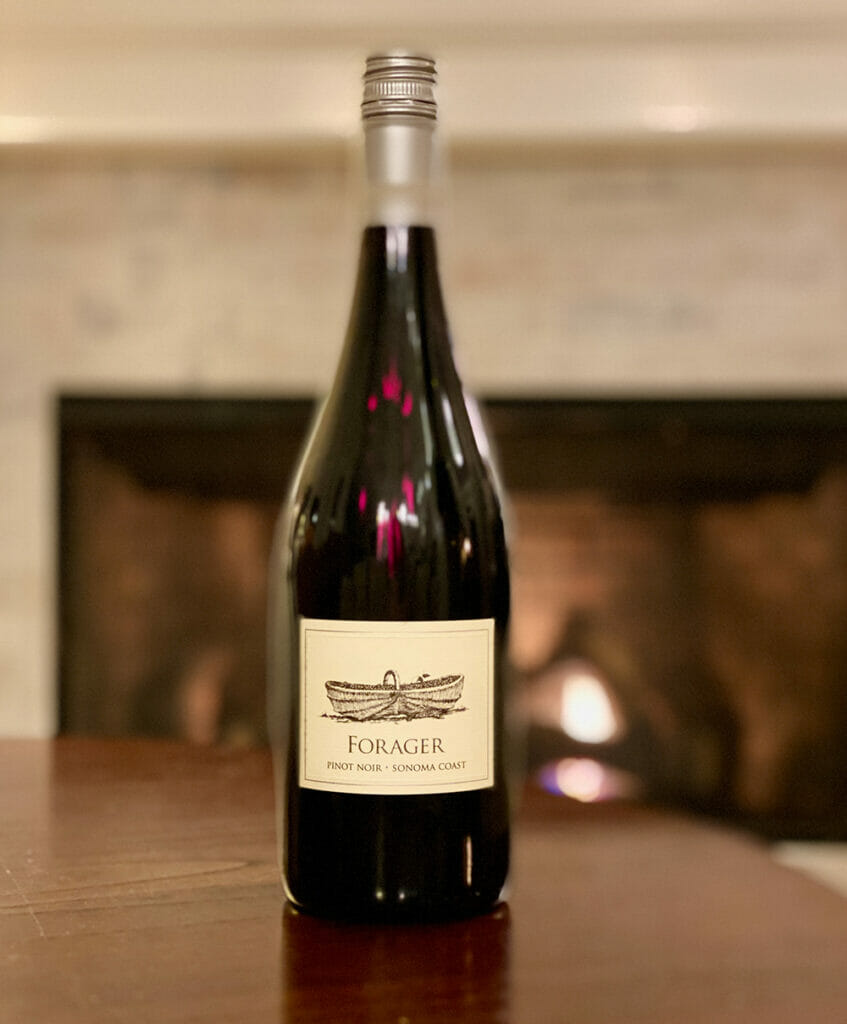 This one is my current fave. My little sis, who knows 1,000% more about wine than I do, told me about it, and the Southern husband found it for me, and I love love love it.
Meanwhile, back at the supper, here are a few handy things to know about this one. A question I often get from folks is…
Can you cook chicken and vegetables in the same pan?
Which is a really smart question, because if you are making veggies that cook up super fast (I'm looking at you, spinach!), you need to cook the chicken first and then add the veggies later.
But in this case, we are using carrots and potatoes, which are pretty dense veggies, and we are using boneless chicken.
So happily they can all cook together right from the start, which is good news for our sofa lounging time – no interruptions!
Now let's talk milk gravy!
How do you make milk gravy from scratch?
Milk gravy is one of my favorite ways to turn a regular meal into a comfort food meal. It's creamy (without using cream!), and it comes together in a snap.
All you need for milk gravy are some pan drippings – in this case the liquid left over from cooking the chicken and veggies – some flour and of course some milk.
I always have 2% milk in my fridge, but you can use whole milk for an even richer taste, and even 1% for a lighter sauce. The only thing I would not recommend is skim.
You are going to whisk the milk and a little flour in with the drippings, and bring it to a simmer, and a few minutes later, voila! Milk gravy.
Now let's talk pans!
We are going to start this recipe on the stovetop so we can brown the chicken and start the sauce, and then move it to the oven to finish cooking.
So you want a pan that can go from stovetop to oven. A cast iron skillet would of course work if you have a big one.
And a Dutch oven is also a good choice. But for this recipe I love my braising pan, which is like a cross between a Dutch oven and a skillet – it has nice high sides that are sloped towards the bottom to collect all the nice sauce and drippings.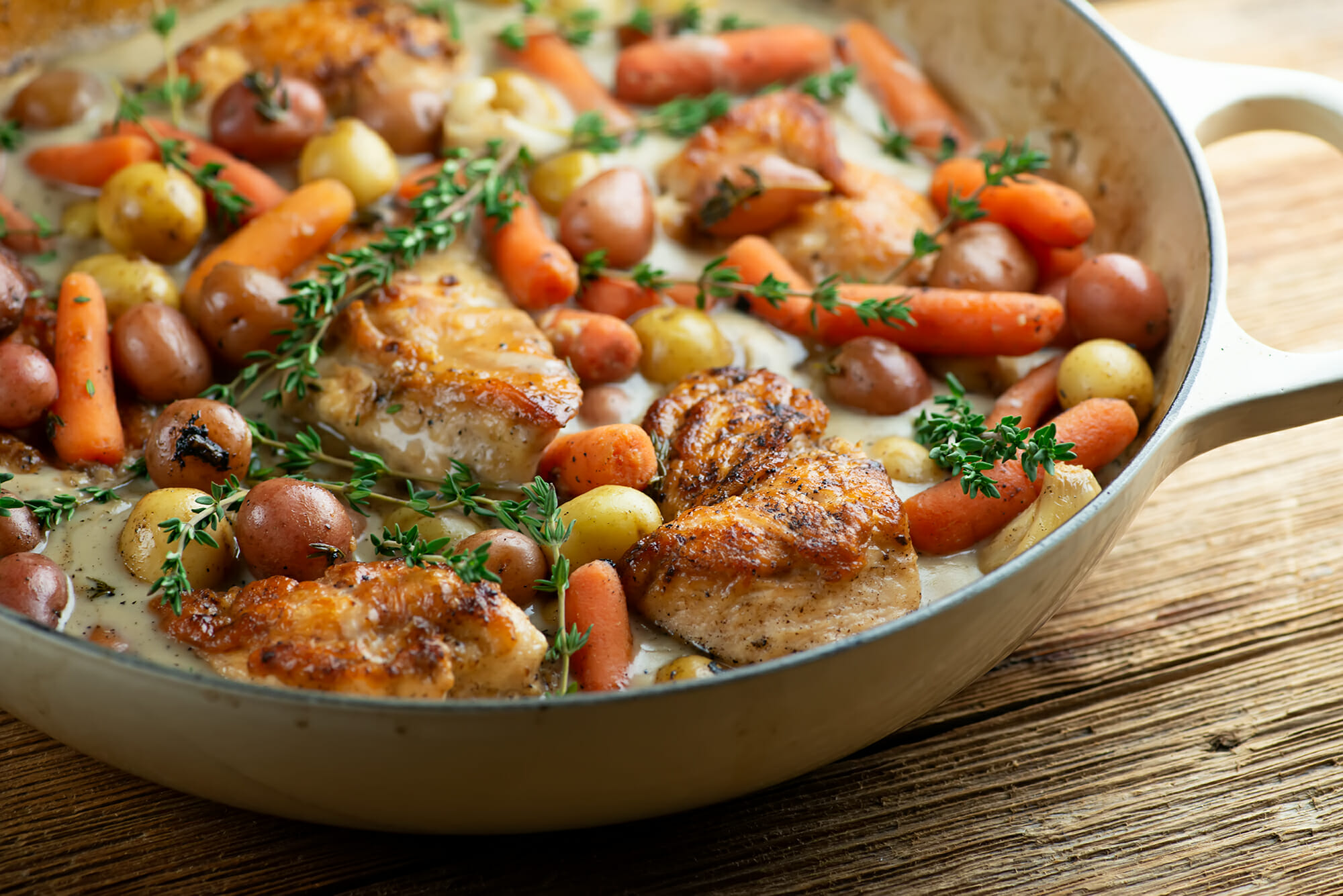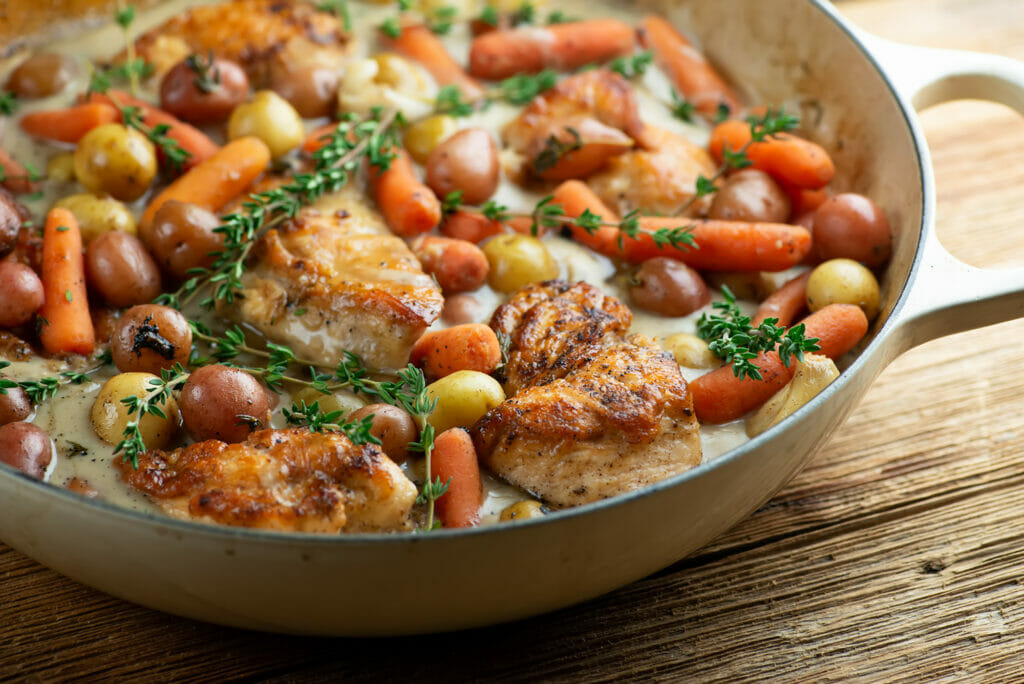 The recipe below will tell you the rest of the story on this one, but trust me when I say that if you are looking for comfort food Sunday supper ideas, you are in the right place.
And if you want to keep the chicken and veggie happiness going, I have a creamy chicken stew that has your name on it!
Cheers from my sofa,
Kate xoxo
Want to round out your meal? This recipe pairs well with...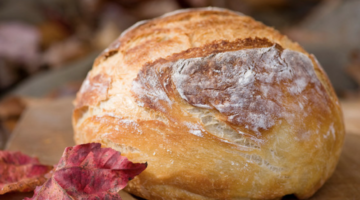 Almost No Knead Bread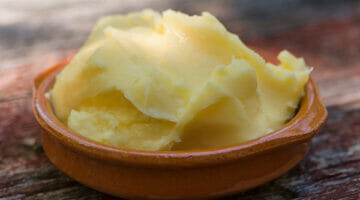 How To Make Homemade Butter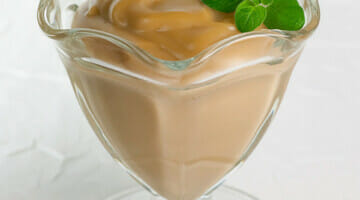 Butterscotch Pudding
Print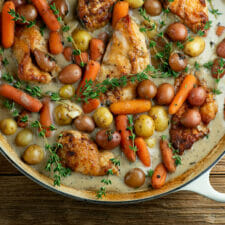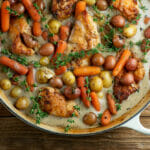 Chicken and Vegetables with Milk Gravy
---
Author:

Prep Time:

15 minutes

Cook Time:

60 minutes

Total Time:

1 hour 15 minutes

Yield:

4

1

x
Category:

Dinner

Method:

Stovetop, Oven

Cuisine:

American
Description
This easy recipe for chicken and vegetables with milk gravy cooks up all in one pot for an easy weeknight supper or a perfect Sunday dinner!
---
Ingredients
4

boneless chicken breast halves, pounded to 1/2 inch thickness and cut in half

1/2 cup

flour, seasoned lightly with salt and pepper

2 tablespoons

butter

2 tablespoons

olive oil

4

large cloves garlic, peeled

1 cup

white wine

1 cup

chicken broth

2 cups

baby carrots

12

baby potatoes, cut in half if they are largish

¼ cup

milk

1 tablespoon

fresh thyme, plus extra for garnish
---
Instructions
Dredge the chicken pieces in seasoned flour. Save the remaining flour to use later.
Heat the butter and oil in a large, deep oven-safe skillet over medium high heat. Cook chicken in batches until lightly golden on both sides, about 2-3 minutes per side (it will finish cooking in the oven.) Remove to a plate.
Add garlic to the pan and stir for a minute or two until starting to soften. Add wine, broth, and thyme and bring to a simmer.
Return chicken to pan (you can put all of it in the pan – it doesn't need to be in a single layer), nestle the baby potatoes and carrots around the chicken, put the lid on the pan and put it in the 350 degree oven for 45 minutes.
Remove chicken and veggies from the skillet. Whisk in the milk and the reserved flour and simmer the sauce until it is slightly reduced.
Place chicken and veggies on platter or plates, pour sauce on top and scatter on a thyme. Serve at once.
Notes
Need to add something to your kitchen equipment to make this recipe? Below are some of the items we used in the Framed Cooks kitchen to help cook this up. These are affiliate links to things we use and love, which helps to pay for all that bacon I keep buying!
Equipment