Love cheesesteaks? Cheesesteak sliders are the perfect way to have more than one. And don't forget the Cheez Whiz!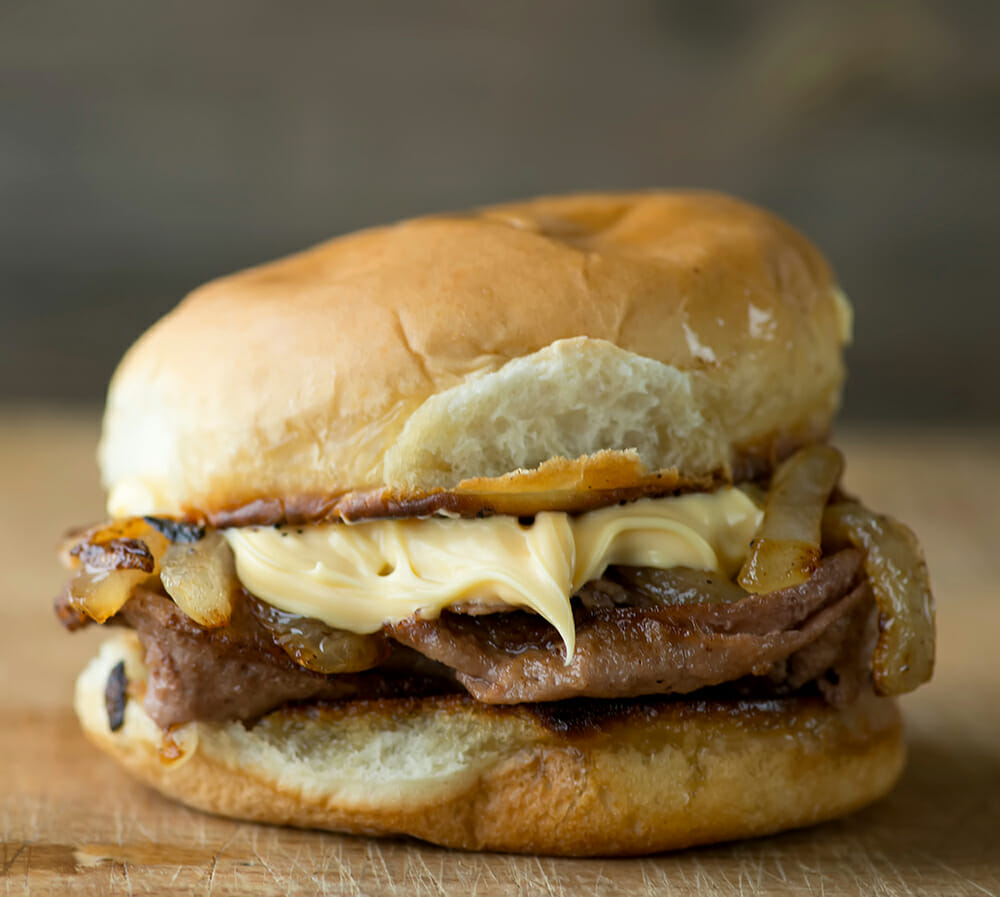 So, once upon a time in a galaxy far, far away, the Southern husband lived in Philadelphia.
This was before we were married, so I don't know this for sure, but I'm pretty certain he made more than one trip to both Pat's and Geno's, the famous cheesesteak joints near the Italian market in Philly.
He is therefore an EXTREMELY discriminating cheesesteak critic since he started with the best of the best, so when I decided to try my hand at cheesesteaks I didn't dare try the original large version.
Nope, I stacked the deck in my favor by making adorable little cheesesteak sliders.
What is a slider?
A slider usually means a miniature size hamburger (think White Castle size) but in my house a slider can also mean any miniature size deliciousness in a small bun. Crab cakes, pulled chicken…everything tastes better in slider form.
So that was my cheesesteak plan. Because who couldn't love an adorable, melty cheesy cheesesteak slider? Yup, I can be sneaky when I need to be.
What is a cheesesteak made with?
I had to do some reconnaissance. In Philly. At Pat's King Of Steaks, where at about 10 in the morning (hey, you do what you have to do for research) I had a steak "Whiz wit."
Pat's is a busy place even at 10am, and they like things the way they like them, so I was grateful for the ordering directions since I was a cheesesteak newbie, and I wanted to do my own ordering for the experience of it all.
And it was delectable. Seasoned thin shaved steak (lots of it!), soft sauteed onions, bright orange you-know-you-love-it Cheez Whiz, all on a soft bun.
Now this SOUNDS like it would be easy to replicate, but I'm here to tell you that the Southern husband has tried and rejected cheesesteaks in every restaurant we've ever gone to…except for Kinchley's in beautiful northern NJ. Kinchleys has been beloved around here for decades for their ultra-thin crust pizza.
Anyway, I knew I was playing with fire trying to cheesesteak at home, which is why I decided to go stick as close as possible to the Philly version.
What ingredients do you need for cheesesteaks?
It all starts with the steak part. Now, you have two options here. You can find "sandwich steak" in the meat section of your supermarket – it is basically steak that shaved super thin so it cooks up quickly, and is usually flank or rib-eye.
OR, you can go the no frills, classic route and head for the frozen food aisle and get yourself a package of Steak-Ums, which are frozen slices of ground up beef that you don't have to defrost before you cook them.
I have now gone both ways, and both have been better than fine!
You also need cheese, and I went right for the Philly version, which was a can of Cheez Whiz. Yep, the kind you squirt on crackers, and it is usually in the cracker aisle.
A little butter and olive oil, a sweet onion (don't skip the onions, I'm begging you) some slider rolls and you are ready to roll!
How to make cheesesteak sliders
I heated up a skillet and sautéed some sliced sweet onion in a little butter and olive oil and salt until it was nice and tender, and scooped it out.
Next I melted a little more butter in the pan and toasted the inside of the slider rolls until they were golden (this was skating waaaaay outside of cheesesteak territory, but who doesn't love a butter-toasted roll? Like I said, I have no shame.)
Oh, and if you can't find slider rolls (which are usually right next to the hamburger rolls in your supermarket) a hot dog roll cut in thirds works just as well.
Then the beef went into the pan, sprinkled with salt and pepper. If you are using Steak-Ums, put them in frozen so they don't break apart and they will take about a minute a side. If you are using sandwich steak it might take a minute or two more.
As soon as the meat is done, get ready to assemble – you want to do this fast so the heat of the meat will soften the Whiz just a little.
Bun bottom, steak, a spoonful of onions and a generous squirt of Whiz. Pop on the top bun and there you have it.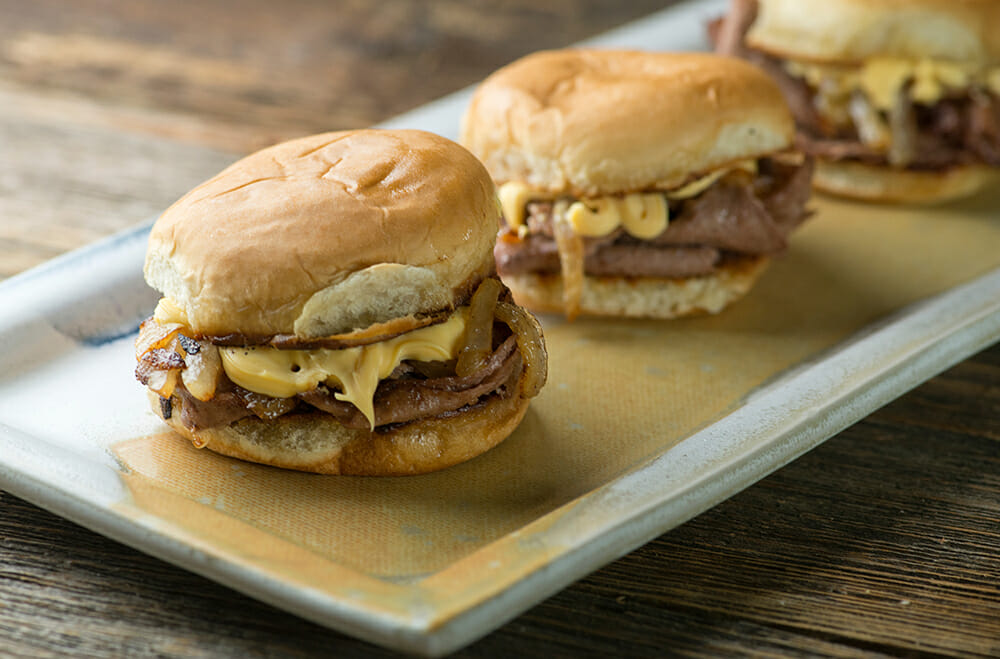 A warm and wonderful cheesesteak slider!
I handed off the first one to the Southern husband, and watched while he took a bite. And while this COULD have been all in the interest of marital harmony, he pronounced them worthy of being called cheesesteaks.
Baby cheesesteaks, but cheesesteaks! And as I ate a few of them myself, I can also tell you that I'll be going out for more Cheez Whiz soon.
Thanks for hanging in there for me through this long cheesesteak saga!
OTHER SLIDERS WE CAN'T EAT JUST ONE OF!
Want to round out your meal? This recipe pairs well with...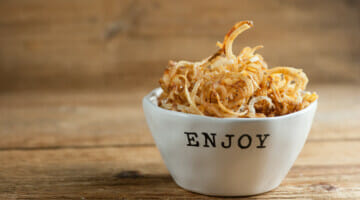 Easy Crispy Spiral Fries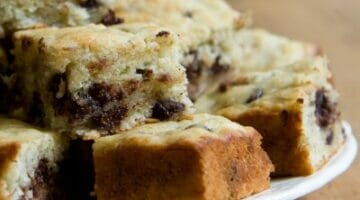 Banana Chocolate Chip Cake
Print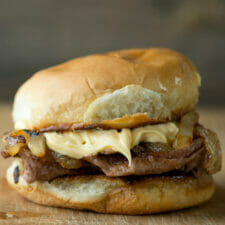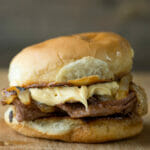 Cheesesteak Sliders
---
Author:

Prep Time:

5 minutes

Cook Time:

8 minutes

Total Time:

13 minutes

Yield:

4

sliders

1

x
Category:

Lunch

Method:

Stovetop

Cuisine:

American
Description
Love cheesesteaks? Cheesesteak sliders are the perfect way to have more than one. And don't forget the Cheez Whiz!
---
Ingredients
3 tablespoons

butter

1 tablespoon

olive oil

1/2

sweet onion, sliced

9 ounces

sandwich steak (either from the supermarket meat section or the freezer section)
Cheese Whiz or Easy Cheese (mine came in a can, but it comes in jars as well)

4

slider rolls (if you can't find them, hot dog rolls cut in thirds work great!)
---
Instructions
Heat 1 tablespoon butter and one tablespoon olive oil in a large skillet over medium high heat. Add onion and a pinch of salt and saute until tender, about 5 minutes. Scoop out and set aside.
Melt remaining butter in skillet and toast insides of slider rolls until golden, about 1-2 minutes. Remove and set aside.
Add the sandwich steaks to skillet and sauté for one to two minutes per side or until done to your liking, seasoning with a pinch of salt and pepper as you go. You might have to do these in batches.
When the meat is done, assemble sliders as follows: bottom of bun, steak, spoonful of onions, generous squirt or spoonful of cheese, top of bun.
As they say at Pat's eat up while it's hot!
Notes
Need to add something to your kitchen equipment to make this recipe? Below are some of the items we used in the Framed Cooks kitchen to help cook this up. These are affiliate links to things we use and love, which helps to pay for all that bacon I keep buying!
Updated (and made even more delicious!) from a previously published Framed Cooks post!