Our Carolina Dream House is coming along beautifully! Come see what's been happening over the past couple of months.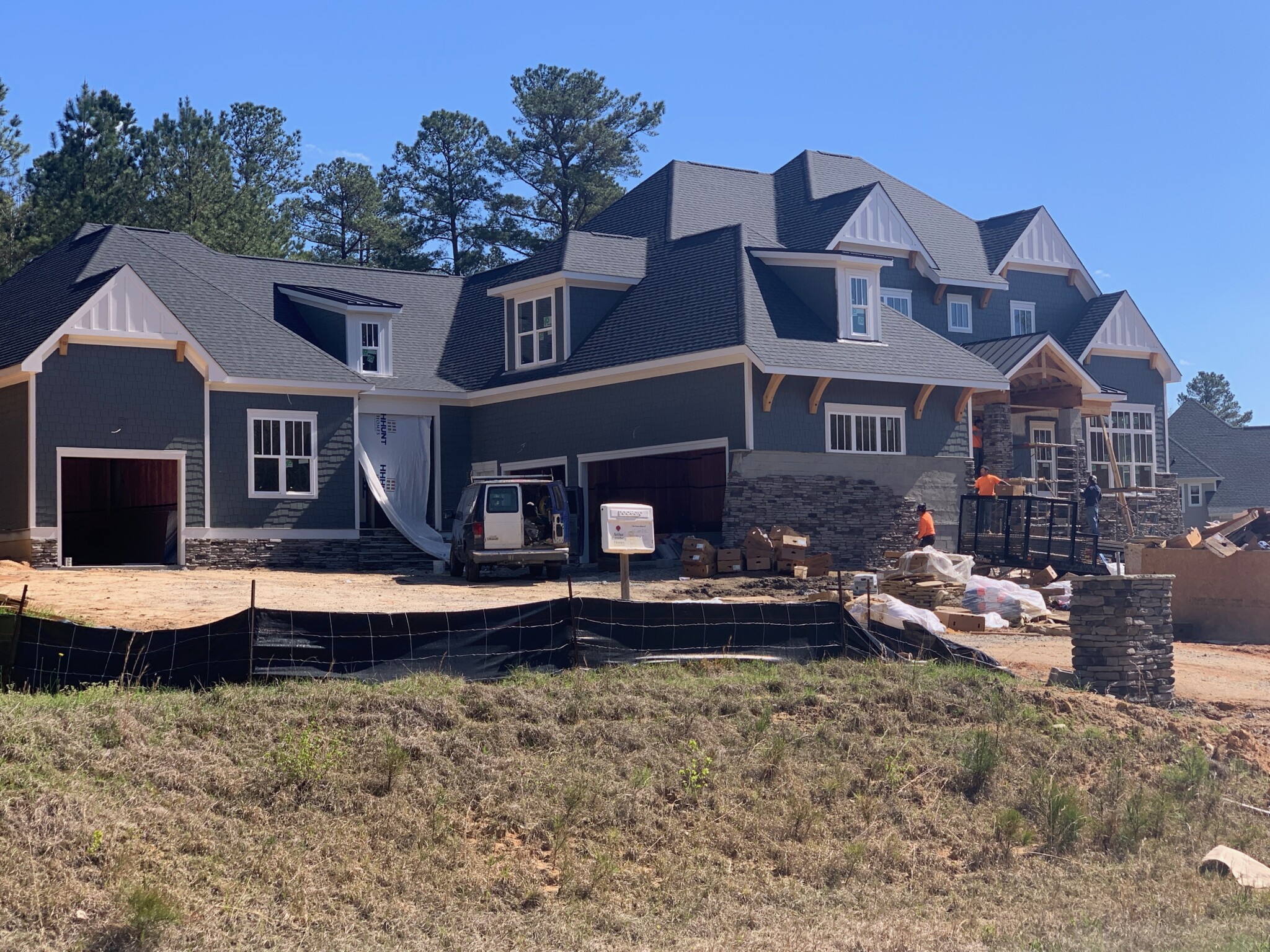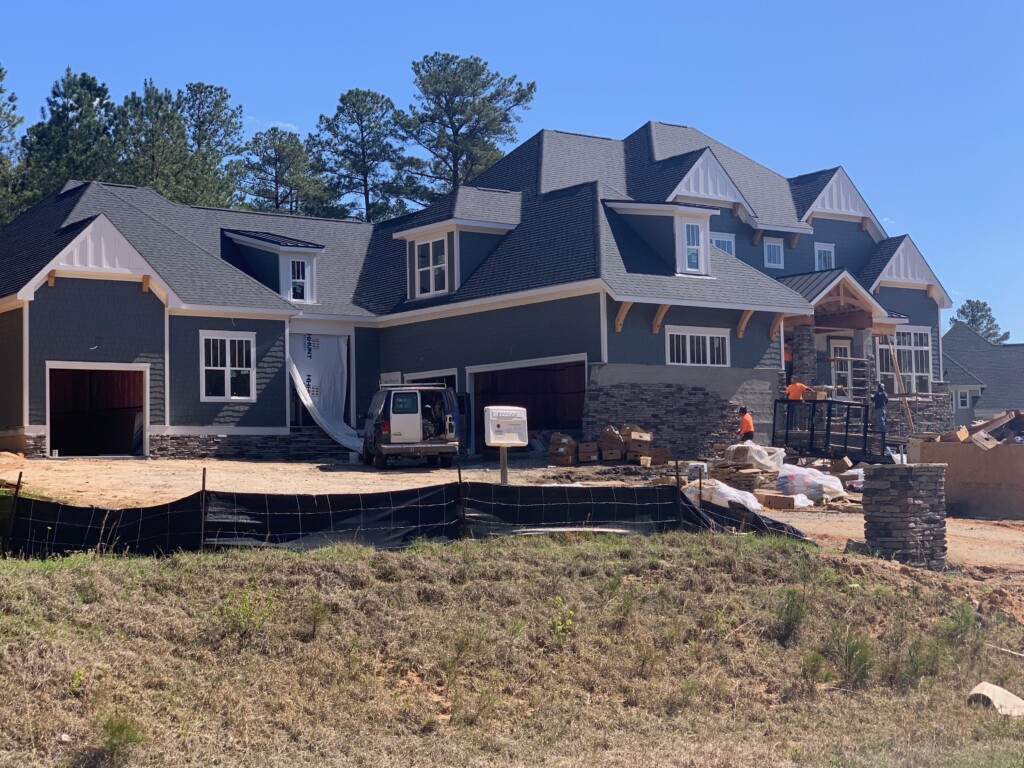 I know, it's been AGES since I gave an update on our Carolina Dream House progress. We haven't been down there since our last trip in February to see the framing, and it's all kinds of strange knowing that all this work is going on and not being able to see it in person.
Our kids and our amazing realtor and friends have been keeping us updated with lots of pictures and videos, but with everything going on these days in the world I just haven't been able to bring myself to do my usual excited updates.
But since so many of you have been asking about it, which warms my stressed-out heart so much, here I am back with the loads of progress that has happened since my last post! Starting with the drywall!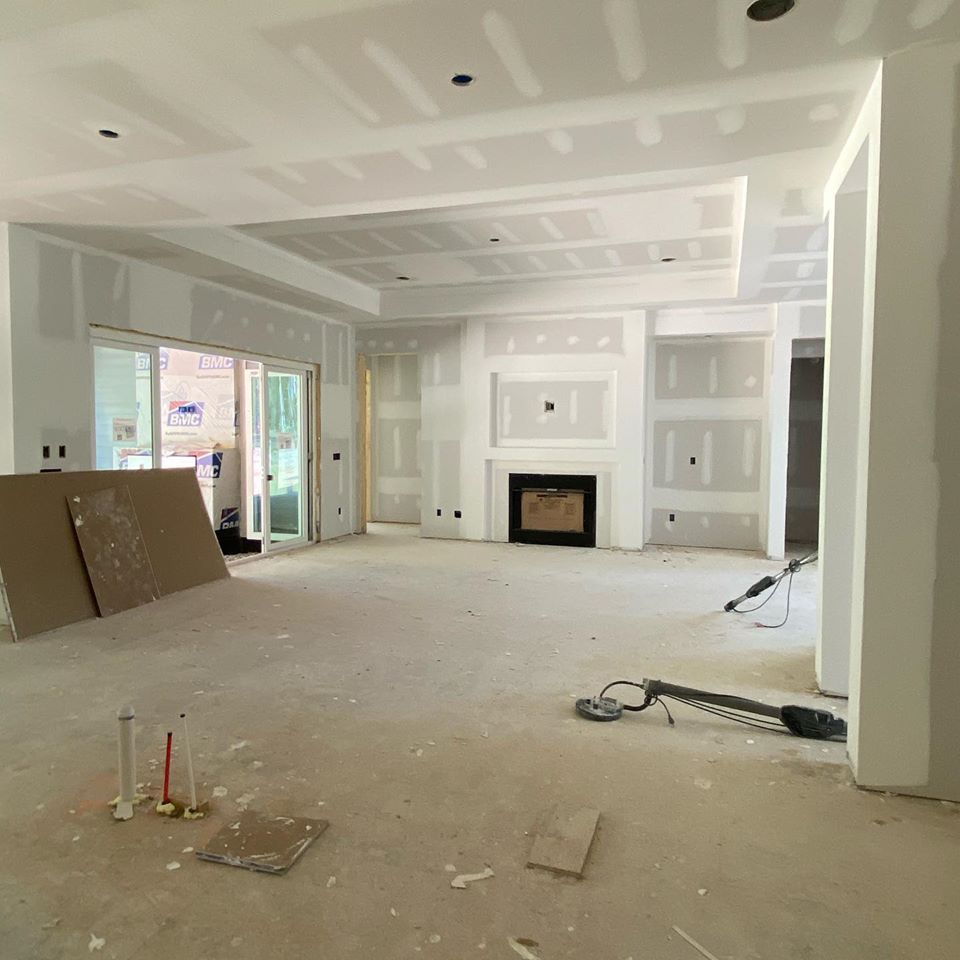 This is the main house kitchen and family room, all drywall-ed up. See that pretty tray ceiling? It's going to have weathered beams on it one day. And on the other side of the house, here's the Casita family room…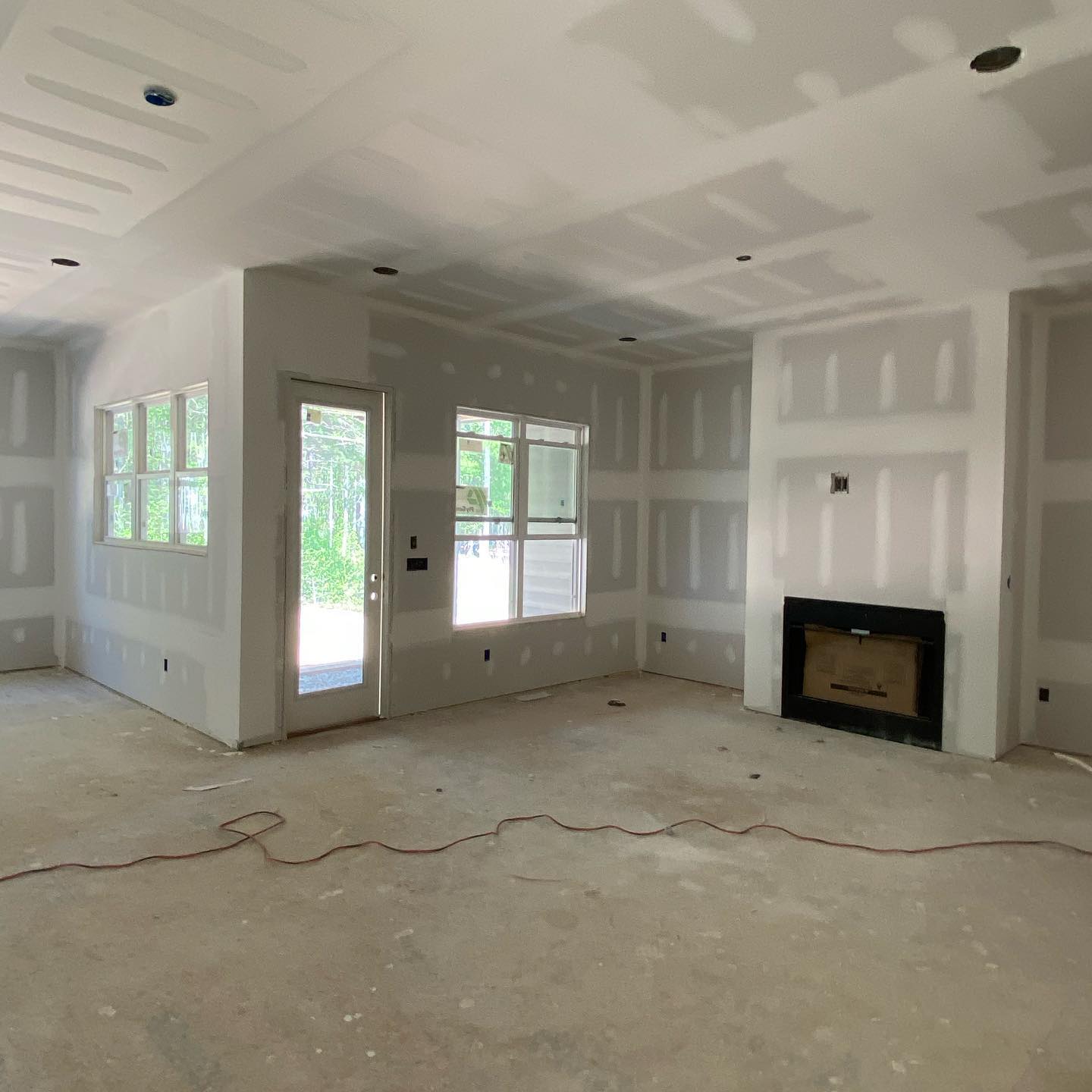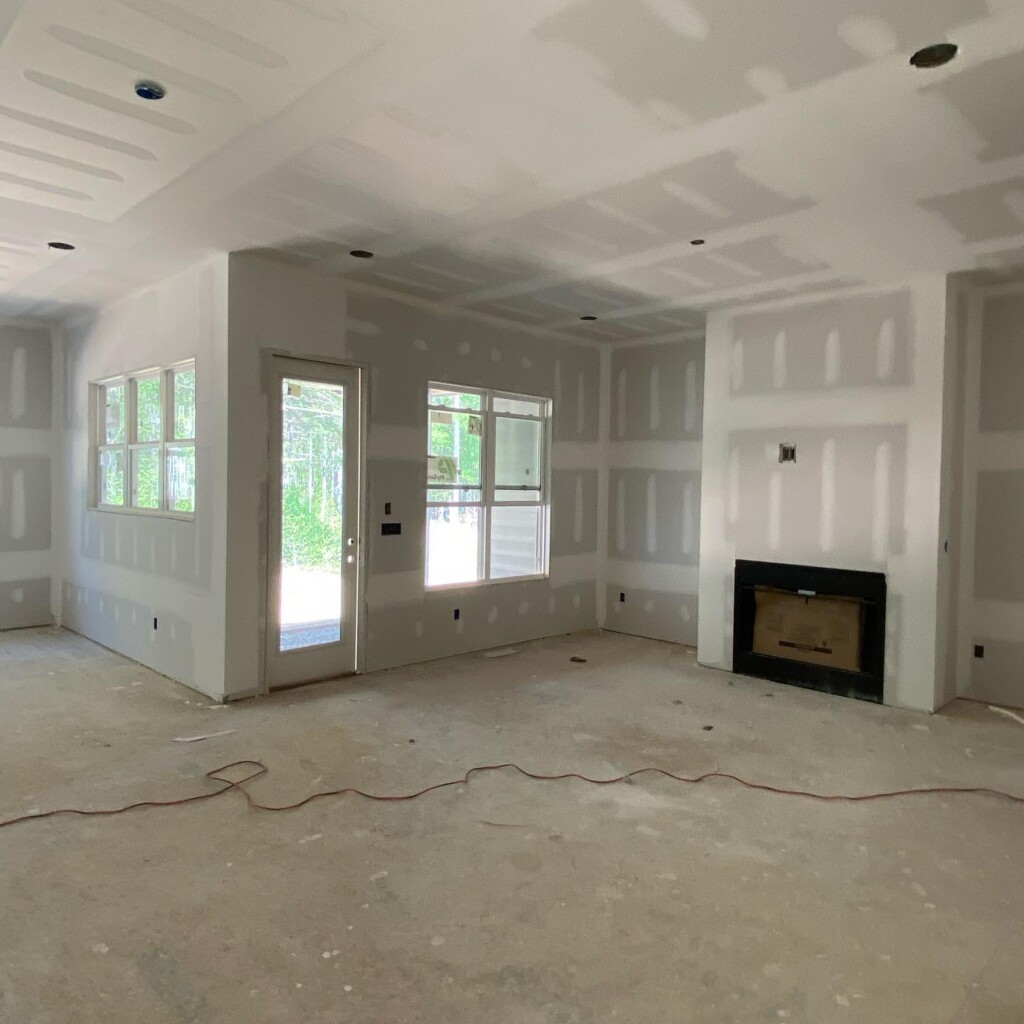 That door leads out to our cute little screened in porch, and you can just see the beautiful pine forest behind it.
Meanwhile back in the main house, here's a lovely drywalled dining room…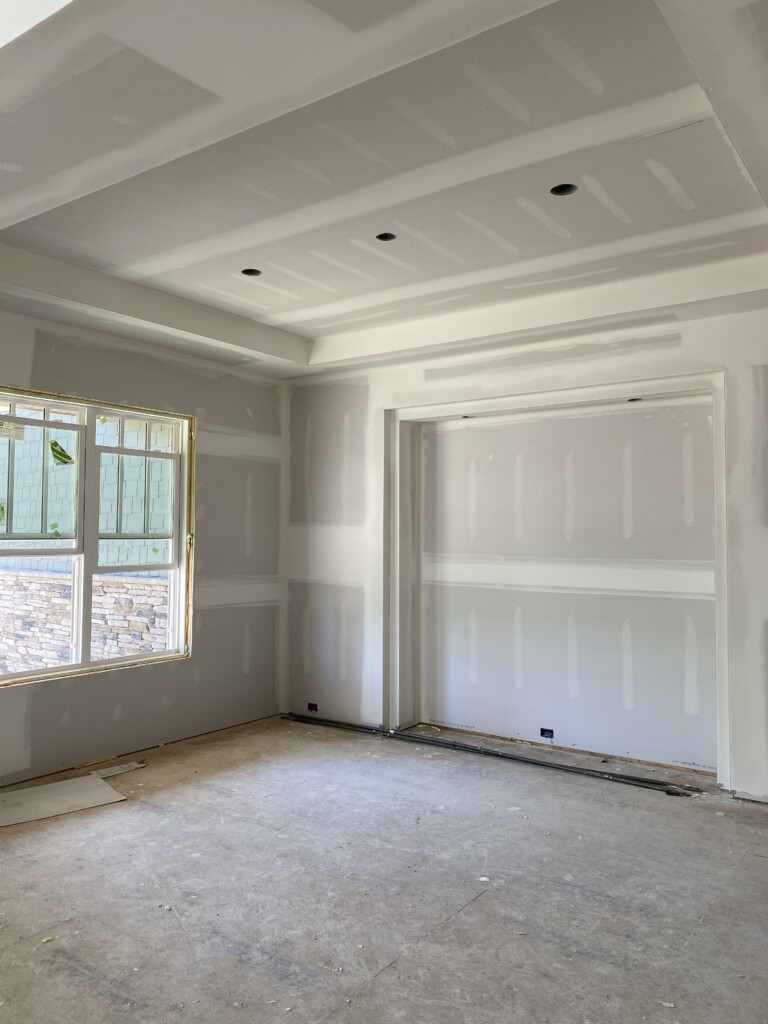 …and to the right of that, the Southern daughter's favorite part.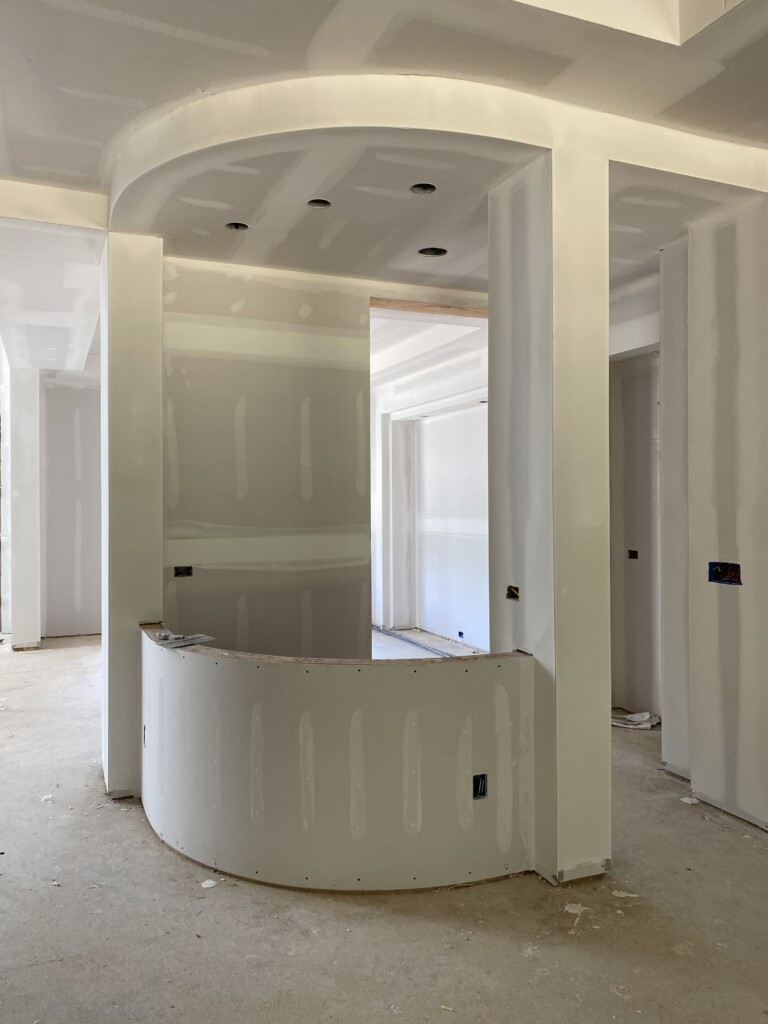 THE WINE BAR. This connects the family room to the dining room, and it will have some pretty cabinets and a wine fridge and a little counter for folks to have a nice glass of wine and a snack.
The next big development was the floors.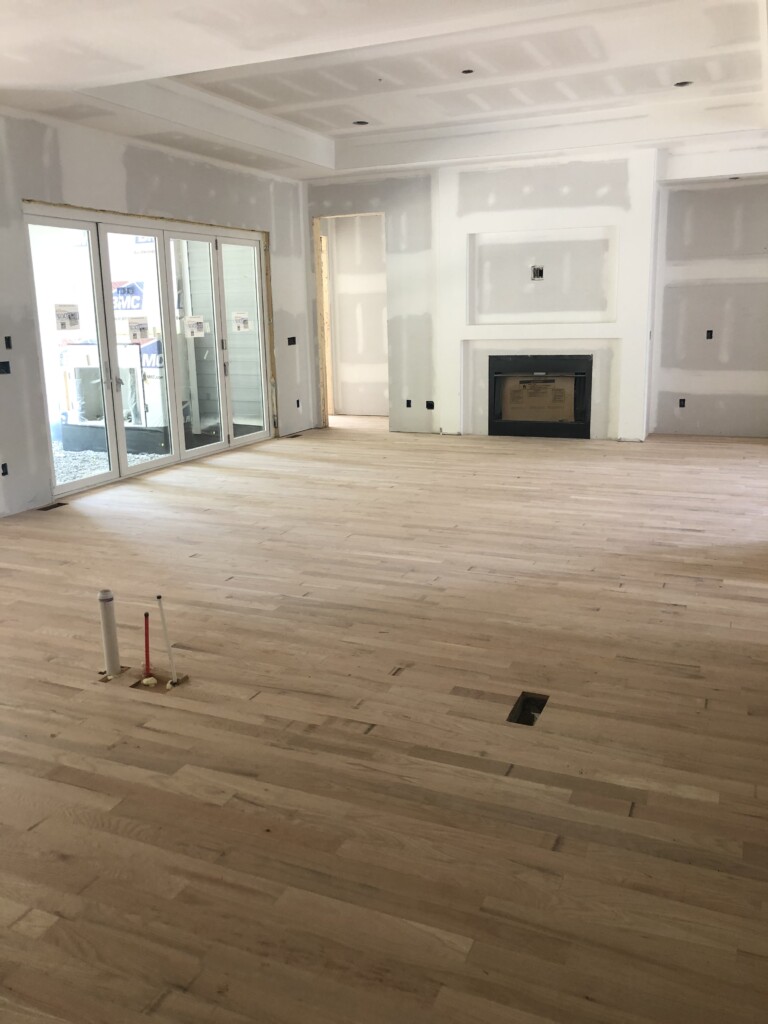 Here's the main house kitchen and family room with hardwood floors! They are going to be stained a rich dark brown color…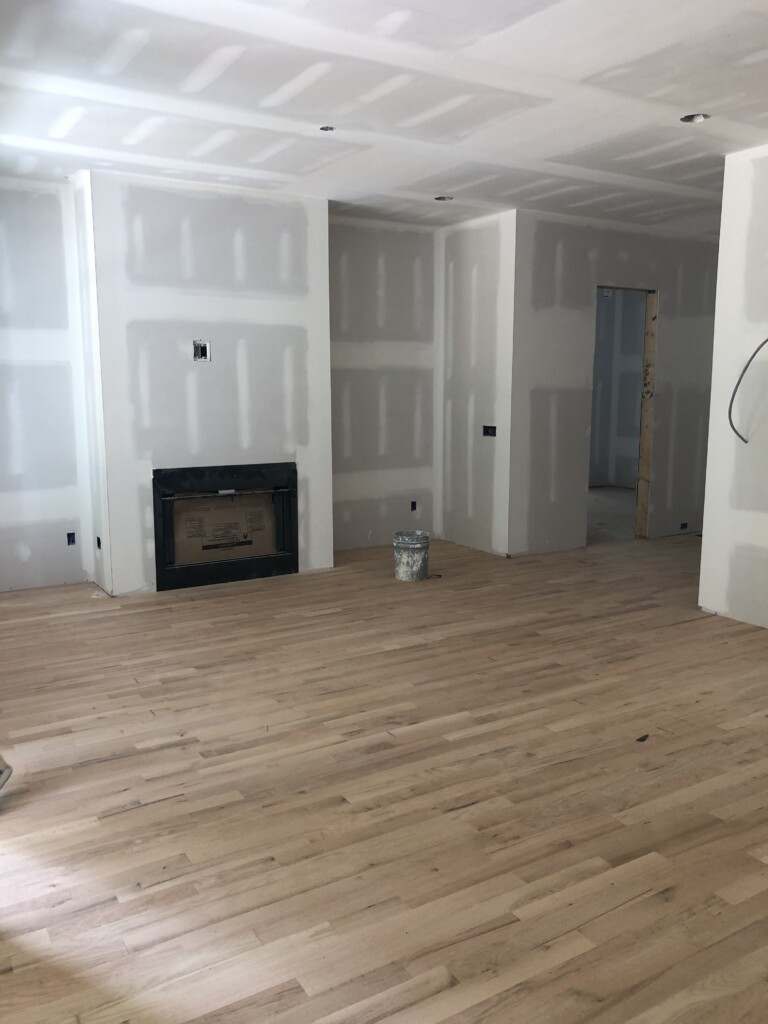 …and same for the Casita. Hardwood floors on the main floor, and most carpet on the second floor to muffle the pitter-patter of eventual little feet. :)
Meantime, there were ALL kinds of things happening on the outside of the house.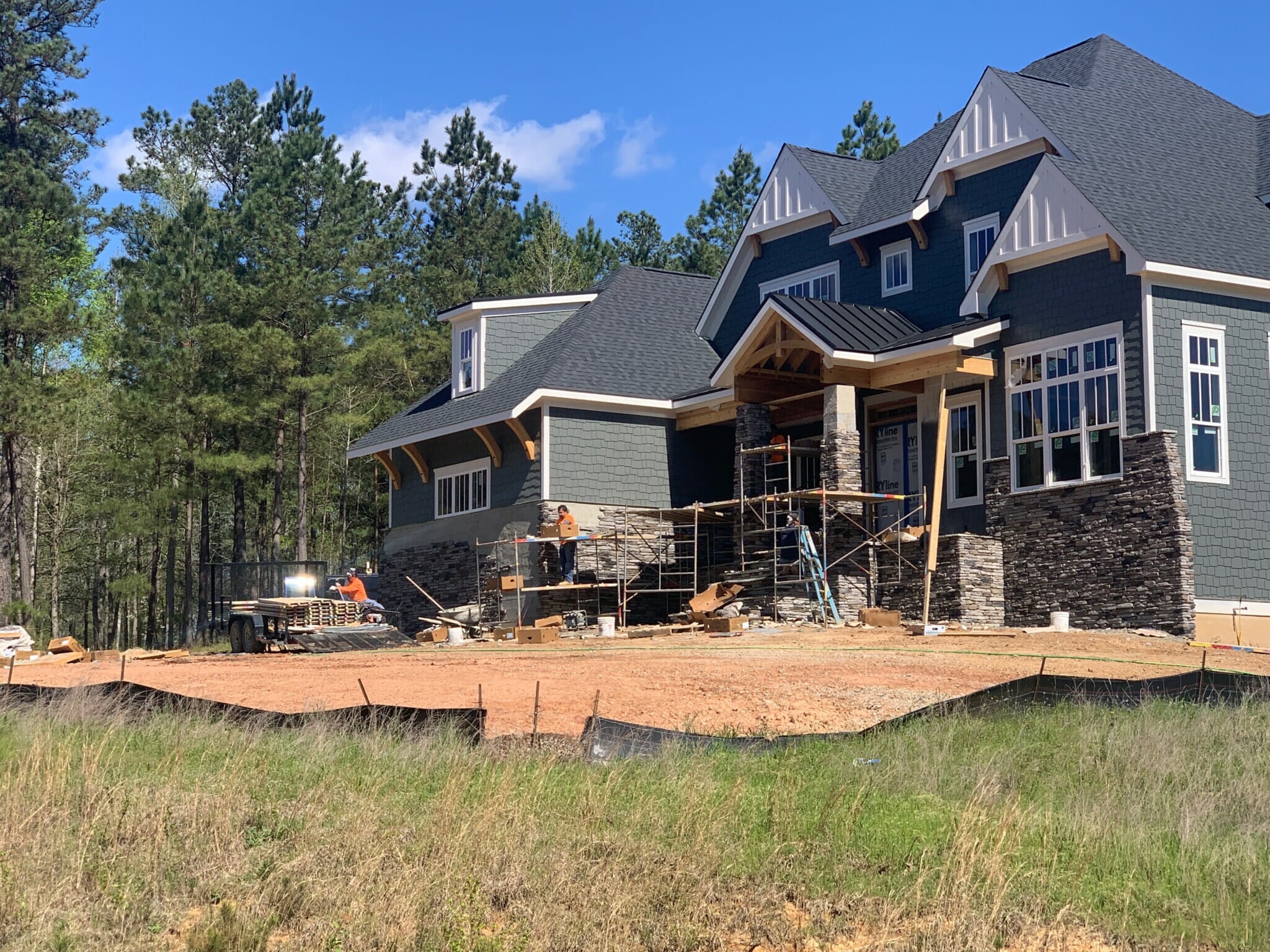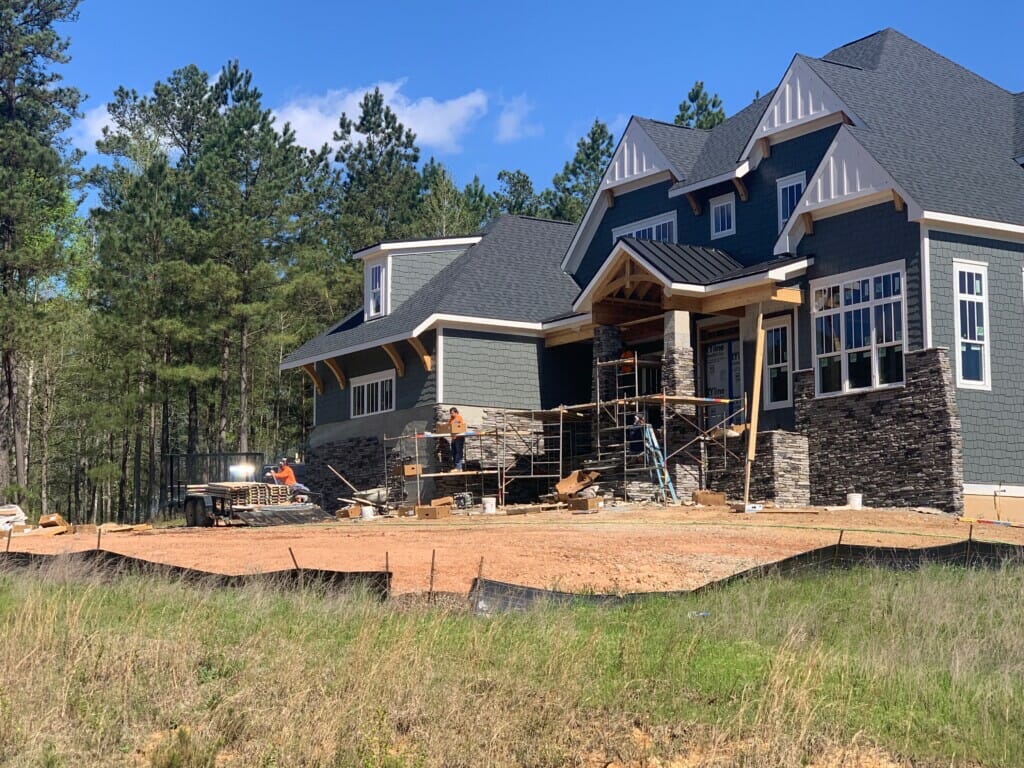 Shingles. Shakes. Siding. Stonework. And paint!! We picked out a blue-grey color that reminds me of my grandparents' farm in Vermont, and I just love love love how it came out.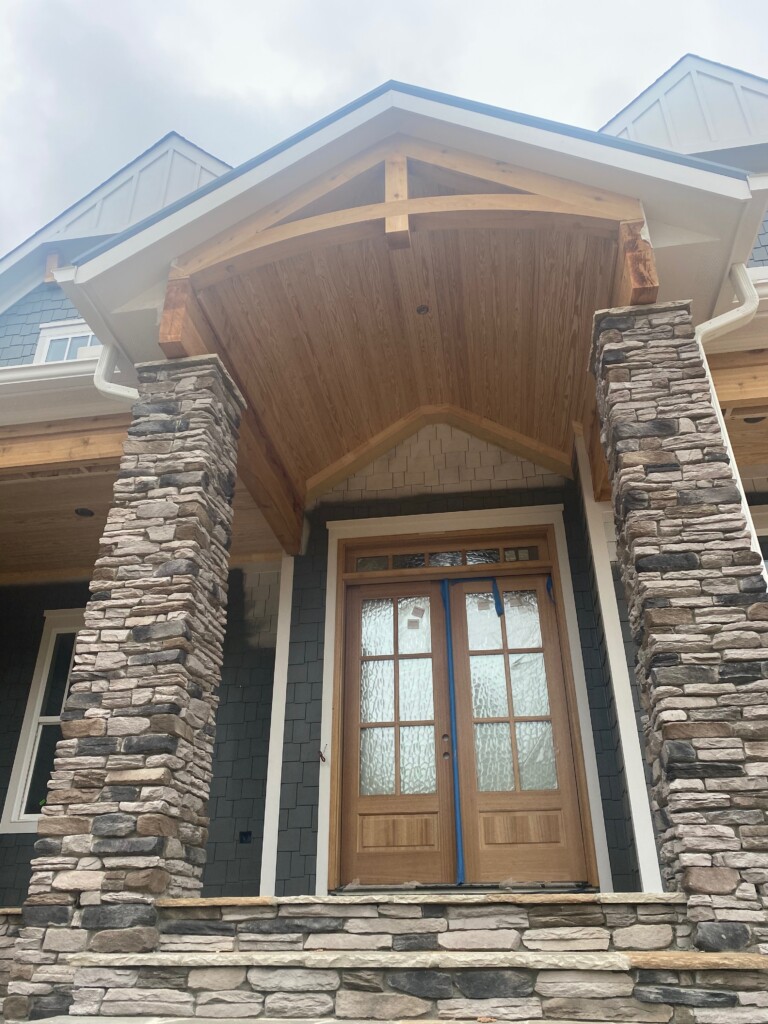 The front door to the main house has these beautiful rough rock columns, and a natural wood ceiling that we are also going to stain a bit darker. (Not me personally. The incredible crew at Hearthstone Luxury Homes is going to do that part.)
Check out these gorgeous stone steps…
My sweet son-in-law feels like this area is the perfect place for a hanging porch swing, and I think he is 100% correct.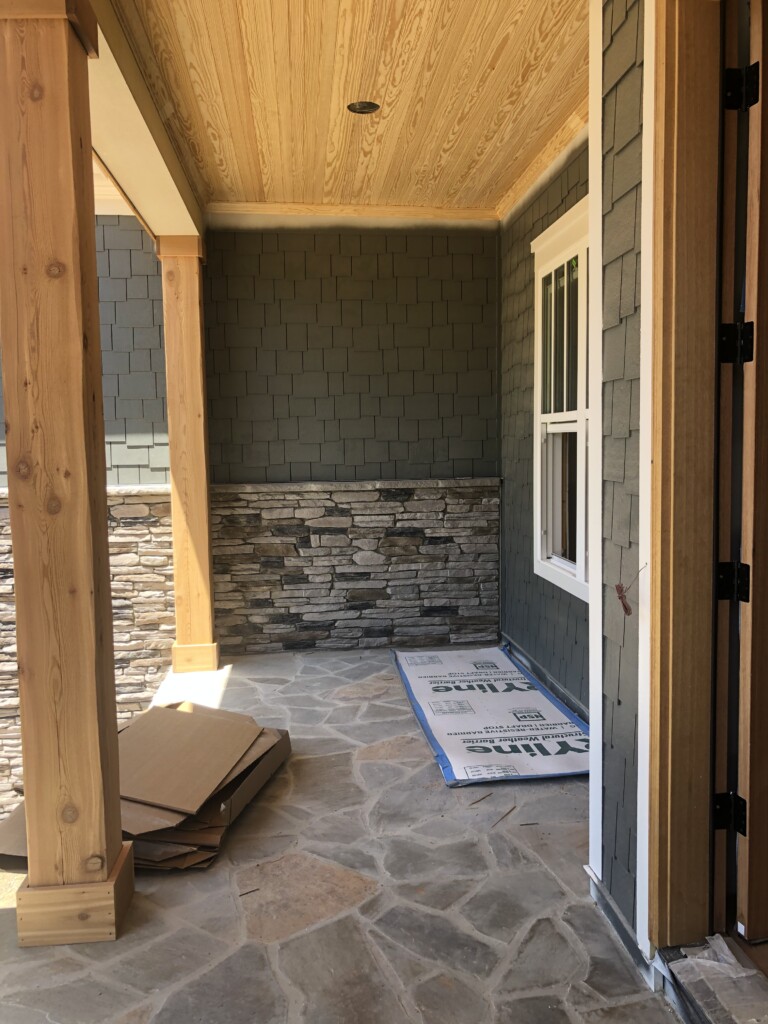 That little opening is where we are going to hang a lantern to give off a welcoming light in the Carolina evenings.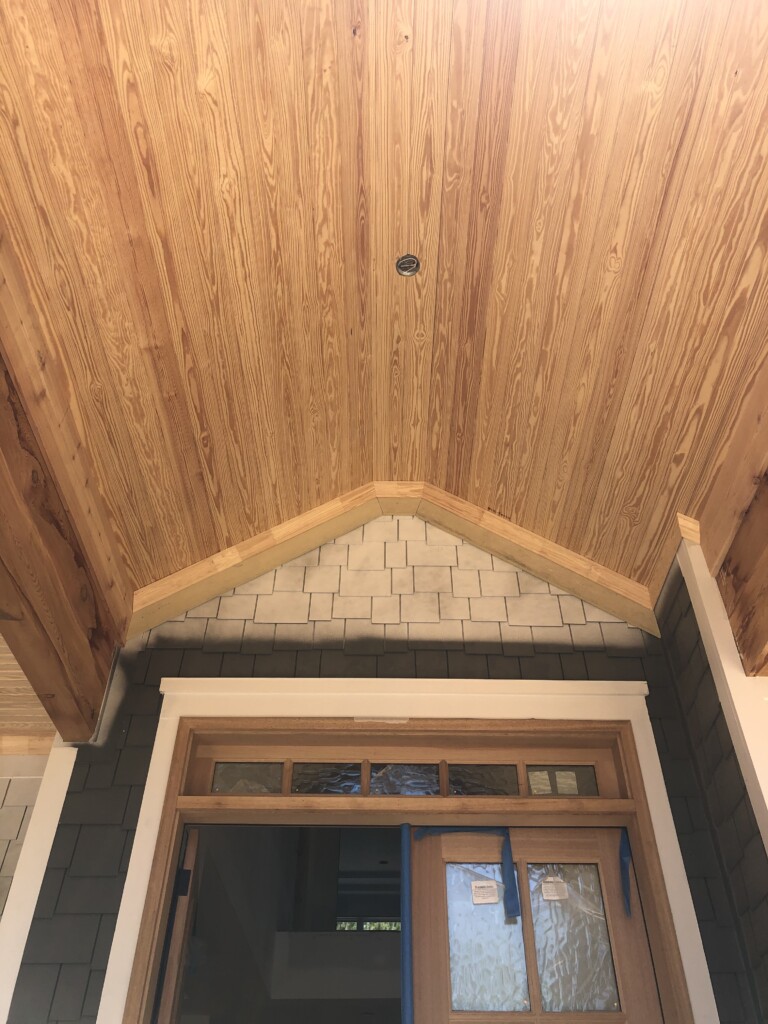 The next exciting thing that happened was the pavers going in to the Casita screened porch and the main house veranda. Look at those beauties. I'm just in awe of the artistry going on here.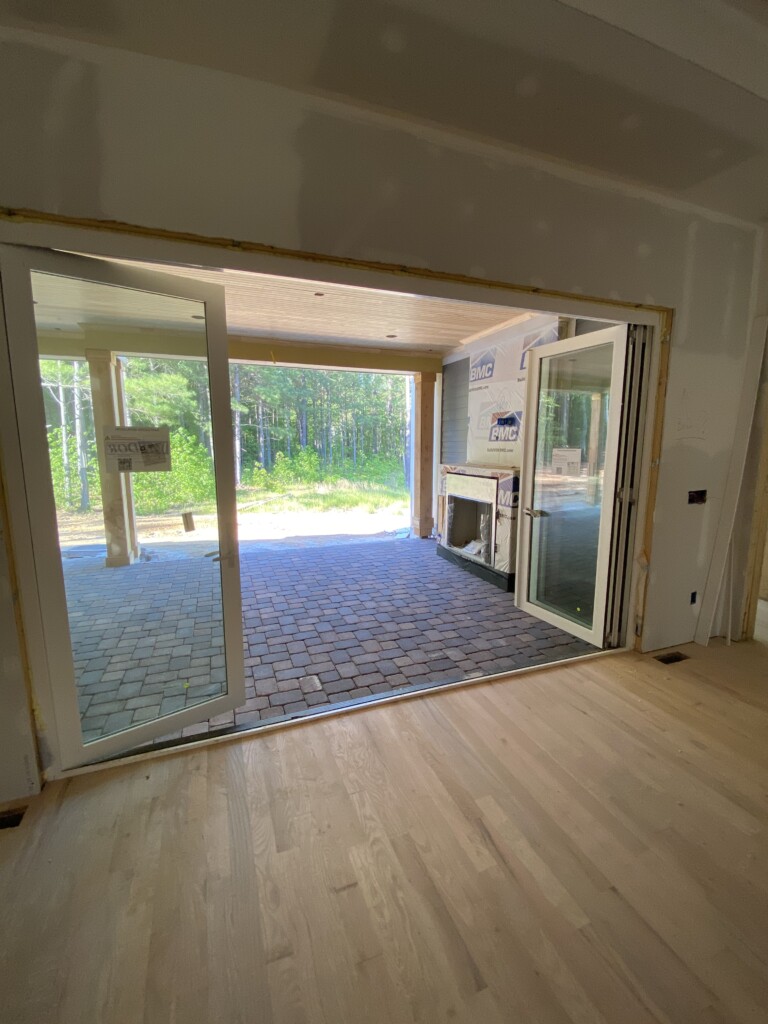 This outside fireplace is going to have stonework going up the sides, and a nice big television above it, in case we ever get to watch football again.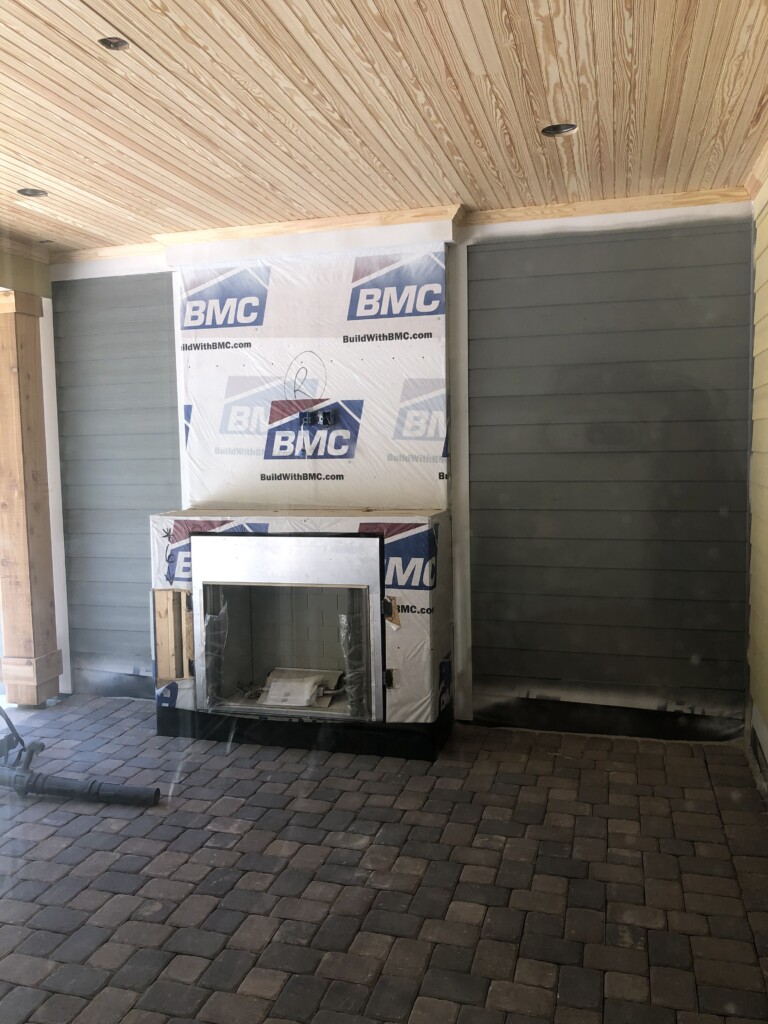 And the tile is in! Here is the glorious walk-in shower in the main house master bath. A window in a shower! How fun is that?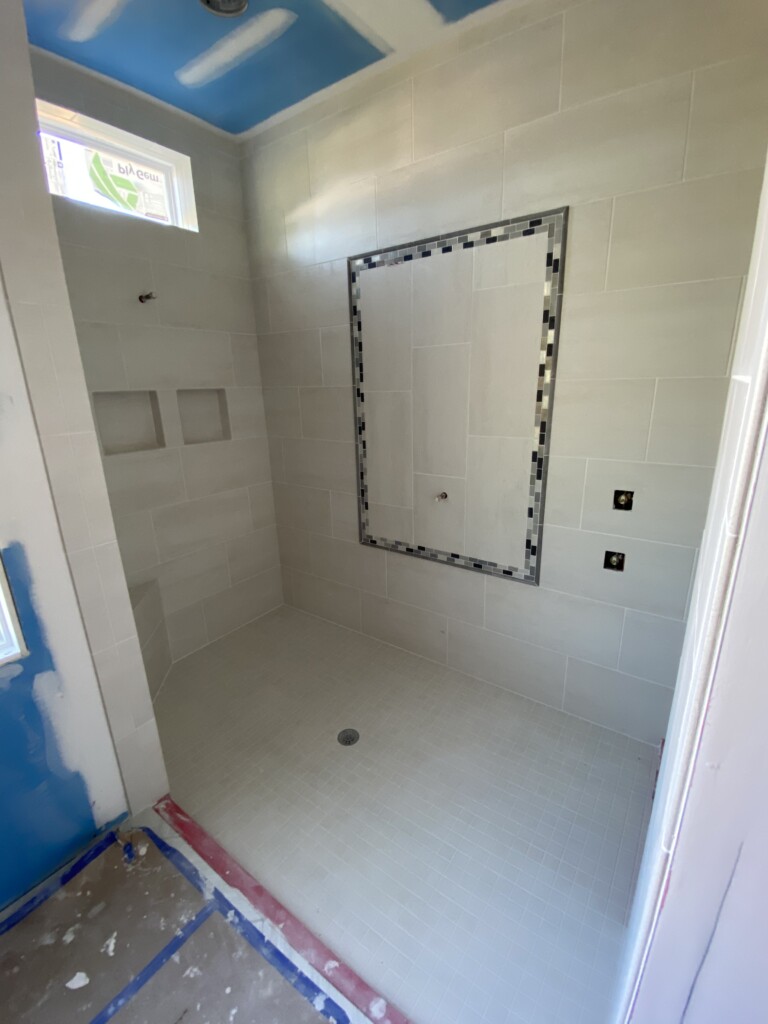 And here's the shower in the Casita master bath. I love the mixture of tile going on. We picked out a rain shower shower head, and I plan to spend lots of time with it pouring down on my head.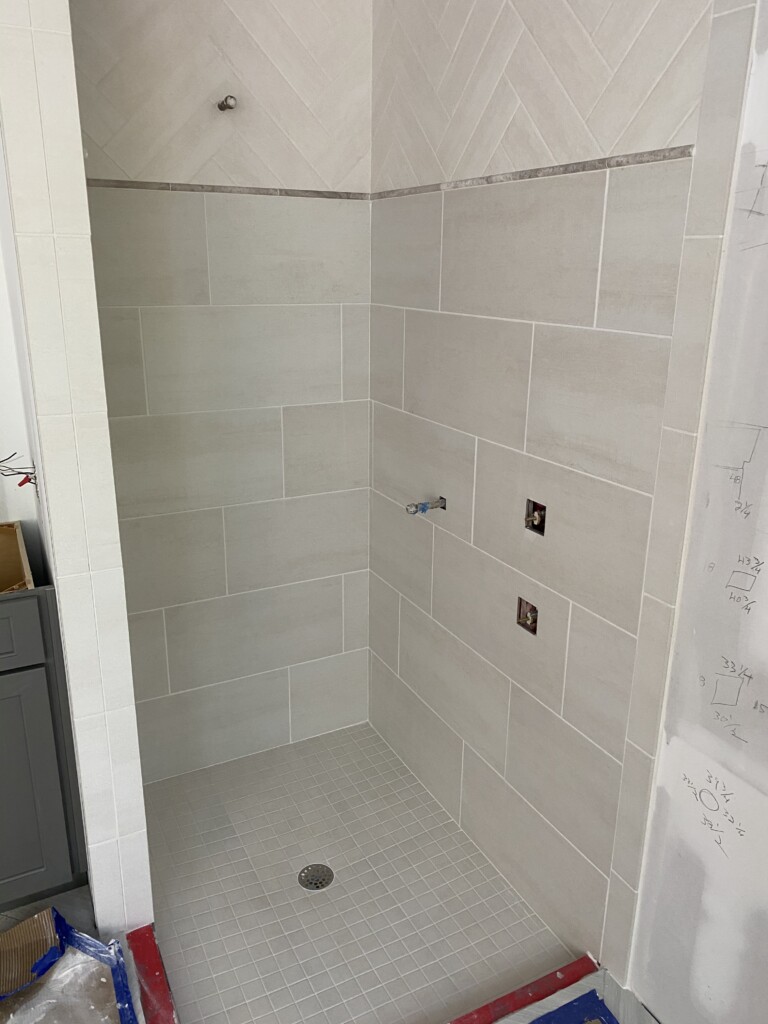 And of course I saved the best for last…THE KITCHEN CABINETS. We picked a Shaker style off-white cabinet style, with glass cabinets that go all the way to the ceiling. I have them here in New Jersey and I love 'em. Here's how the Casita kitchen is looking…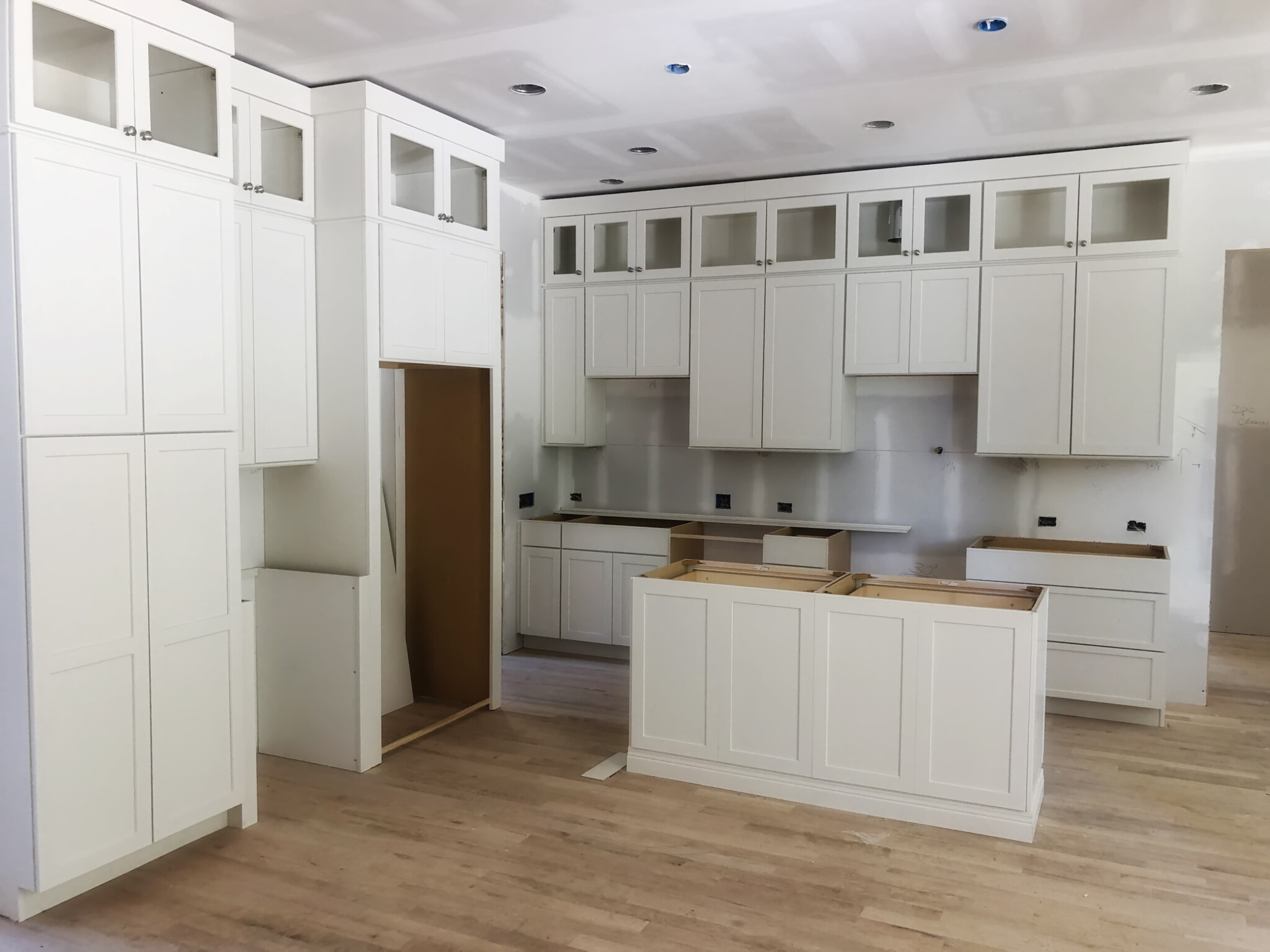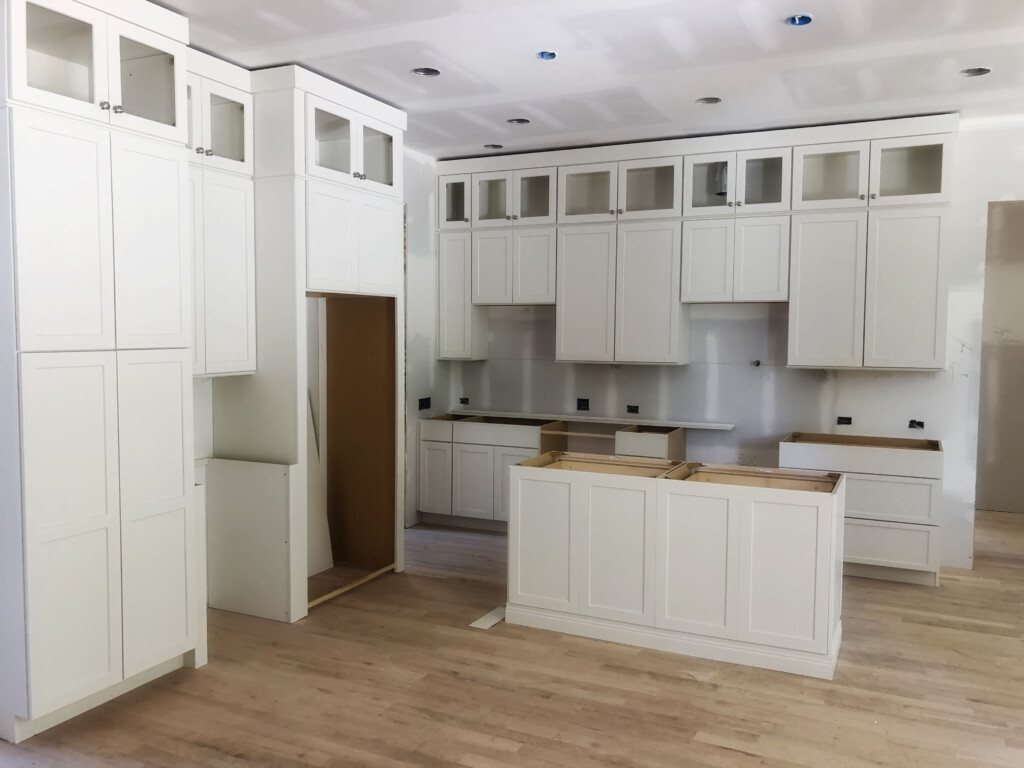 Here's another view of the Casita kitchen…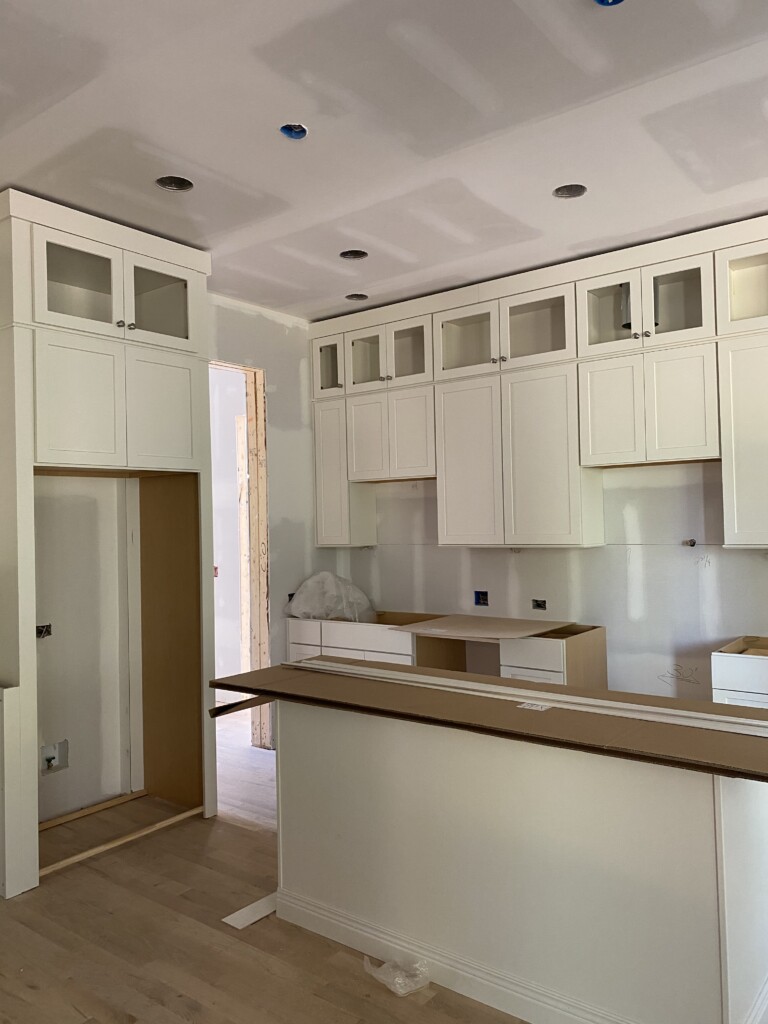 You walk from the Casita kitchen through this sweet laundry room. This has the washer and dryer, an extra fridge, an arrival center with cubbies and hooks, a door to the garage, and this handy island in the center.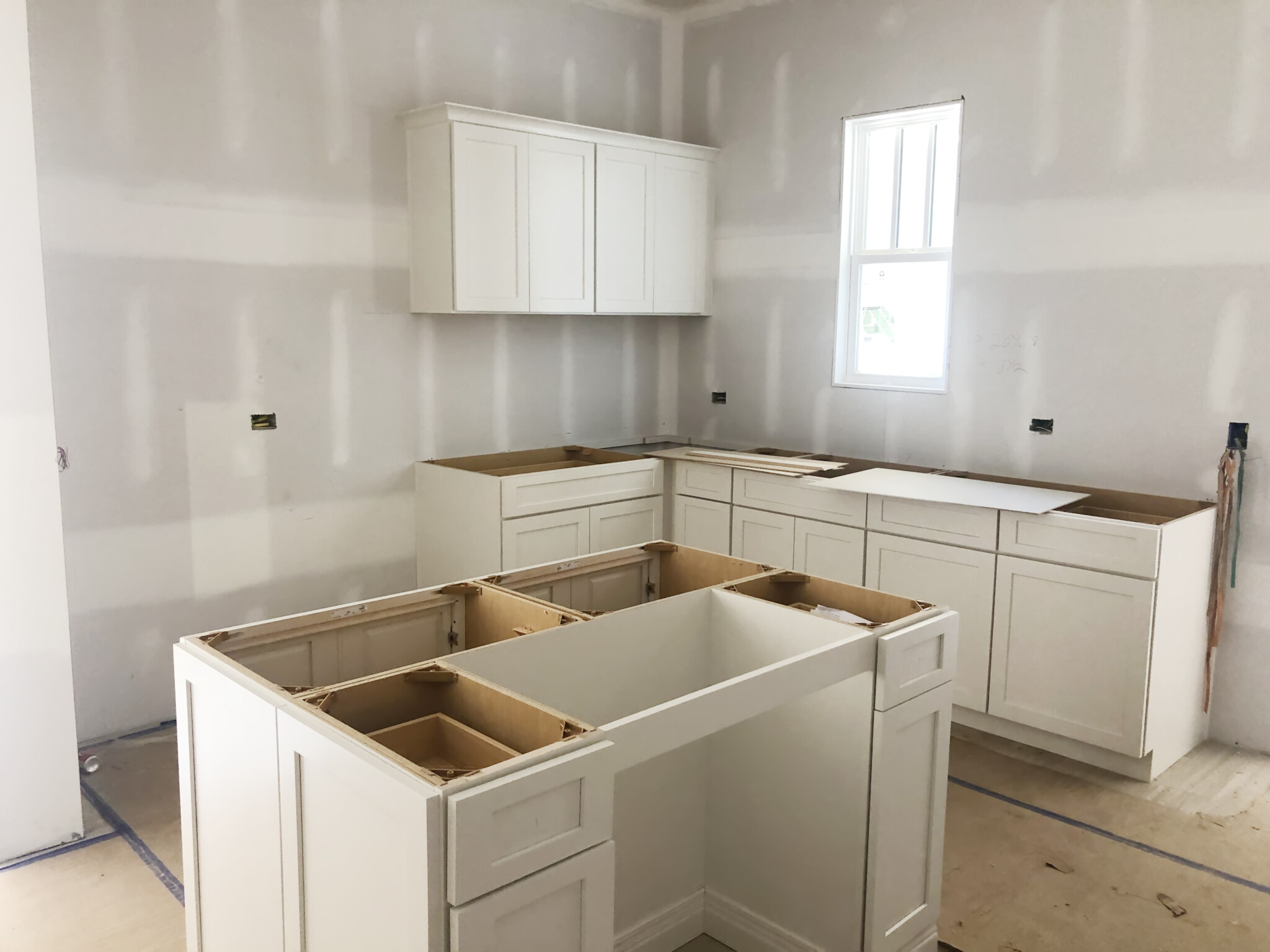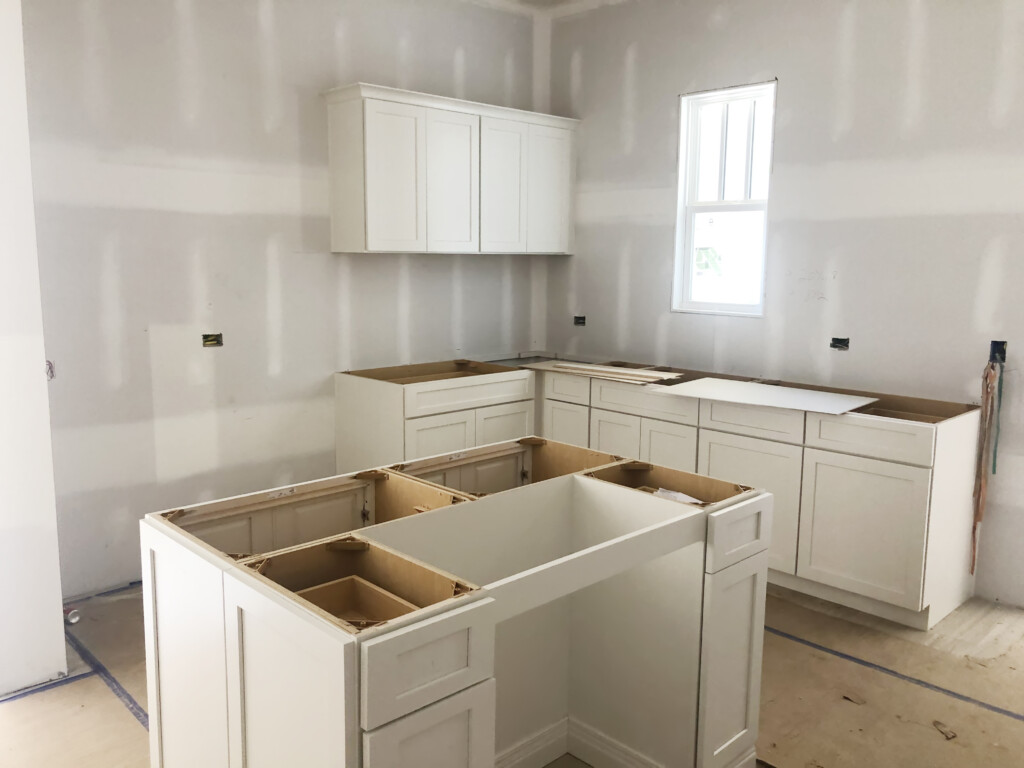 …and on the other side of the laundry room is the main house kitchen.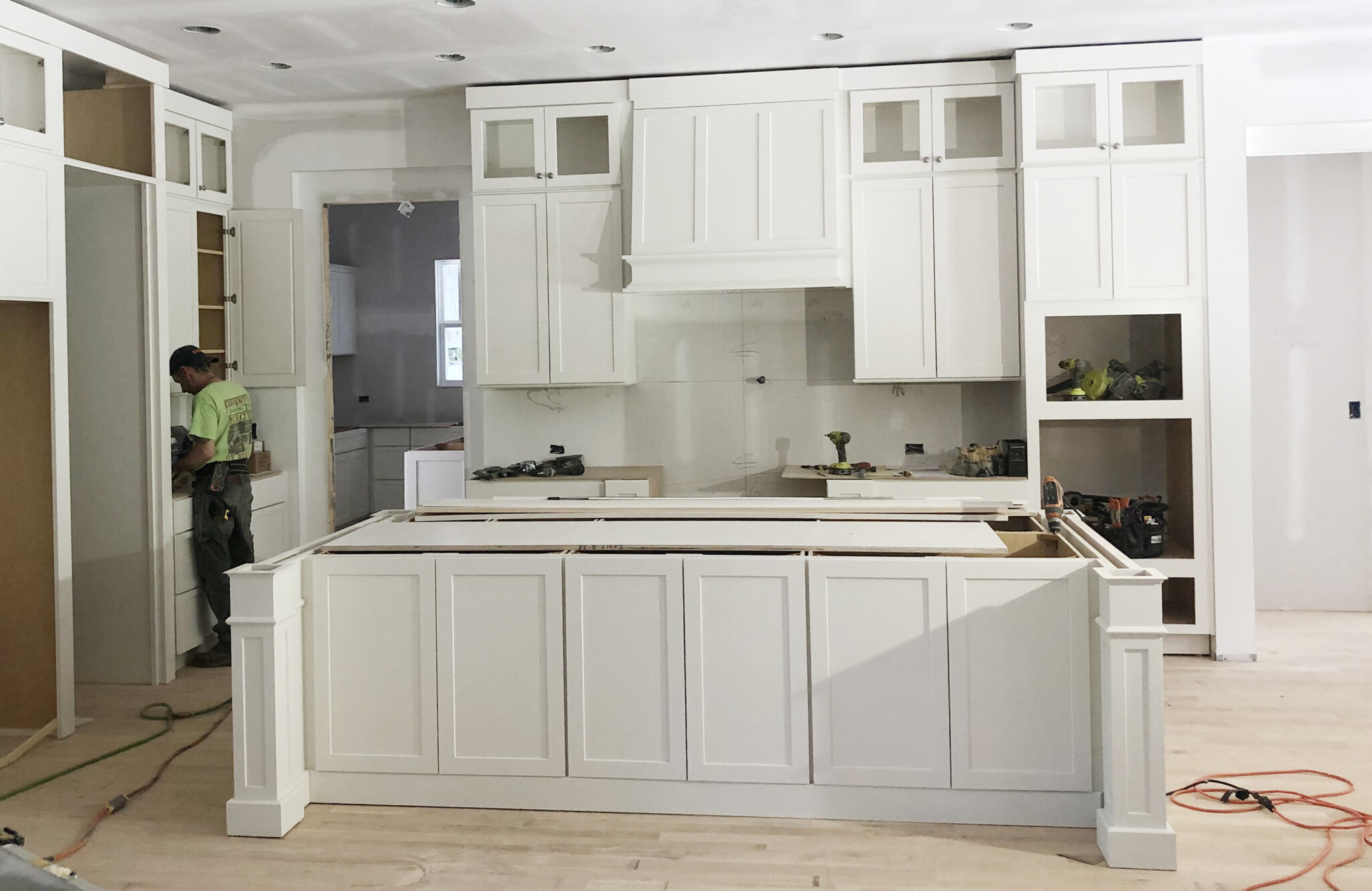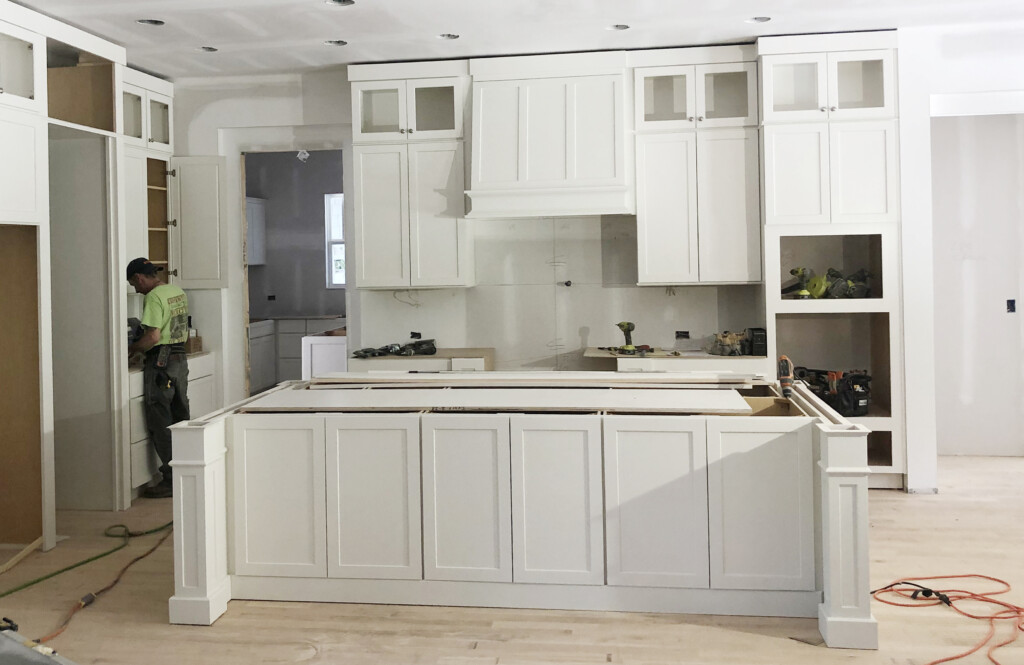 It's a bigger version of the Casita kitchen…we deliberately did them both in the same style because we hope one day there will be parties in this house where we throw all the doors open and folks can go back and forth. Look at that pretty pretty island!
The kitchen opens up into the family room, and there's that wine bar, looking even spiffier with its wood going in.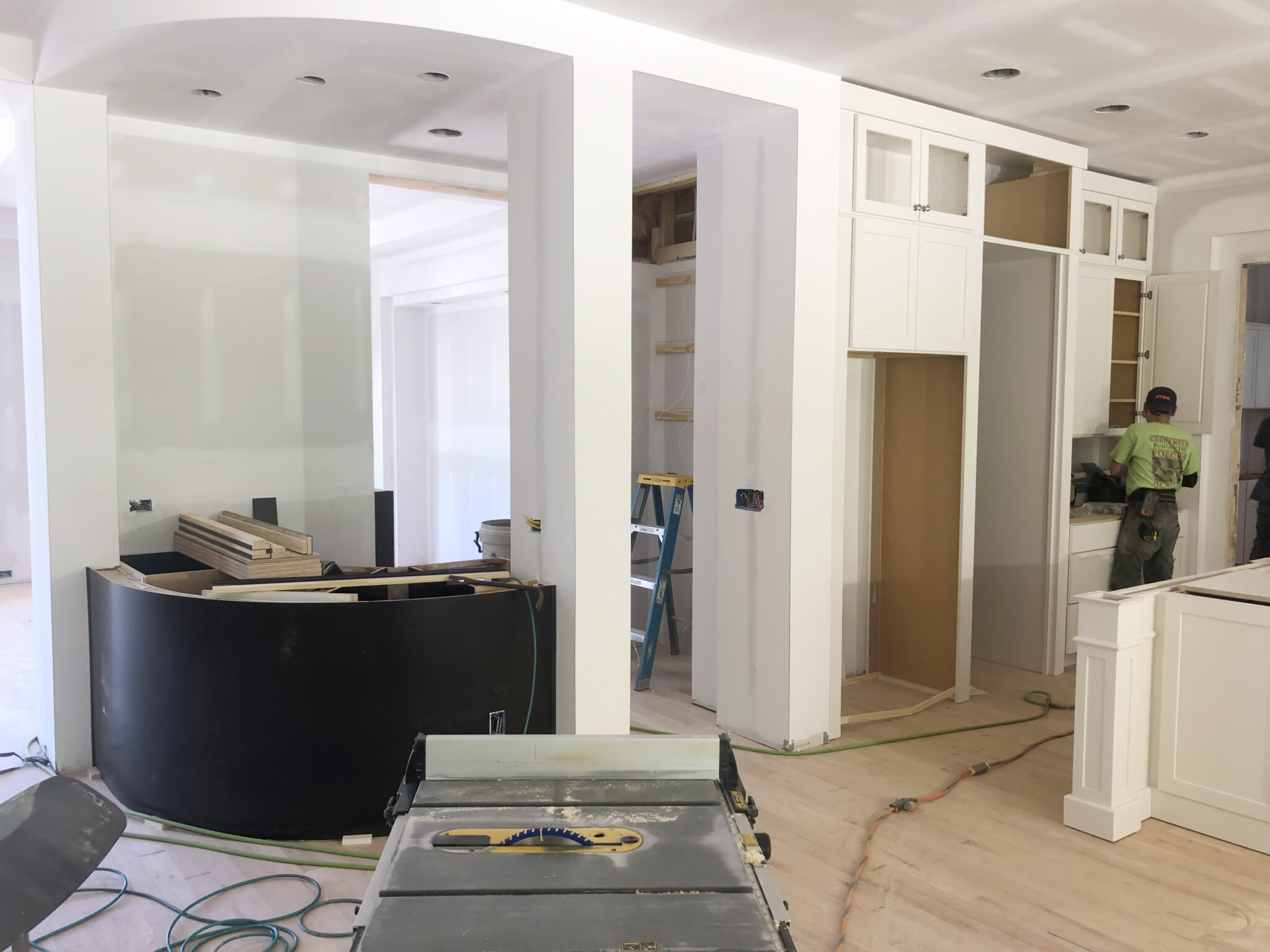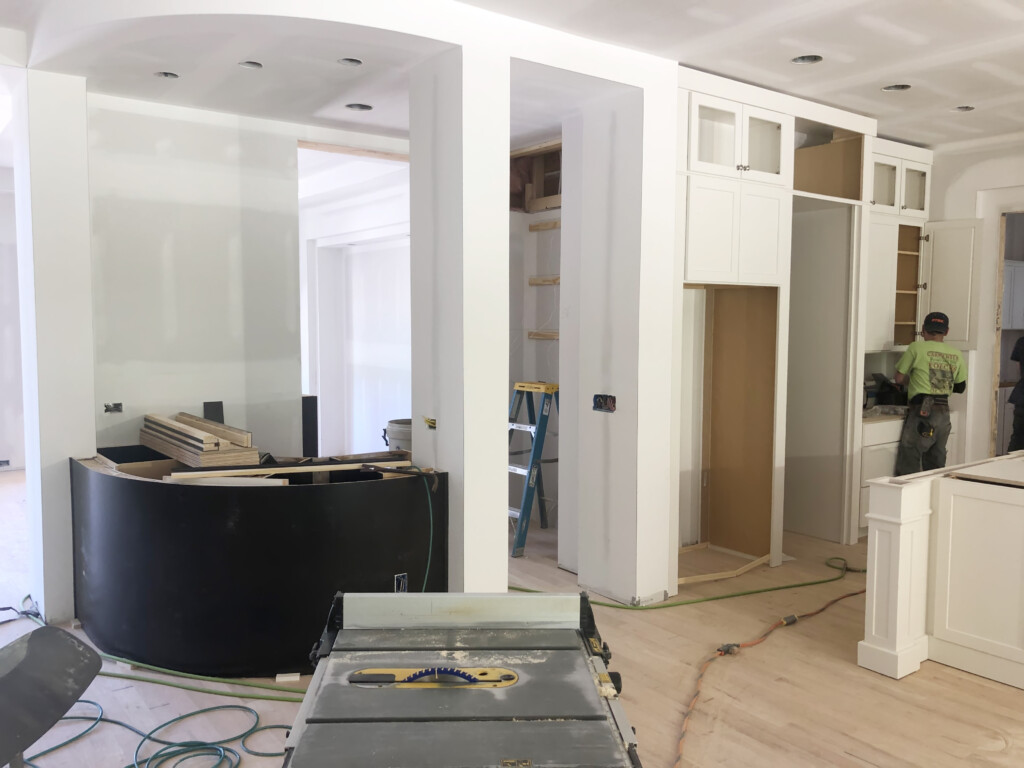 Next stop is granite, plumbing fixtures, paint and a billion other things that I can't remember right now.
What I DO remember right now is to say thank you to all the folks working on our dream house, and all the folks who have been sending me pictures on top of pictures so I can see the progress.
I'm going to sign off for now with the one thing that hasn't changed…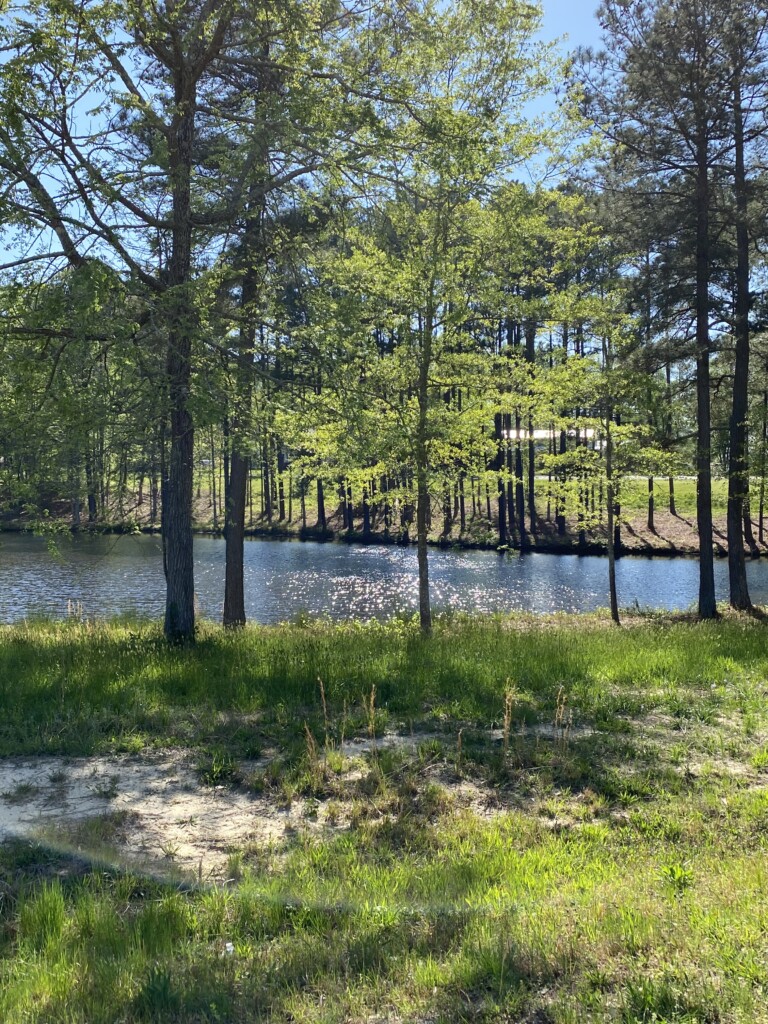 …the beautiful new of the lake across the road from us.
Wherever you are in your own dream house, I hope you are safe and sound and happy and healthy. And I'll be back in a couple of days with my next recipe!
Kate xo