This recipe for baby chocolate croissants is just the thing to satisfy your sweet tooth! Three ingredients, 16 teeny croissants, a whole lot of perfect brunch treats!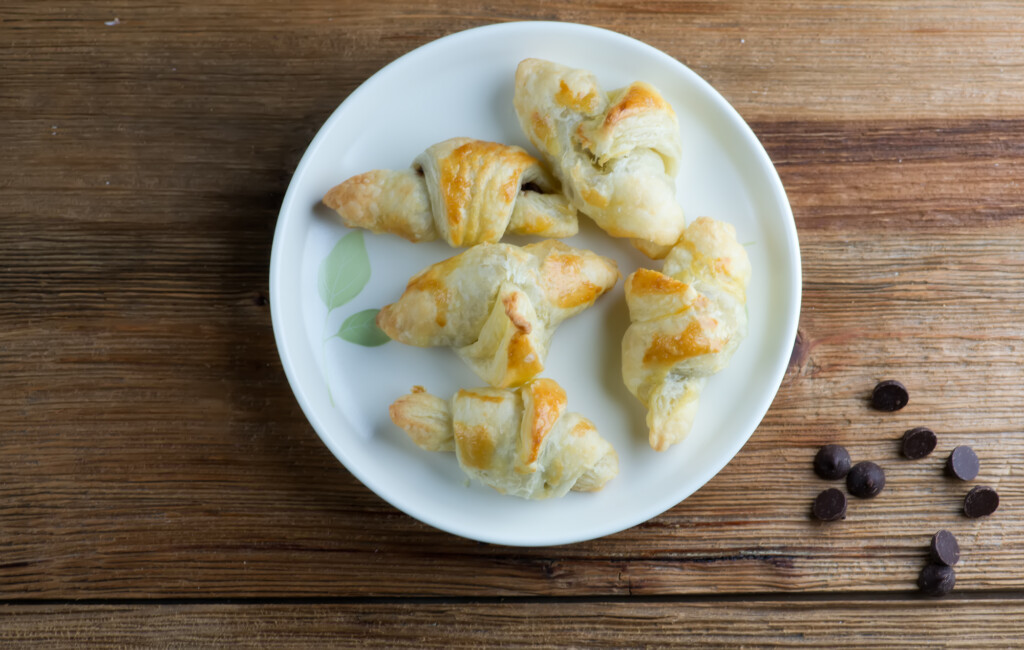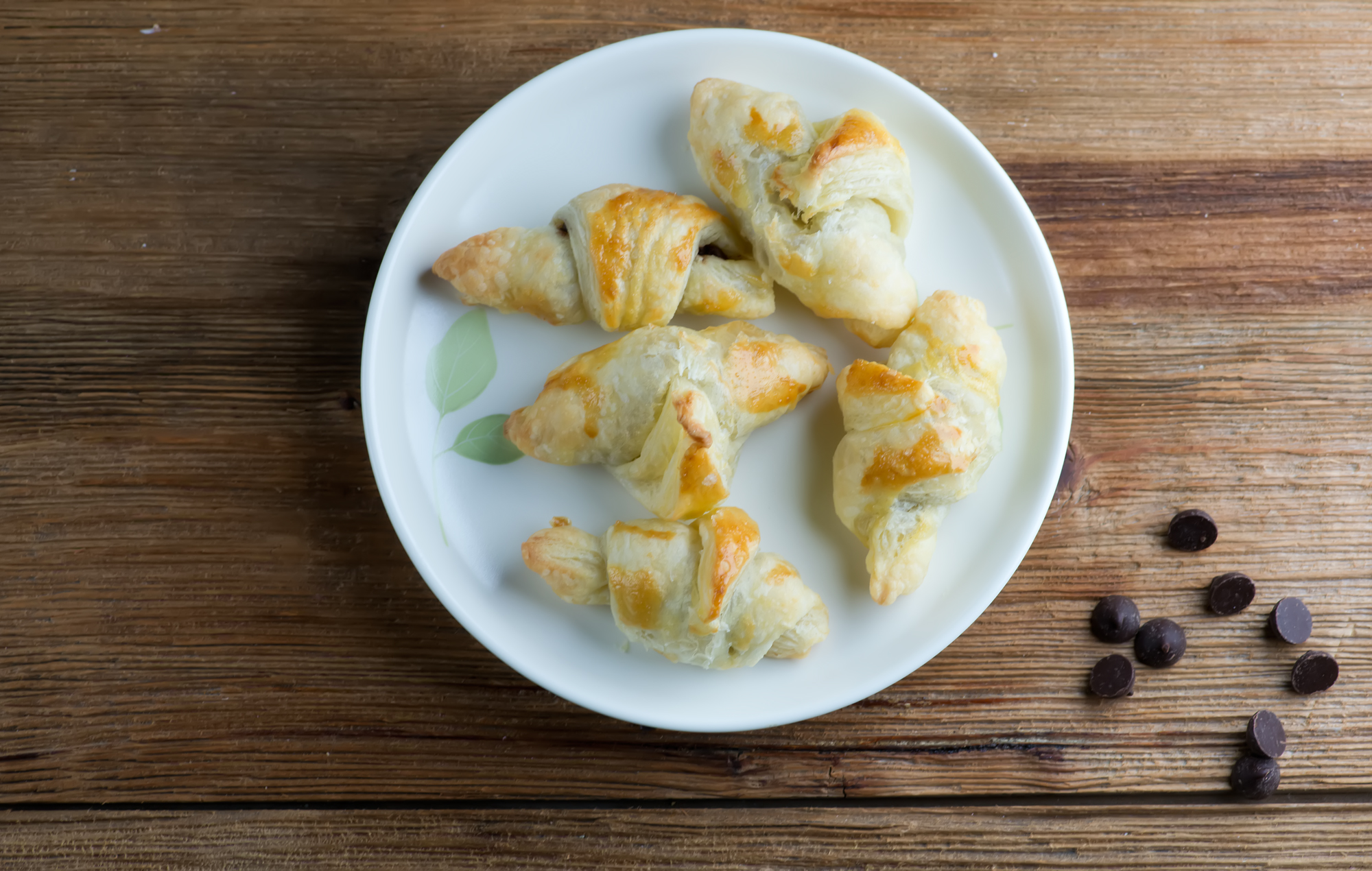 Oh my goodness, my sweet friends. What a time we are living in. Before I get going about this recipe, I wanted to repeat something I said on my Facebook page, which is this.
I know so many folks are following the guidance to stay home, and are probably cooking on a regular basis for the first time. So if you or anyone you know needs advice, suggestions on what to make based on the ingredients you have on hand, etc etc, PLEASE know you can call on me.
My email is [email protected] and I am puttering around my kitchen all day long, and I would love to help, even in this small way.
And on that note, I always want to say a heartfelt thank you to everyone who is doing the social distancing thing, which I know is so hard. This includes my mama, who is in the highest risk group.
This week was of course St. Patrick's Day, which is one of the biggest days of the year for my raucous Irish family. But my mama is being so good about following the guidelines to keep her distance, even from us.
So this year, instead of gathering together in an unruly noisy group, I made the corned beef, she made the colcannon and soda bread, and we did a careful exchange outside her front door.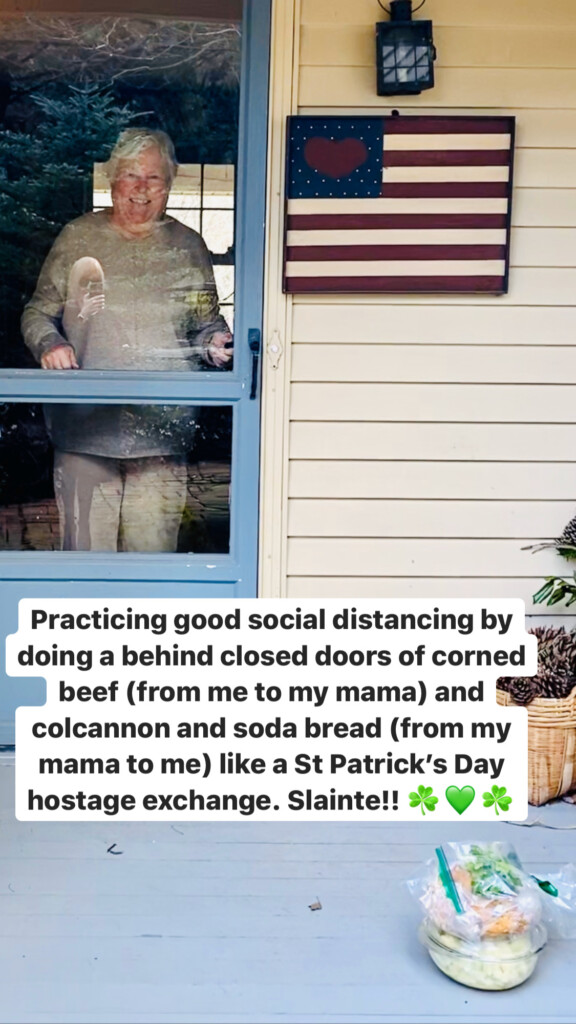 These are surreal times, but I also see how they are bringing out the best in so many people, and I'm concentrating on that.
And also on chocolate, which finally brings me to this easy peasy recipe!
Here's how you make baby chocolate croissants!
You need a package of frozen puff pastry, which you can find in the freezer section near the frozen pies and cakes, and I bet it's one of few things that folks aren't stockpiling!
Defrost it in your fridge, roll it out lightly and then cut it into 16 triangles. I tried my best to write out in the recipe how the triangles should go, and then I remembered that a picture is worth a thousand words.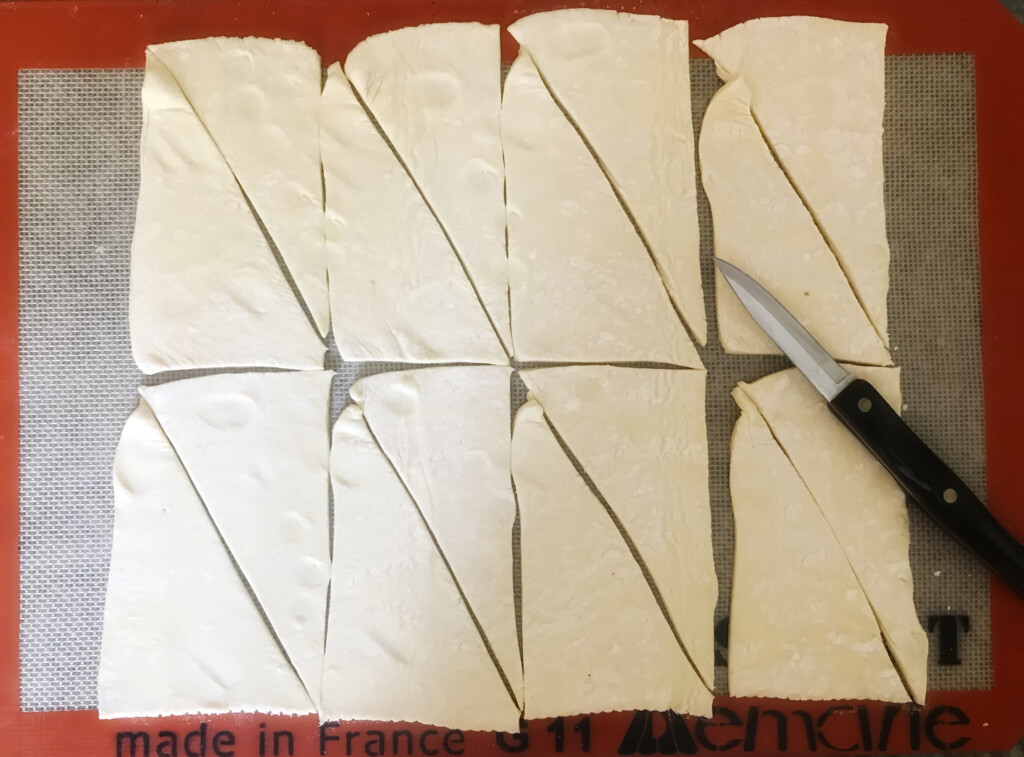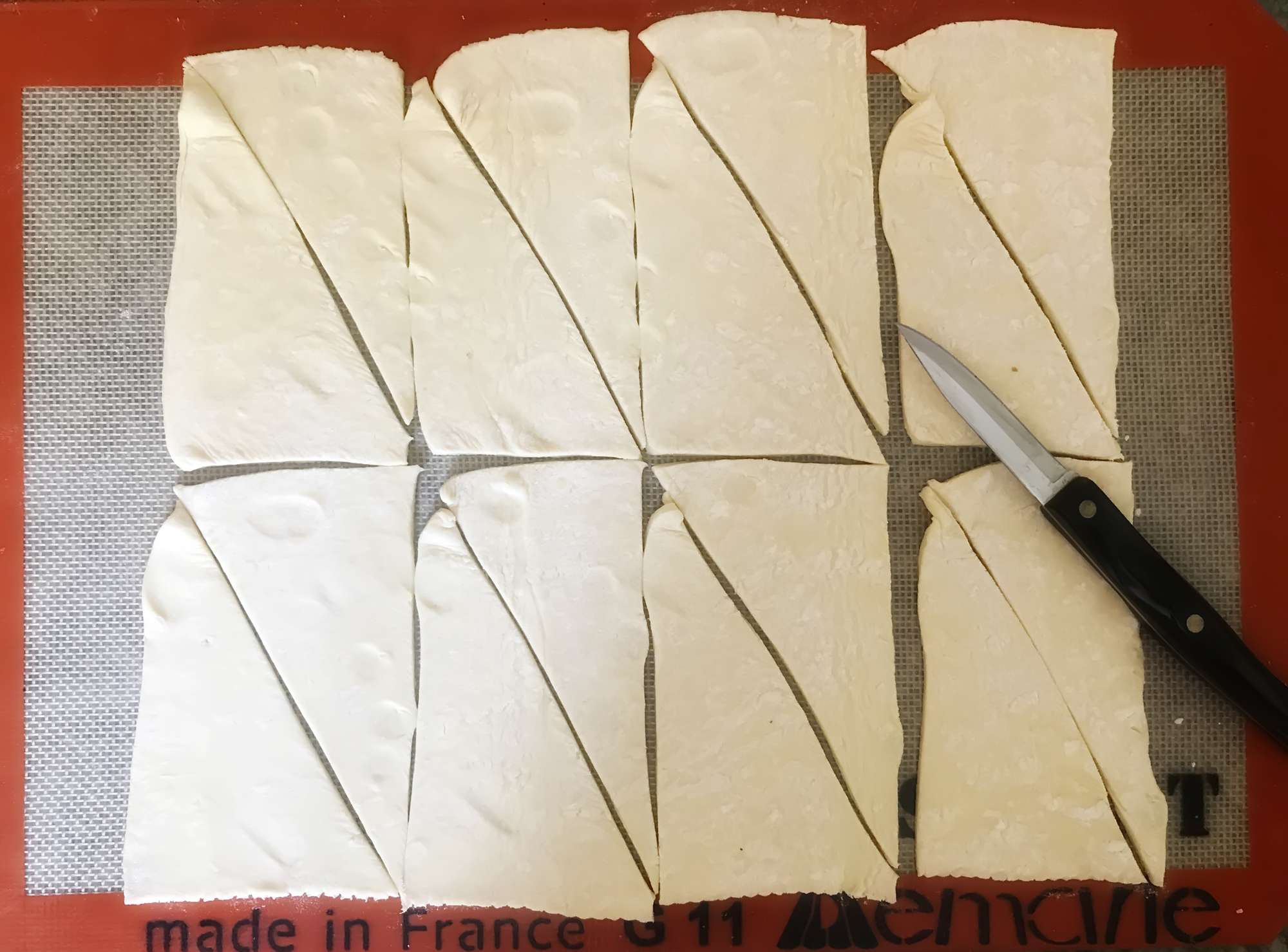 Put a spoonful of chocolate chips on the wide end of each triangle, and then roll them up towards the pointy end. Pinch the ends together and smoosh the pointy end down so it sticks to the rest of the dough.
Now brush with a little beaten egg and if you like things sweet and salty, you can sprinkle on the teensiest amount of sea salt.
Pop them in the oven until they are golden brown, and then let them cool for as long as you can stand it. Break one in half…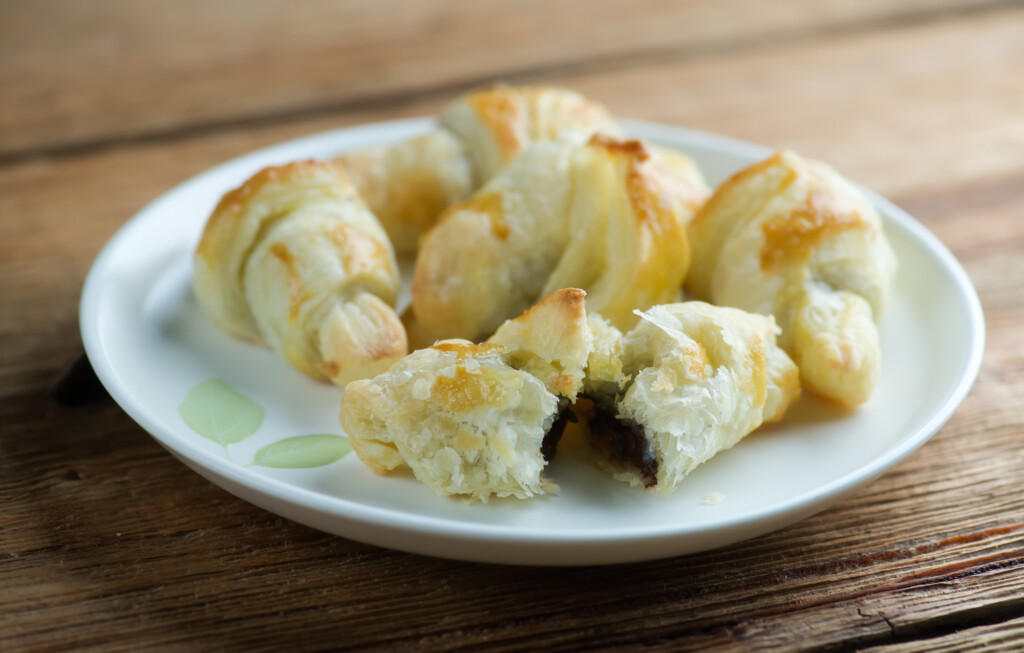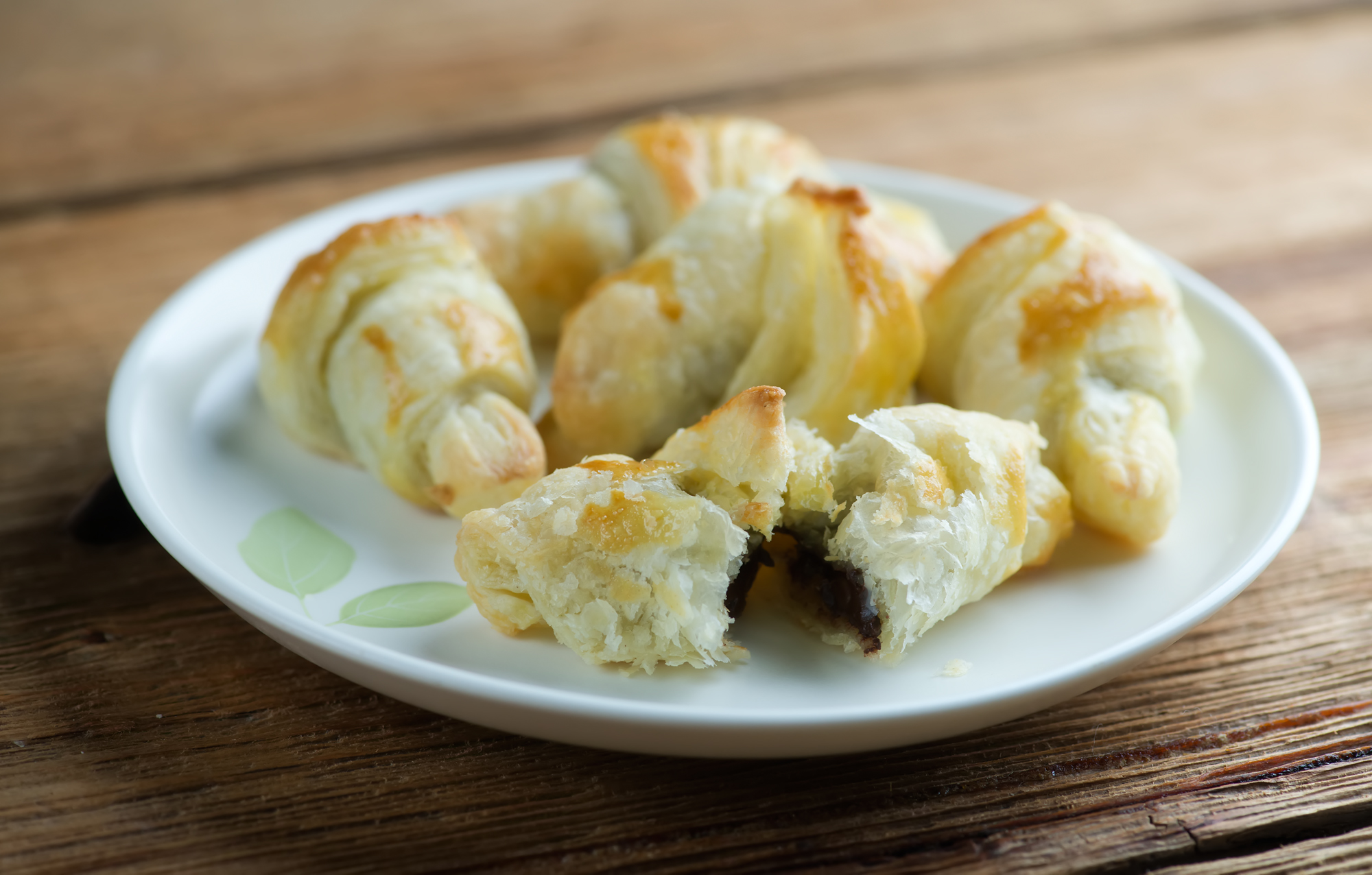 …and check out that melty chocolate!
This is a perfect project to do with the kiddos. Or if you know someone who needs a pick me up, you could leave a plate of them on their porch. Or you can just curl up in your favorite chair with a cup of tea and two of these babies.
One way or the other, my heart is with you. And if you need supper advice, you know where to find me.
XOXO.
Print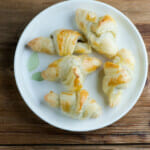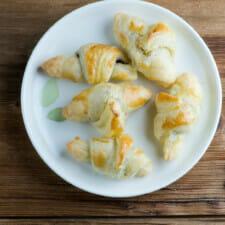 Baby Chocolate Croissants
---
Author:

Prep Time:

10 minutes

Cook Time:

15 minutes

Total Time:

25 minutes

Yield:

1

6

1

x
Category:

Dessert

Method:

Oven

Cuisine:

French

Diet:

Vegetarian
Description
This recipe for baby chocolate croissants is just the thing to satisfy your sweet tooth! Three ingredients, 16 teeny croissants, a whole lot of perfect brunch treats!
---
Ingredients
One

17.3 ounce

package puff pastry, defrosted in the fridge for

2

–

3

hours

1/4 cup

chocolate chips (regular or mini both work!)

1

egg, beaten
---
Instructions
Preheat the oven to 400 and line a cookie sheet with parchment or a silicone mat.
Gently unpackage the slightly thawed puff pastry and place on a lightly floured surface. With a light floured rolling pin, gently roll out the puff pastry, extending the dough about 1 inch on all sides.
With the pastry sheet horizontal, make three vertical cuts, making four strips of pastry dough. Cut each strip in half horizontally. You'll have eight medium sized rectangles. Cut each rectangle in half diagonally, creating 16 triangles.
Place 1 scant teaspoon of chocolate chips about 1/2-inch above the wide part of the triangle.
Carefully roll the chocolate loaded end toward the point, pinching the dough together at the sides of the roll so the chocolate doesn't ooze out during baking. Smoosh the point down just a bit into the rest of the dough so it stays together,
Place the 16 small chocolate croissants on the baking sheet. Brush with beaten egg and sprinkle each top with just a bit of sea salt if you like a little salt with your chocolate.
Bake for 12-15 minutes until golden and puffed.