Welcome inside the Framed Cooks studio!  As we get closer to packing up and moving to North Carolina, here's a quick peek inside where I do what I do, and how we hope to bring much of this with us down South.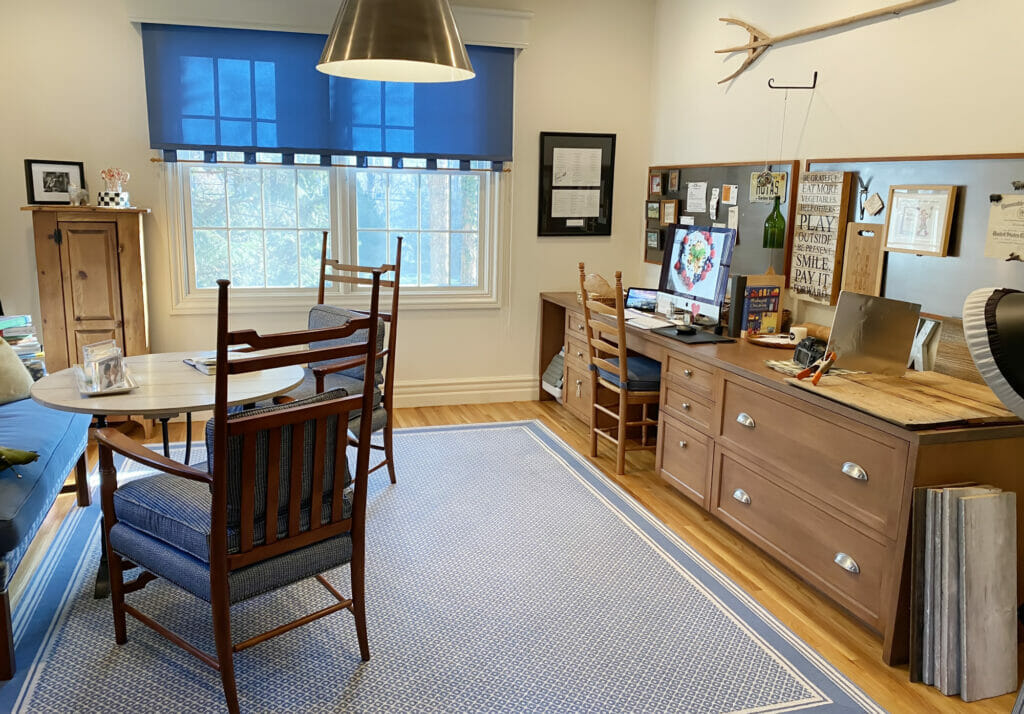 So, as our Carolina Dream House is slowly but surely coming along (and I promise to share a house update next month when the framing is finished!  So excited!) it's of course bittersweet to think of leaving our current New Jersey home.
We moved into this house when the Southern daughter was just a tyke, and with the exception of the fact that it is not in North Carolina where my bunny is now, it's perfect.
And while you might think my favorite room in the house is my kitchen (and I do love my kitchen with a purple passion) the room I am going to miss the most is my studio.
We worked hard on the new house plans to recreate my studio as closely as possible, and I know it will be wonderful, but I'll still miss this New Jersey nook where I spend so much of my time.
And so for you (so you can see it) and me (so I can remember it) I thought I would share my favorite room…so here goes!
It all starts with my desk.
The heart and soul of my studio is a beautiful desk that was handmade specifically for my studio by the amazingly talented Clark Peaslee.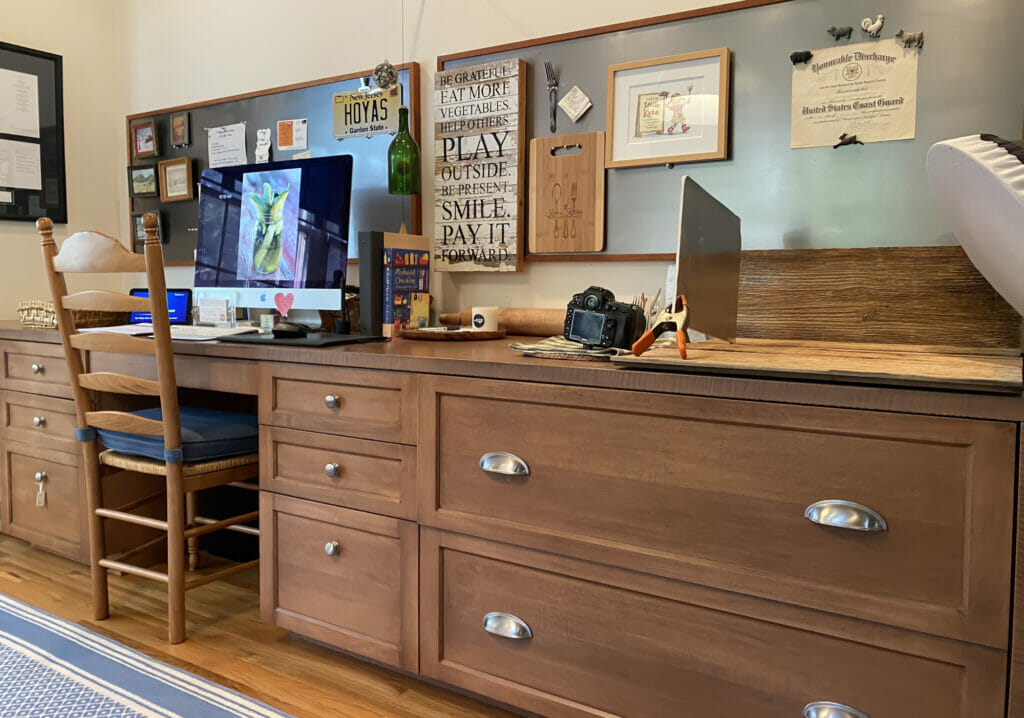 My studio used to be our breakfast room, and when we decided to turn it into a studio we knew we wanted a space where I could write, and photograph, and keep all my equipment and papers.
But we also wanted it to be warm and cozy and lovely as well as functional.  So Clark came down from Albany and met with us and I described what I had in mind, and he designed the desk of my dreams.
It is mixture of a couple of different beautiful woods,  and it  has a space for absolutely everything I need.
It runs the length of one wall, and at one end I keep my little shooting space continually set up.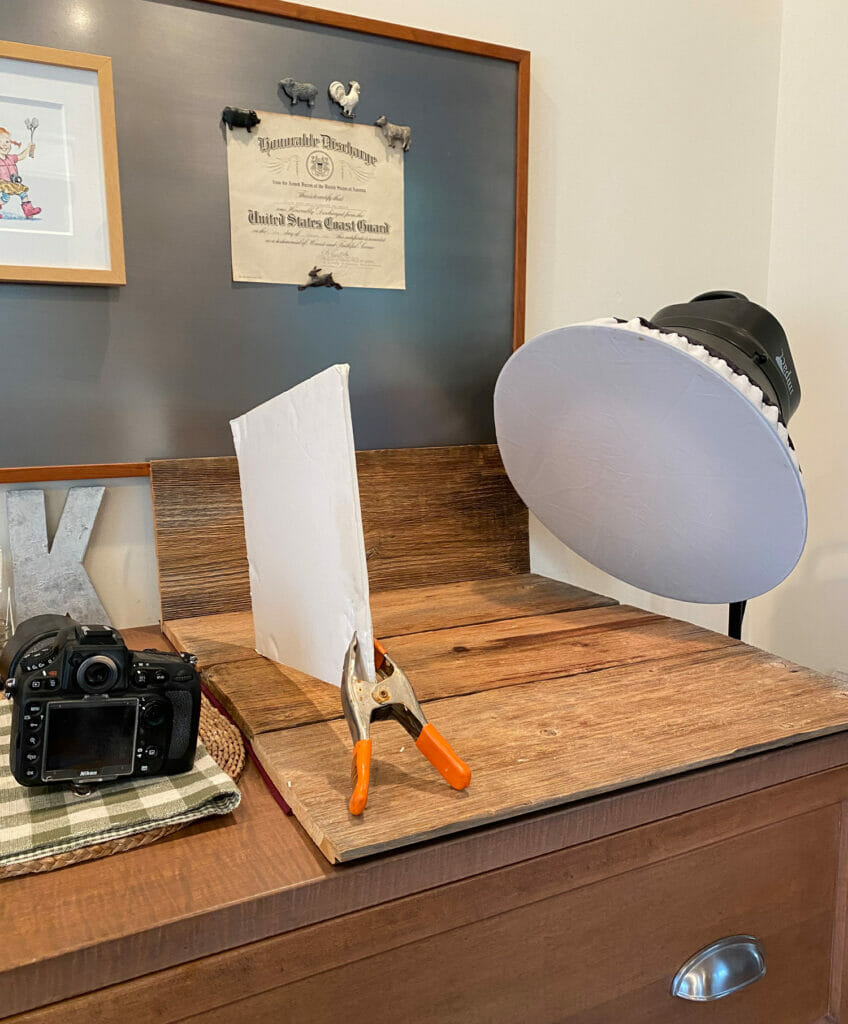 (Fun fact: those weathered boards that I shoot most of my pictures on are from my aunt and uncles' home in Vermont.  When they were replacing some of the outside boards I swooped them up, and here they are.)
On the other side of the desk is my desktop computer where I am typing Right This Minute.  Here's where I draft my recipes, process my pictures, write my posts and spend WAAAAYYYYY too much time on Instagram.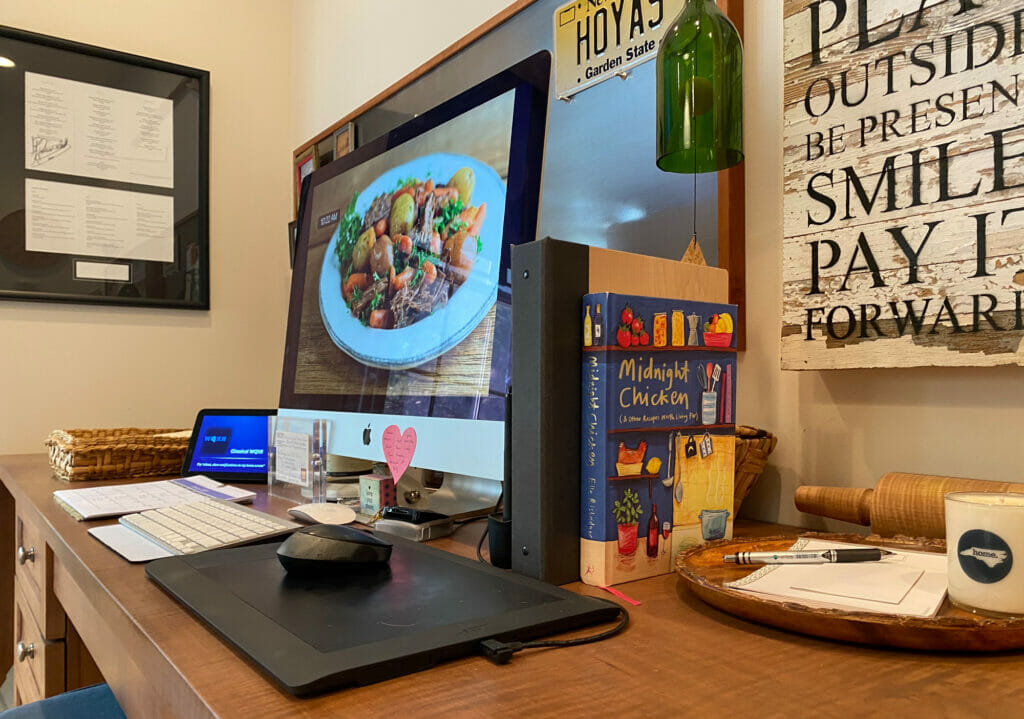 Above my desk are two wood trimmed metal boards, and I hang everything from backdrops to pictures to the license plate from my dad's old Mazda RX-7.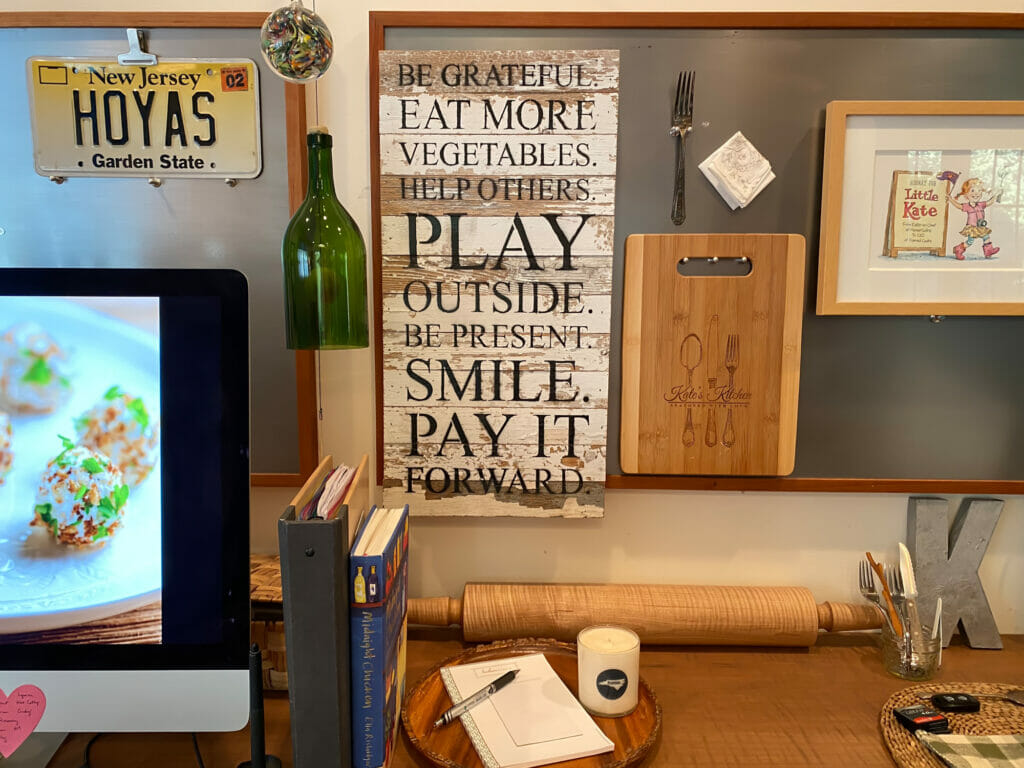 I love being surrounding by so many different mementos, and I regularly change them around to keep them fresh in my mind.
Meantime, Clark built in all kinds of big drawers and little drawers and doors for my printer to hide behind.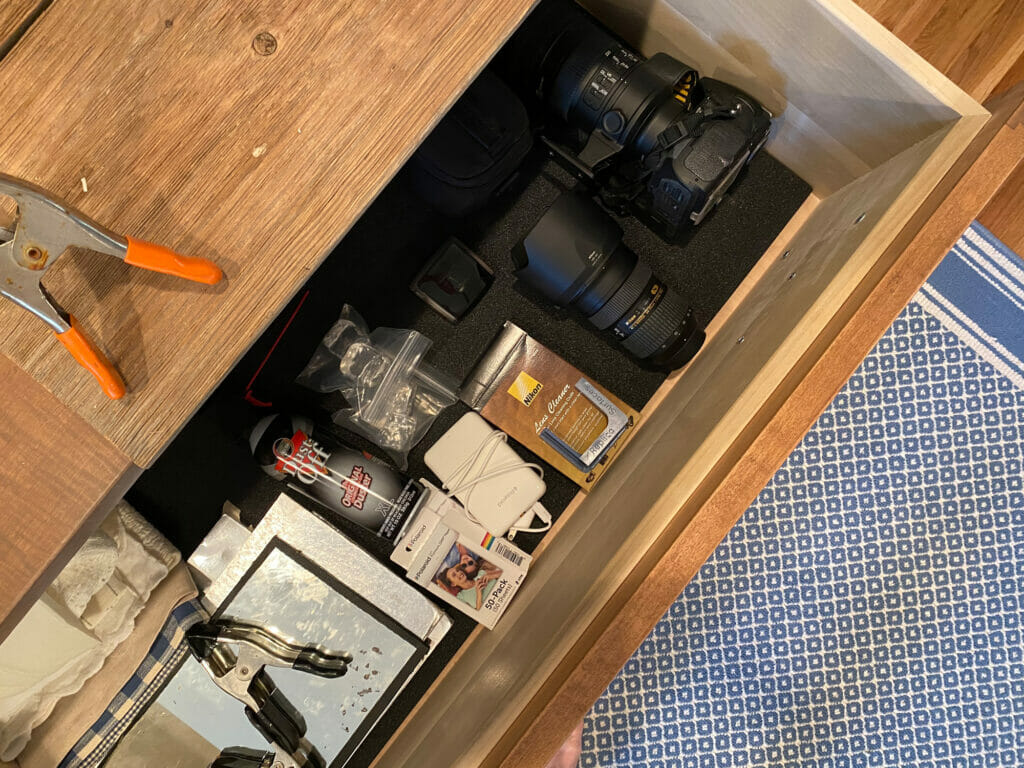 It's a beautiful, useful, welcoming desk, and I hope it likes the weather in North Carolina because we designed my studio space in the new house specifically around this wooden friend of mine.
A place to sit and think.
Across the room from my desk is my little sitting area.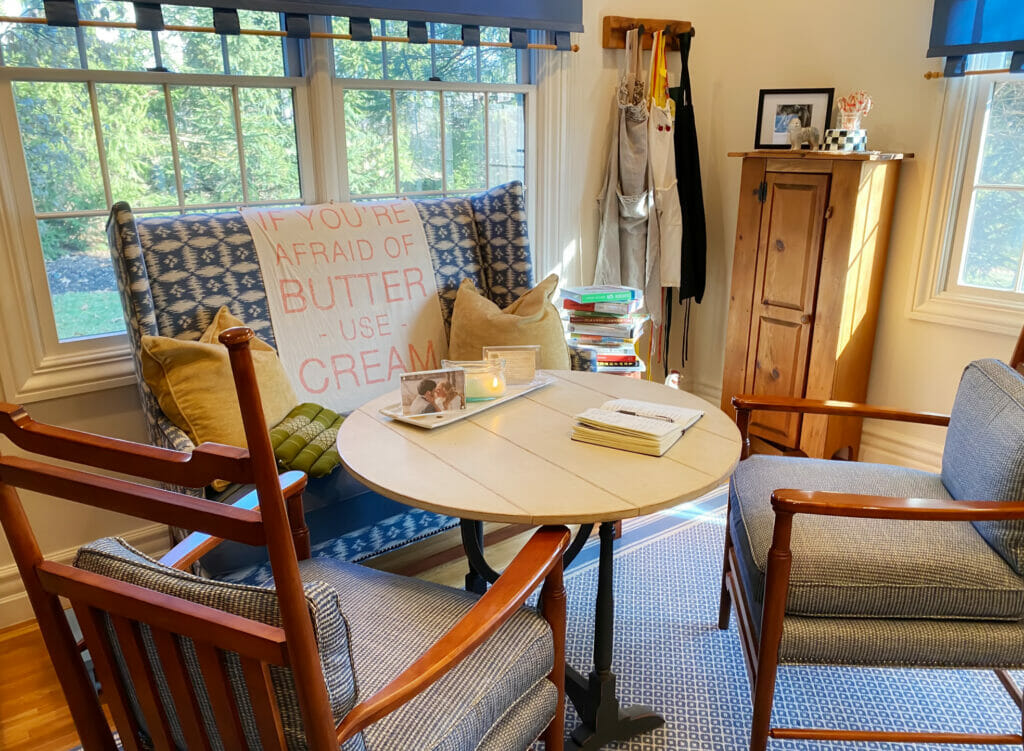 This is where I start my day.  I wander in with my cup of tea, and I go over the day's events in my handy Bullet Journal. It's where I spread out all my recipe drafts and figure out what needs to be tried again.
It's where I curl up with the paper or a book when I need a break, and it's sometimes where the Southern husband and I decide to have a cozy supper.
It's also where I store my ever-growing collection of aprons.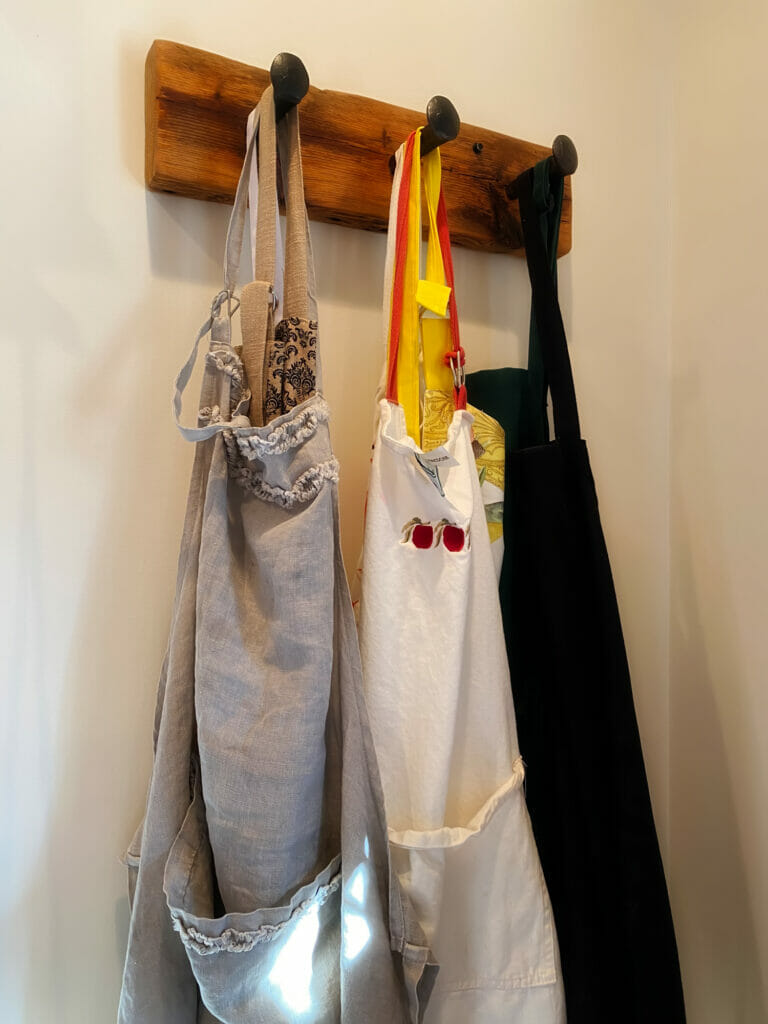 That rack is made out of Vermont railroad spikes and a piece of reclaimed wood.  It's also coming with me.  So are all the aprons.
A kitchen view!
One of the things that I like best about my little studio is that it has a direct view into the kitchen.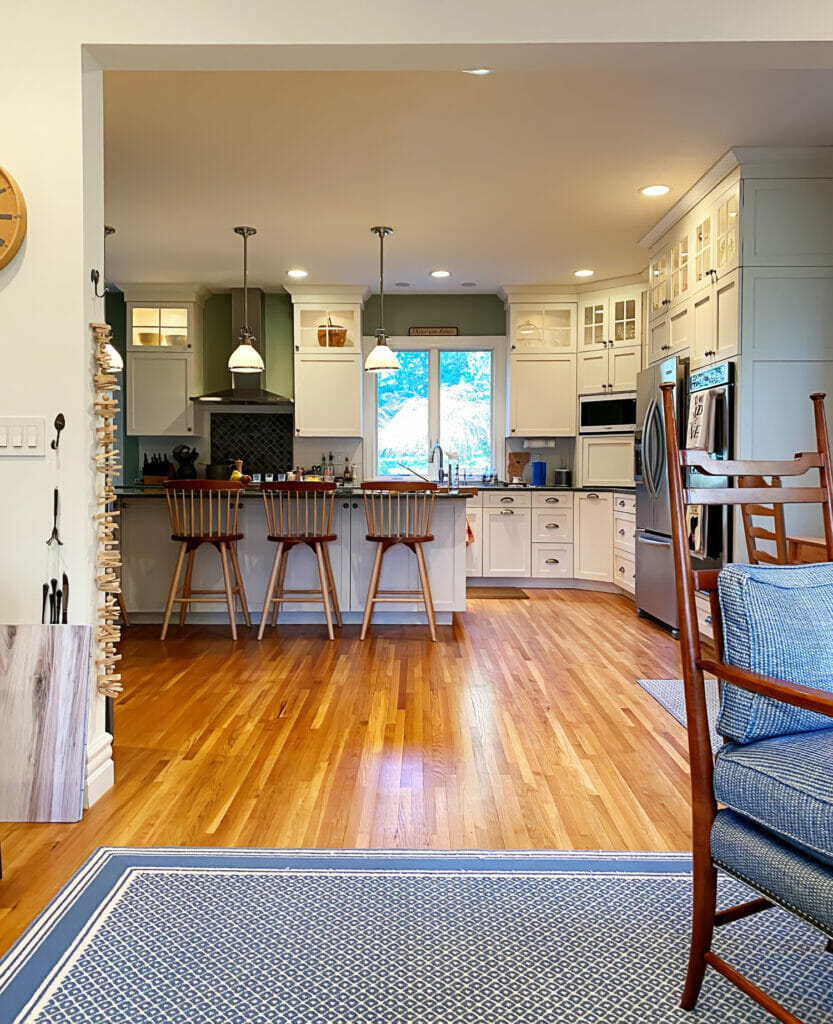 Which is all kinds of handy when I am carrying a steaming bowl of soup from the stove to the studio photography corner to get its picture taken.  But I also love the feeling of being right next to the place where I make all my recipes.
I expect the family that moves into our New Jersey house will turn this back into the breakfast room, and it will be just as friendly and cozy as they gather there for pancakes.
And my new North Carolina studio is going to have a view of the pine forest in back of the house, and will also be right off of our open floor plan family room and kitchen, and between the desk and the apron rack and my table and rug, I know it will feel warm and welcoming and familiar.
But I will always think of my New Jersey studio with such happy memories.  And so I wanted to share it with you while it is still up and humming along…and I promise to show you the Carolina version of it when we are settled in!
Bring on the questions!
If you have any questions about all the bits and pieces of things you see on my desk and tables and walls, bring 'em on!  I love love love talking about this favorite nest of mine.
And in the meantime, thank you for spending a little time in here with me.  :)